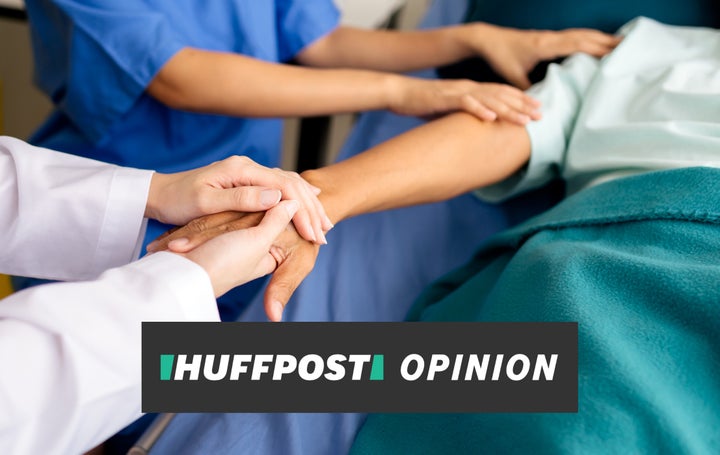 As healthcare professionals, we have realised that we just don't have time to wait to talk to our patients and their families about the worst case scenario when someone becomes critically unwell as a result of Covid-19. It's imperative to have these conversations sooner rather than later, even if they are difficult, because with all the equipment and staff in the world we cannot reverse the irreversible. We need to hope for the best, and we do, but we are also realistic and need to prepare for the worst.
Over the last few weeks we have learned enough to understand the trajectory of the coronavirus infection. Many people need a few days of oxygen to support them through the worst of the virus and then they are discharged from hospital to make a full recovery at home. We are sending people of all ages home and we have cause for cautious optimism on the front line.
However, some people also become critically unwell over a short period of time with their lungs, heart and kidneys failing.
An artificial breathing tube and ventilatory support in the ICU buys time for someone's body and natural defences to continue fighting the virus. But there is no known cure for Covid-19. If someone is frail or has underlying health conditions such as a significant breathing problem or a reduced immune system, intensive care treatment or cardiopulmonary resuscitation (CPR) would be as effective as fixing a broken leg with eye drops: it is not something that will solve the underlying and long-standing problems that have caused someone's heart or lungs to stop working as a consequence of Covid-19 infection.
That is not to say that we are not facing extra pressure right now, and we are. But everyone is stepping up to meet the challenge. We are upscaling our ICUs, finding more staff and procuring extra ventilators with the herculean efforts of hospital trusts and individuals working across every level of the NHS. Many hospitals have senior consultants, including medics, intensivists and anaesthetists, working 24/7 to ensure that the best possible care is given regardless of the time of day. The virus does not discriminate, and we saw this when our own prime minister was rushed into intensive care.
"But sometimes the outcome of death is inevitable. In that case, we absolutely do not stop or withdraw treatment. Instead we change the focus to prioritise comfort and dignity."
No hospital is working as an independent unit and we are sharing resources and learning from each other all over the country. If necessary, we are transferring people between ICUs in London for ongoing care; this is the premise of the NHS Nightingale hospitals with extra capacity for those unwell with Covid-19.
However, recognising that the ICU or CPR may not be appropriate treatments for a particular patient is an independent and individual decision based on each person's background. It is not determined by the number of ICU beds we have available. We must, and we absolutely are, doing everything we can to save the lives that can be saved.
But sometimes the outcome of death is inevitable. In that case, we absolutely do not stop or withdraw treatment. Instead we change the focus to prioritise comfort and dignity, as we always have done. We have plenty of medication to give someone immediate comfort and relieve their anxiety and pain or to lessen the burden of their breathing.
Although we are doing our utmost to safely allow a visitor under certain conditions, it has sadly become unavoidable to prevent some people dying alone. Nonetheless, we are using all methods of communication to ensure that no one is dying lonely and no one is unaware of how much they are loved and cared for.
The scale and brutality of this pandemic is unprecedented, but we have long known that there is only so much we can do when death is inevitable. It is important to recognise and understand when someone will die, regardless of any further intervention in ICU or elsewhere. Preventing further harm, treating patients with kindness and compassion and preserving comfort and dignity must remain the pillars of healthcare.
Dr Sarah Simons is a junior doctor working in emergency and acute medicine at Whittington Health in North London. She has an academic background in global public health and human rights.