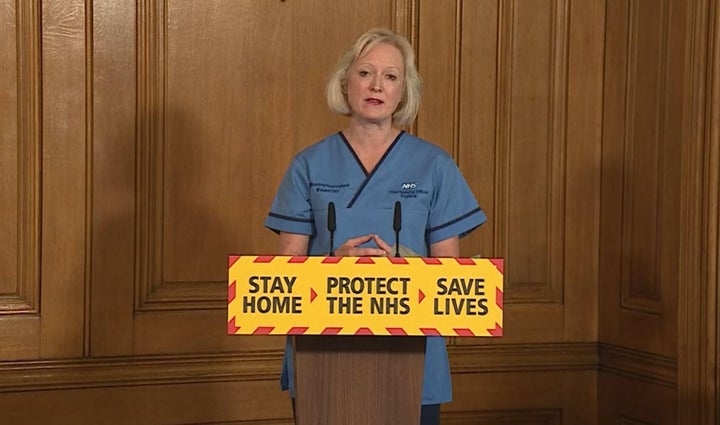 You're reading The Waugh Zone, our daily politics briefing. Sign up now to get it by email in the evening.
Stay home, save NHS lives.
For the very first time, a uniformed health professional appeared at the No.10 press conference on coronavirus. But while chief nursing officer Ruth May's debut was reassuring, it was also tragically timed. Her heartfelt tribute to two nurses who had died from Covid-19 was a stark reminder of the selfless dedication of NHS workers - and of the fact that frontline staff include more than just doctors.‌
If Areema Nasreen and Aimee O'Rourke's deaths are not to be in vain, then their passing should be a wake-up call to anyone thinking that this weekend's warmer weather is a signal to gather outdoors. As May put it poignantly, the "summer rays" will be tempting, but "please stay home for them".
And those words were a reminder for Matt Hancock too, never to forget the role of nurses, midwives, healthcare assistants and others putting themselves in harm's way to help us all. Just hours after his assured press conference last night, he blundered on Question Time by saying 'four doctors have died and some nurses'. Dame Donna Kinnair, general secretary of the Royal College of Nursing, told him: "They're not even counting the nurses, Matt. I've got to have a conversation with you about that." They counted, in every sense of the word, today.
May's own plea to the public was part of a wider message from the No.10 briefing that this weekend was vital in maintaining the lockdown that saves lives. Hancock was blunt that if people don't stay at home, then 'people will die'. But I suspect his lecturing tone - "this is not a request, it is an instruction" - will have less impact than the chief nurse's own words.‌
The Daily Mirror's health editor was pilloried on Twitter for asking whether it would be ok to have a picnic with your family in the park this weekend, but he in fact asked a valuable question because some of the public (especially those with young kids) may be tempted to do just that. For most people, the answer is obvious - you should only go out to exercise in a park near you - but it's not obvious to everyone. Unfortunately Hancock didn't address the picnic point directly.‌
In fact, the health secretary displayed some of his worst faults today. It wasn't just the insider jargon of referring to 'pillars' and 'DNRs' (do not resuscitate orders) and his David Brent-esque description of the impeccably candid deputy chief medical officer Jonathan Van Tam as 'JVT'. It was also the presumptuous bossiness of telling companies what to do ("if you haven't been a testing company before, you've got to become a testing company now" he earlier told bioscience firms). That only works if everything you're doing as a government radiates confidence, and so far it hasn't.
As for testing, it's clear today that Hancock is taking a huge gamble in setting his 100,000 a day 'goal' for the end of the month. It emerged today that just 25,000 will be done by Public Health England/NHS and the total relies on something beyond ministerial control: around 75,000 being done by a massive expanded capacity in the private sector.‌
The death of those two nurses was a tragic reminder of the need to get more frontline testing. And fresh reports of a lack of protective equipment in care homes bring into sharp focus the huge role, so far neglected, of the social care sector. Will it take the death of a care worker, God forbid, for everyone to wake up to that too?
There is also the systemic issue that social care has been woefully underfunded in recent years, not helped by its staff's status undermined by the dismissive claim in the immigration debate that they are 'unskilled'. The boss of one care home chain today pointed out the real challenge has been that there is a 120,000 care worker shortage, and that's why agency staff are used and stretched.
More than ever, it's obvious that there is a need for a National Care Service to match the National Health Service. Hancock and Boris Johnson need not adopt Labour's badging, but they could accept the concept, once we are out of the worst. If the new-found cross-party working on coronavirus leads to a long-term consensus on how to fund and structure care for our elderly, that will be at least one legacy worth having from this awful crisis.
Quote Of The Day
"They were one of us, they were one of my profession, of the NHS family,"
Ruth May on the death of two fellow nurses
Friday Cheat Sheet
The number of people in the UK who have died in hospital from coronavirus went up by 684 to 3,605 patients. Among the dead were Aimee O'Rourke and Areema Nasreen, two nurses who died after contracting Covid-19.
Premier League football clubs will consult players on a 30% wage cut, £20m to NHS and community groups and £125m to struggling lower league clubs.
Prince Charles formally opened (via videolink) the new Nightingale Hospital in East London.
Boris Johnson revealed that he was remaining in self-isolation, beyond the 7 days usually required, on doctors' advice. He has a continued high temperature.
Jeremy Corbyn marked his last full day as Labour leader with a message to party members. He said he was 'sorry' he had failed to get into government but "sadly, the 2019 election was a Brexit election".
Families hit by lost income from the coronavirus outbreak are facing a "double whammy" after Gavin Williamson quietly axed universal free school meals for primary school infants, children's charities and trade unions warned.
Chancellor Rishi Sunak agreed a further £167m bailout of the private bus industry to keep half of their services running so that key workers can get to work for 12 weeks. This is on top of a £230m handout already agreed.
What I'm Reading
Got A Tip?
Send tips, stories, quotes, pics, plugs or gossip to waugh.zone@huffpost.com.
Subscribe To Commons People
Each week, the HuffPost UK Politics team unpack the biggest stories from Westminster and beyond. Search for Commons People wherever you listen to podcasts and subscribe.