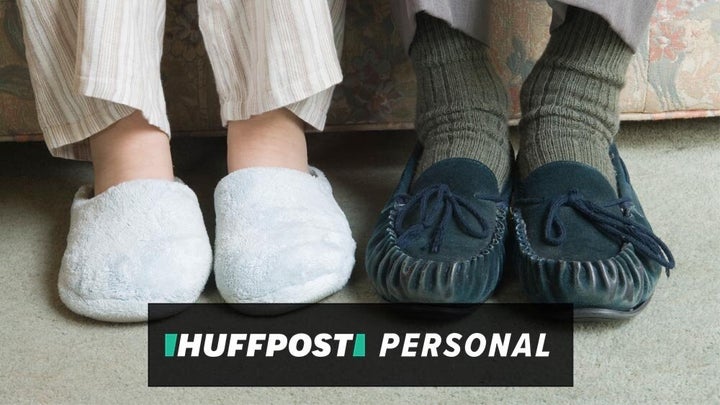 As coronavirus forces millions of us into our homes for the indefinite future, couples at the early stages of their relationships are faced with a bizarre question. Not the panic inducing, "what are we," but the wildly contradictory: "do you want to isolate together?"
Imagine the scenario: Your mother is stuck in the Alps. Your father is in the Canary Islands. The charming boy you have been seeing for the last two months asks if you want to stay with him and his parents for a few days until your relatives are safely home and the pandemic panic blows over.
Except, it doesn't blow over. It blows up. It intensifies to proportions so epic that the pubs are shut and the supermarkets are barren. The government tells citizens to stay inside, to work from home, to keep two metres away from any other person. Suddenly, this isn't passing the evening together after eight hours apart at the office. This is 24/7 lockdown. One house and four people looking down the barrel of boredom. So, what the hell happens now?
It is a common utterance that a couple's first holiday together is the true test of whether they can withstand the intricacies of one another's company. In 2020, the coronavirus lockdown is the undeniable equivalent. But rather than the close confines of a Mallorca villa, we are dealing with a terraced house in south west London.
"My freedom, along with my desire to impress this boy or indeed his parents, has gone firmly and forcibly out of the window"
Contrastingly, divorce rates have noticeably risen in China since the outbreak, with officials holding the close quarters of quarantine responsible. Underlying conflicts emerge and with nowhere to go, feuding gets ferocious – we hear his neighbours screeching through the walls on day four of imprisonment. Mercifully for us, the relative freshness of our fling means the novelty acts as a protective barrier to potential quarrelling.
My concerns are more surface level. I am sporting an aesthetic I like to call 'quarantine chic': tracksuit bottoms, greasy hair and a hoodie. Makeup is a murky memory and, without a single dab of concealer, blemishes polka dot my face. My freedom, along with my desire to impress this boy or indeed his parents, has gone firmly and forcibly out of the window He has, in turn, given up shaving and is sporting a pair of knee-high brown socks with a pair of gym shorts in an ensemble that is aesthetically halfway between a Victorian school boy and a 118 man.
The distasteful traits you seek to hide for at least six months in usual romantic circumstances are what characterise you in quarantine. I oversleep for so many hours that his parents would be forgiven for assuming I have narcolepsy. I overeat the stockpiled supplies with the ambition of a Man v. Food contestant. When energy does overtake me, I pray they don't hear me bellowing along to Ariana Grande or stomping through the ceiling trying to learn the latest TikTok dance routine upstairs. Life is a never-ending Boxing Day where we rotate from movie marathon to big meal to long walk to nap. Mostly, we all do a whole lot of nothing.
One lesson I learn is that small-talk is ineffective during a pandemic. I ask his father the ultimately stupid question of, "how are you?" – to which I receive the inevitable response, "that's a much more complicated question in the current climate isn't it?" The rolling news coverage beaming from their television over his shoulder makes me inclined to agree.
"When I return to my own home and we say our goodbyes I wonder, will I ever see him without a beard again? Will I see him again at all?"
But what the virus does provide us with is never-ending conversational canon fodder. There are conspiracy theories to forensically analyse (is Prince Phillip dead?) and spontaneous ponderings to research (can dogs get coronavirus?). Each day brings another news alert, another discussion topic, another dinner absent of long pauses or awkward silences you might expect of a group of people almost entirely unfamiliar to one another.
On day six, his parents announce they are getting on a ferry to the Isle of Wight. A decision, I hope is provoked not by my invasion of their home but by the offer of panoramic ocean views and refreshing sea air.
As they leave, I realise this government-enforced intimacy has precipitated the degeneration of my pretentious perfectionism. With this breaking down of barriers has come my realisation that parents are just people, and so are the boys that you fancy. When we relax, honesty shines through – often to our advantage.
With each day that ticks idly on, the exchanges between this boy and I become more familiar. With one slip of the tongue he accidentally calls himself my boyfriend, before embarrassedly yelling "WHATEVER" over my surprised and elated shrieks.
When I return to my own home and we say our goodbyes I wonder, will I ever see him without a beard again? Will I see him again at all? During this period of pandemic, nothing is certain. There are just three things I know for sure: we both snore, we both have spots, and all of that is fine by me.
Lydia Spencer-Elliott is a freelance journalist. Follow her on Twitter at @LSPENCERELLIOTT