The government has issued a stern warning to tourists and holiday home owners to stay away as crowds flocked to parks, beaches and beauty spots across the country amid the coronavirus outbreak.
The Department for Digital, Culture, Media and Sport issued updated guidance on essential travel on Sunday night, saying it did not include visits to "second homes, camp sites, caravan parks or similar, whether for isolation purposes or holidays". Critics fear the surge in the local population could cripple health services in the area.
The move came as Boris Johnson said the government is ready to impose tougher restrictions to curb the spread of the coronavirus if people do not follow the guidance on social distancing.
The number of people across the UK who have died after testing positive for Covid-19 has risen by 48 to 281, it was confirmed on Sunday.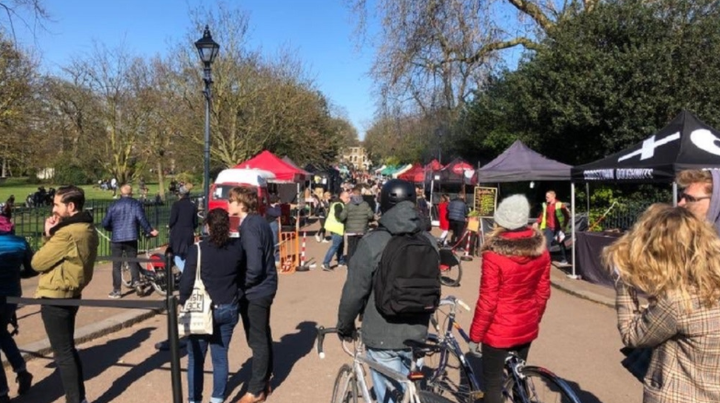 The department said: "This guidance is for people planning to visit second homes or holiday premises during the coronavirus pandemic.
"Essential travel does not include visits to second homes, camp sites, caravan parks or similar, whether for isolation purposes or holidays. People should remain in their primary residence. Not taking these steps puts additional pressure on communities and services that are already at risk."
Underlining the weekend trend, London's Victoria Park announced that it was closing some facilities due to "unprecedented numbers" of visitors.
The park closed its playgrounds, skate park and cafes "until further notice" as a crowd was spotted at its market on Sunday.
A police and crime commissioner has called for "lockdowns" in rural Wales to stop self-isolationists and tourists flooding in.
Dafydd Llewelyn, who is the Plaid Cymru police and crime commissioner for Dyfed Powys, described the Covid-19 epidemic as a "national emergency, not a national holiday".
He has called for travel and residency restrictions to be introduced, and people travelling to a non-primary residence should be stopped from doing so while those currently in non-primary residences should return home.
Meanwhile, Cumbria Police warned the public not to flock to outdoor tourism hotspots as the Lake District experienced an "influx" of visitors.
In a statement on Saturday, Cumbria Police's assistant chief constable Andrew Slattery said: "Whilst we are looking at all measures to limit the spread of the Covid-19 coronavirus, I must urge people living outside the county not to visit.
"A national emergency shut-down of businesses and schools is not an excuse for a holiday."
On social media, people posted pictures of people flouting social distancing guidance.
At his daily No 10 news conference, Johnson – who has faced criticism for not acting faster to slow the spread of the virus – said ministers had already closed down whole swathes of the economy, shutting pubs, clubs and restaurants.
He said the government had always followed the scientific advice when it came to access to open spaces – but warned people needed to observe the guidance that they should not gather in groups and remain two metres apart.
"What they have always said so far is that the health benefits for the whole of society of keeping the parks and playgrounds open if we possibly can outweigh the epidemiological value of closing them," he said.
"But of course looking at the way people behave and the way they are responding, we keep that under constant, constant review.
"If people can't make use of parks and playgrounds responsibly, if they can't do it in a way that observes the two-metre rule then of course we are going to have to look at further measures.
"The general principle should be that we should all as far as we possibly can stay home, protect our NHS and thereby save lives."
He added: "I don't think you need to use your imagination very much to see where we might have to go, and we will think about this very very actively in the next 24 hours."