Britain has not joined an EU-wide scheme for buying life-saving ventilators – because the government did not receive an email invitation in time.
A government spokesperson blamed an "initial communication problem" for the UK missing the deadline to join four joint procurement schemes for equipment to tackle coronavirus.
Shadow health secretary Jon Ashworth told HuffPost UK's Commons People podcast that "of course" the government should have signed up to the EU scheme, which is designed to save money and secure ventilators and other supplies amid a global shortage.
Liberal Democrat acting leader Ed Davey meanwhile told Boris Johnson to "put his Brexit views aside" and join the programme.
But the government is understood to reject claims the decision was driven by ideology and is open to taking part in schemes in the future.
A spokesperson said: "Owing to an initial communication problem, the UK did not receive an invitation in time to join in four joint procurements in response to the coronavirus pandemic.
"As the [European] Commission has confirmed, we are eligible to participate in joint procurements during the transition period, following our departure from the EU earlier this year.
"As those four initial procurement schemes had already gone out to tender we were unable to take part in these, but we will consider participating in future procurement schemes on the basis of public health requirements at the time.
"We are working round the clock with industry, the NHS, social care providers and the army to ensure the supply of PPE [personal protective equipment] over the coming weeks and months and will give our NHS and the social care sector everything they need to tackle this outbreak.''
What do ventilators do?

Ventilators are hospital bedside machines that help patients who are struggling to breathe on their own by pumping oxygen into their lungs.

Tubes are inserted through the windpipe that oxygen into the lungs and clear out carbon dioxide.

Why are they important for coronavirus patients?

Covid-19 is a respiratory disease – it attacks the lungs and in some cases causes breathing problems.

The number of hospital patients needing respirators has exploded since the coronavirus pandemic began.

The World Health Organisation (WHO) said around 80% of people with Covid-19 recover without needing specialist treatment, but one in six people become seriously ill and develop difficulty breathing.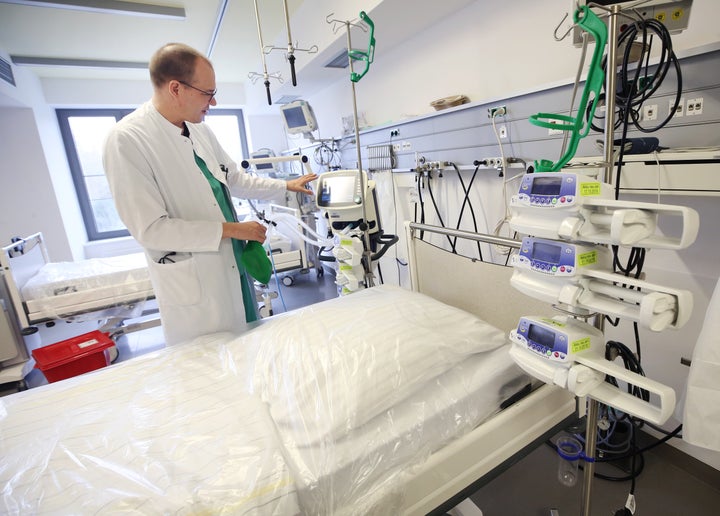 Downing Street said on Thursday that 8,000 additional ventilators had been ordered by the government to boost the stock of 8,000 already available to the health service.
But with Covid-19′s peak expected to strike the UK in around three weeks, there were concerns hospitals will not have the numbers required in time.
The prime minister's official spokesperson assured that 8,000 approved machines had been ordered.
"We would say we expect thousands of those to arrive in the coming weeks and thousands more in the pipeline to arrive in the coming months," he told a Westminster briefing.
Downing Street also contradicted a claim by billionaire entrepreneur Sir James Dyson that the government had ordered 10,000 ventilators from his firm.
"New orders are all dependent on machines passing regulatory tests – this is the case with Dyson," he said.
"Their machines must meet the necessary safety and regulatory standards. If they do not, they will not be brought or rolled out to hospitals."
Ashworth told Commons People: "Clearly we've got a shortage of ventilators, clearly we've got a shortage of testing kits and the relevant chemicals, and clearly there are problems in the global supply chain for medical supplies.
"I would have thought we should be cooperating in every international scheme going, because why would we be hindering ourselves by not cooperating in them?"
Davey said: "There is no reasonable justification for Boris Johnson's refusal to participate in the EU's procurement of ventilators.
"Let's be clear: getting more ventilators to our NHS will save lives.
"Why won't the prime minister put his Brexit views aside, given this crisis?"