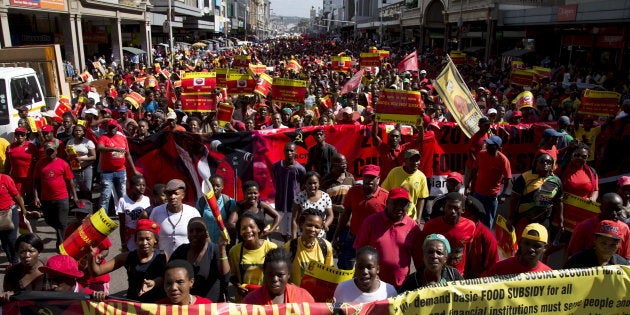 Cosatu has called on its members not to join in the protests organised by Save South Africa (Save SA) on Friday.
"We will never march with the agents on monopoly capital to remove a democratically elected government. Our strategic enemy is still monopoly capital and white monopoly capital in particular," the federation said in a statement.
The federation is it "refuse to be useful idiots of those who want to remove President Zuma in order to remove the ANC from power and protect their ill-gotten wealth and inherited privileges. We do not support the regime agenda."
But on Thursday, Cosatu said "the fact that some people agree with us on the president stepping down, does not mean they are our friends."
"Cosatu calls on all Alliance members to close ranks against those, who are pushing a regime change agenda and also honestly work to dry up the swamp in which theyare feeding and breeding, which is corruption. Despite our strong differences, we should not walk in fear of another and allow to be driven by that fear into an age of unreason.
We should also not be deterred from saving South Africans from poverty, unemployment and inequality. We shall continue to work to save the South African economy from a deep seated structural crisis that requires fundamental restructuring. We should work to sort out the level of concentration of economic power into a few hands and monopolies.
"Cosatu will lead marches that are meant to save South Africa from racism , exploitation and neo-colonialism. This will include a march to remove racists like the Helen Zille of DA wherever they are in charge of economic and or political levers of powers," the federation said.
Related