Parenting blogger Courtney Adamo broke the mould when she and her husband decided to take their four children on a gap year around the world.
Pulling them out of school and throwing them into different cultures and climates, their new experiences have helped them thrive as individuals and as a family in ways that none of them anticipated.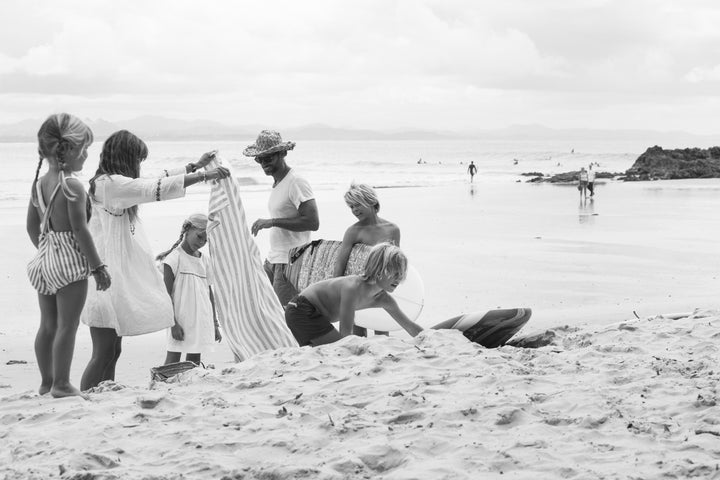 Adamo, whose childhood was spent on a tulip farm in Washington state, USA, did what many dream of doing, but refused to be defeated by obstacles that stop other people – schooling, careers, or what the neighbours might say.
Instead she and her partner Michael, took Easton, 11, Quin, nine, Ivy, seven, and Marlow, three, on the adventure of a lifetime and they have no plans to come home any time soon.
The couple, who dated for two months before moving from Los Angeles to Primrose Hill in 2003, had always been attracted to "a simple, bohemian lifestyle, barefoot children and carefree adventures" so a gap year was always on the cards.
But having spent more than a decade making London their home, when they decided to uproot in 2015 - quit their jobs, sell the house and pay £300 a month to keep their furniture in storage - it wasn't all going to be plain sailing.
Planning their route through South America, New Zealand, Asia, there were plenty of things to consider before they'd even reached the departures lounge at Heathrow.
"Time goes by so quickly and everything you leave behind will be waiting for you when you come back.""
Their primary hesitation (after they'd worked out how to fund the trip, by selling the house and using savings) was pulling their young children out of full-time education.
"The conversation with the school was one of the tougher things for us to do," says Courtney. "We felt nervous walking into the headmaster's office to explain our plan, but in the end it was an easy conversation and we were encouraged."
In lieu of a formal education, the next hurdle Michael and Courtney faced was deciding how to homeschool four children with an age range of seven years.
"Michael and I have always had relaxed views on formal education. Rather than focusing on academic standards, grades or test results, we've been more interested in encouraging our children to play and be creative," explains Courtney.
To prepare for the "challenge", Courtney followed several homeschooling blogs and Instagram accounts, bought books, listened to CDs and TED talks, and reached out to teachers at the children's school for more advice.
Although she admits it has been "patient" Michael who has done most of the teaching.
Courtney says anyone thinking of homeschooling should invested in the Core Knowledge Fundamentals series of books, which give an overall guide to the UK curriculum and what your children should know; the family used these for maths, reading and writing.
In general the parents decided to follow a "strict" curriculum in favour of learning from their travels: "We are also big believers in the school of life and we believe many of the lessons learned on the road this year could not have been taught in a classroom."
In South America, Marlow and Ivy practiced their Spanish language skills buying vegetables and ice cream in the local markets, while the whole family learned about Captain Cook's travels, growing coconuts and papaya production in Argentina.
The travels have also introduced boys Easton and Quin to a passion for surfing, something which stared in Uruguay and has been carried with them to New Zealand. Their newly-acquired surfboards made travelling "light" a little trickier.
And how "light" can a family of six really travel? As Courtney's 180,000 Instagram followers can attest, the stylish brood never look short of wardrobe options. Adamo explains that each family member has only one suitcase and one item of hand luggage, although a growing collection of souvenirs is making zips bulge.
"The nomadic life is a very addictive one.""
The family believe that the most beneficial element of the trip has been learning about each other in ways that wouldn't be possible in normal life.
Living in such a confined space (such as a camper van in rainy New Zealand) means they kids have been exposed to all sides of each other, as well as the ups and downs of married life.
"Back in London they [the children] would have been in school, in bed or with a babysitter when Michael and I were plotting out our life course or clearing the hurdles life throws up. I think they've learnt a lot from this," says Courtney.
Adult relationships are one thing, but the family surely also have to navigate sibling bickering – a daily chore for parents regardless of location.
But Courtney believes that without the distraction of television, computers and other gadgets, her "tight little gang" are learning to get along better.
Adamo's advice for other parents who are contemplating travelling with children is to "just do it" and stop overthinking all the potential problems: "Don't worry about all that, you're leaving behind because the adventure ahead is even better."
Does she worry about the children re-joining their peers when they eventually return to London? "We'll only know for sure how we've done when they re-enter traditional education, but we believe they learned more and progressed more this year than any other year."
"Besides, we still don't know where we will be settling yet..."
This summer The Huffington Post UK is spearheading an initiative helping families thrive, with a focus on parent wellbeing, the challenges facing stay-at-home and working parents, friendships and navigating the landscape of modern parenting beyond the 2.4. To kickstart the campaign, Jamie Oliver will be guest editor on 15 July 2016, bringing a focus on feeding healthy families.
We'll be sharing stories and blogs with the hashtag #ThrivingFamilies and we'd like you to do the same. If you'd like to use our blogging platform to share your story, email ukblogteam@huffingtonpost.com to get involved. Jamie's new cookbook Super Food Family Classics, published by Penguin, is on sale at £26.