After having the first dose of the vaccine, participants will be given a 'vaccine card' and instructed to keep it safe.
The blue card has space for the date and batch number for the two jabs the recipients will receive.
It also advises: "Don't forget to attend your appointment to have your second dose of vaccine. You will have your best protection after two doses."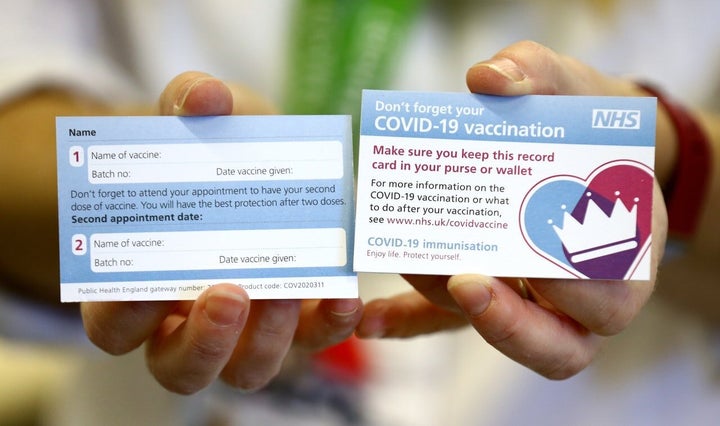 The card will act as a reminder for people to have their second dose of the vaccine, rather than forming an "immunity passport", health secretary Matt Hancock has insisted.
"The problem is that we don't yet know if the vaccine stops you transmitting the virus," he said on BBC Radio 4′s Today programme. "We've talked endlessly on this programme about asymptomatic transmission being one of the hardest things to handle in this pandemic.
"The card that people are being given is a reminder card for their second appointment. It's an absolutely standard NHS procedure, because you've got to come back for the second appointment."
Hancock's comments come after Tory MP Tom Tugendhat told HuffPost UK he can "certainly see the day" when bosses may not allow employees into the office unless they have received a Covid vaccine.
But ministers, including Michael Gove, have also previously insisted the government has no plans to introduce an "immunity passport".
"I certainly am not planning to introduce any vaccine passports, and I don't know anyone else in government who is," Gove told Sky News.
A spokesman for the Department of Health and Social Care also said: "We have no plans to introduce immunity passports. While we know this vaccine protects individuals, we don't yet know if it prevents onward transmission. We will be carefully monitoring this in the coming months."