When Kristopher Jones woke up from a coma, there was only one thing on his mind.
The 29-year-old, who was so critically-ill his family and friends were told to say their goodbyes, awoke and proposed to his girlfriend Charlotte straight away.
He said: "When I heard that Charlotte had been sat with me every day and that she had been crying, telling me not to leave, I just knew I had to marry her.
"She has always been my rock but the fact that she would go through all of that heartache for me – she is definitely a keeper."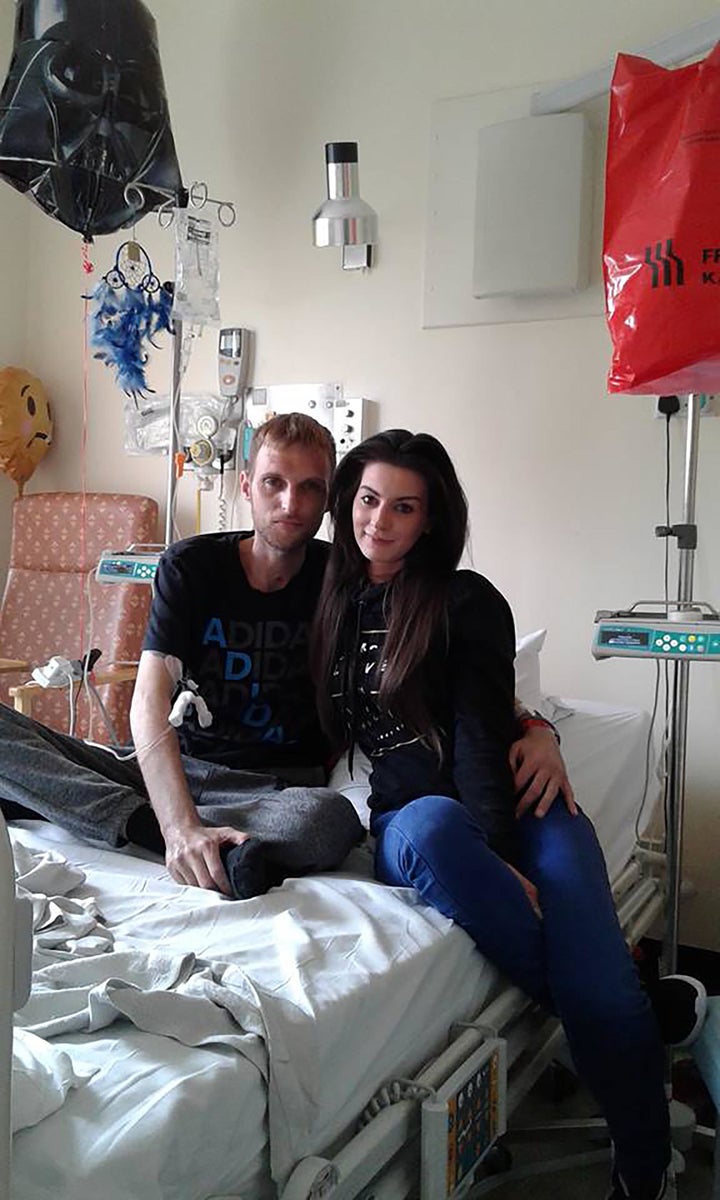 Jones was rushed to hospital after collapsing at work with stomach pain that he claims felt like someone was trying "to rip their way out" of his body.
The plasterer, from the Wirral, Merseyside, was taken to Arrowe Park Hospital for emergency surgery to remove part of his "twisted and swollen" bowel on 7 April 2016.
But his bowel had been so badly infected that the septicaemia had started to spread to all his other organs and, in June, doctors were forced to put him in an induced coma as his body was shutting down.
"I have been suffering with irritable bowel syndrome since I was about 15," said Jones. "There are good days and bad days but on bad days the pain is so bad you develop a higher threshold.
"When it was really bad my stomach would fill with gas. I got so bloated I looked like I was nine months pregnant.
"Me being me I'd just decided this was my life and I'd have to get on with it. But on that day it was something else. The pain wasn't just a ten, it was a 20."
He continued: "I was on a job with two friends and I just fell to the floor. I was rolling around clutching my stomach and screaming – effing and blinding.
"They called Charlotte who told them to get an ambulance. I remember asking the paramedics for pain relief and hearing the thud as the ambulance doors closed but then that's it."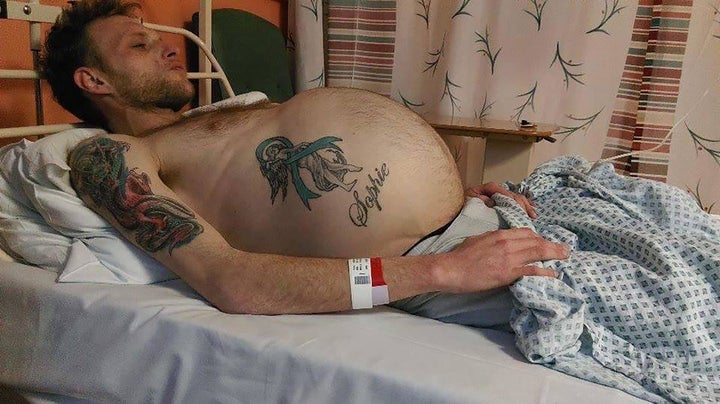 While Jones was in the coma, he had three surgeries in three weeks to remove more and more of his bowel and colon which was so swollen it looked like "a saggy football".
In between surgeries he was left open and couldn't be stitched up in case he had to be rushed back into theatre.
He lost four stone and his family and girlfriend Charlotte Pilling, 21, were told to say their goodbyes – but Pilling sat by Jones' bed every single day begging him "not to leave her".
Pilling, a tourism management student, said: "It was really hard. I thought I was going to lose him. There was so much going on that it is all just a bit of a blur now.
"All I remember is sitting by his hospital bed every day, crying and begging him not to leave me.
"He has always been my person to lean on and my shoulder to cry on and I had lost that completely. It was really tough."
When Jones' body defied all expectations and started to fight back, doctors decided to wake him from the coma and his first act was to pop the question from his hospital bed on 5 July.
"At first it was all just really confusing," said Jones. "I didn't understand where I was or what had happened.
"But Charlotte and my family started to fill me in. When I heard that Charlotte had been sat with me every day and that she had been crying, telling me not to leave I just knew I had to marry her."
He added: "I made a joke to her that if I got on one knee she might have to pick me back up and then asked her to be my wife from my hospital bed.
"She said yes and we've chosen a ring together online.
"It might not be the most traditional way but if there's one thing this experience has taught me it's not to wait around.
"If you like it then you've got to put a ring on it and I love her. She's amazing."
The couple, who have been together for three years, might not be rushing down the aisle anytime soon as Jones has to stay in hospital until he gets his bowel function back.
At the moment he is attached to a stoma bag but is hoping to have it removed within the next month.
He said said: "I can't thank Arrowe Park hospital enough. They have been amazing and so much has been put into saving my life. I'm absolutely made up.
"The road to recovery is going to be a long one but thanks to the hospital I'm on that road and the one to marrying the girl of my dreams."
His wife-to-be added: "They've not just saved Kris, they've saved me too. I can't wait to get him home and start planning the wedding."