A fox proved it was not only cunning, but also cultured, on Monday, by boarding a London bus to the Imperial War Museum.
The animal was photographed on board the number 12 bus as it made its way from Elephant & Castle towards Oxford Circus at around 8am, by Press Association political editor Andrew Woodcock.
The fox reportedly strolled on to the top deck, before the driver was alerted and coaxed the fair-dodger off the bus.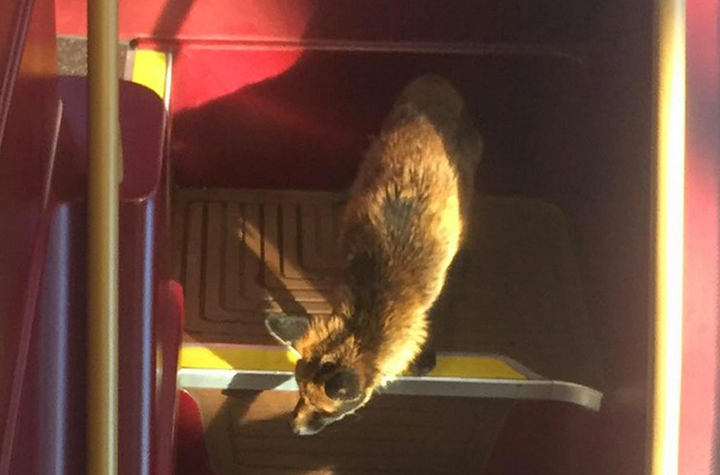 Woodcock tweeted a photo of the fox, writing: "That stuff about urban foxes adapting to city life is clearly nonsense. This one didn't even have his Oyster card."
He later told the Evening Standard that he was on the top deck of the bus as it headed up St George's Road when he noticed the unlikely commuter searching for a seat.
He said: "I looked down and it was a fox, walking along the aisle towards the front staircase. It had its head down low and was slinking along as if trying to avoid being noticed, but it didn't seem panicked or scared at all."
Woodcock said "everyone" on the bus noticed the fox.
"There were a lot of smirks and raised eyebrows and everyone looked to see what it would do next," he said.
"It paused at the top of the steps as if waiting for the next stop."
When the bus stopped at the war museum, Woodcock said the driver came over the speaker system, alerting passengers that the bus was going to stop while attempts were made to remove the fox.
Woodcock said: "As soon as the doors opened, the fox trotted down the stairs and hopped out onto the pavement.
"It may not have had an Oyster card, but it left a liquid offering on the top step, so I guess it can't have been quite as cool as it seemed."