A south London squirrel has been saved from a certain death after more than 5,000 people signed a petition urging pest controllers not to kill their furry friend who "brightens a lot of people's days".
Pest controllers were called to have the animal "removed" from Woolwich's Royal Arsenal housing development earlier this month after it began nibbling nuts at desks at a Warehouse Court studio.
Some residents were also thought to have complained about the grey squirrel - famous for arriving at the development by accident in the back of a Tesco truck - "hiding nuts in people's pot plants".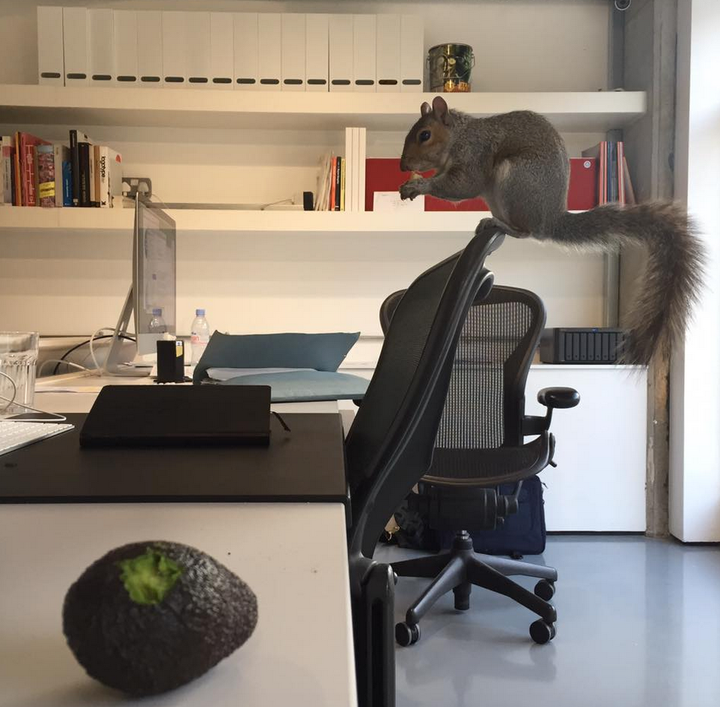 Graphic designer Anthony Coyne, 44, who signed the petition, wrote passionately in defence of Cyril in the comments section on change.org.
He also chronicled his interactions with the creature he affectionately named the "tree rat" on his Facebook page.
Coyle said Cyril had "made his home" on the development and often visited his workplace where he enjoyed a "daily fix of his favourite meal, hazelnuts".
He continued: "Now it appears some scoundrels in the apartments above have complained he's been hiding nuts in their pot plants and want him killed, their complaints aired to the concierge, passed to the estate management at Rendall & Rittner who have organised an assassination - an assassination ultimately paid for by us residents!
"His haters and killers must be stopped, by force if necessary. Save Cyril."
In a statement on Monday, estate management firm Rendall & Rittner sought to reassure residents, saying it had listened "to all those concerned about Cyril and want to assure the community that he will not be harmed".
However, the company went on to request residents leave Cyril to get on with his own life, stating it was in his "best interests".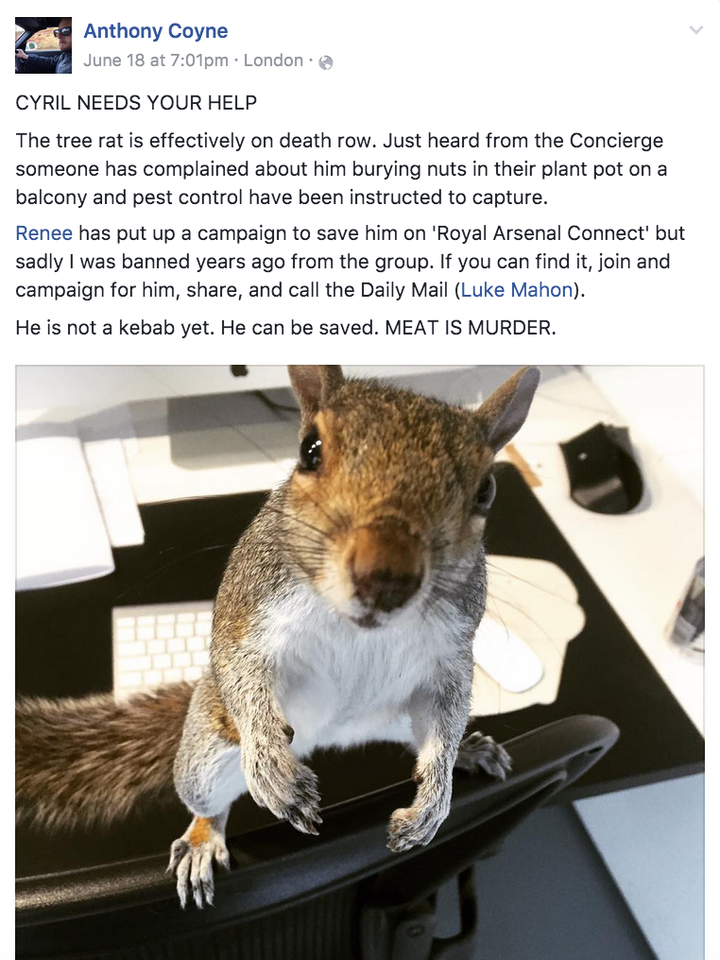 "Given Cyril's capabilities at causing a stir we do request that residents across the development leave him to his own devices and refrain from feeding him or encouraging him into their property, as this will encourage his behaviour when it is not always welcome.
"We are seeking specialist advice on the best methods to discourage Cyril from causing damage to homes or offices."
"It is in Cyril's best interests to be left alone to find his own habitat, where he can forage for food naturally, away from human intervention."
The news delighted those who had signed the petition, with Ken Hammersley writing: "Sense has prevailed at last."
Writing on the petition page, its founder, Denna Giddons thanked "every one for your support" which she said was "humbling".
She wrote: "It's so humbling that so many people within our community and beyond care about this little fella. He is a wonderful little squirrel and adds to what is already an amazing place to live.
"I've always hailed Royal Arsenal as an incredible development with a fantastic community spirit. The way everyone has got behind this petition really shows that. I'm so proud of our community."
Related