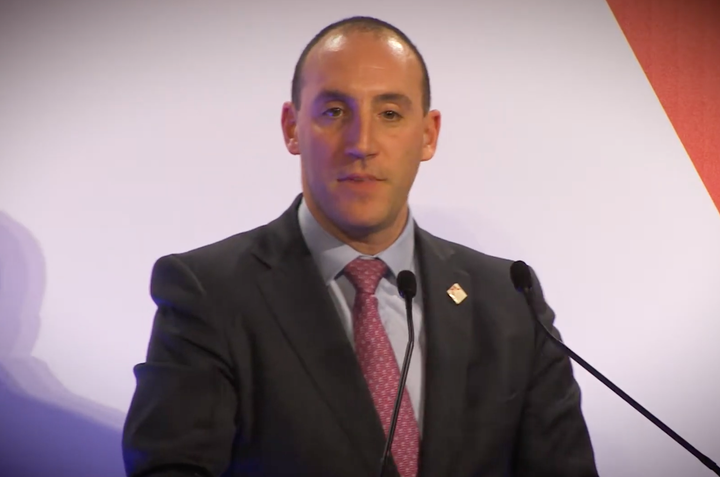 A former Treasury official and top investment banker for Bank of America will run Downing Street for Boris Johnson, it has been announced.
Dan Rosenfield has been appointed as chief of staff at Number 10 and is expected to begin work on December 7.
Rosenfield's most recent role was as head of the strategic advisory firm Hakluyt and, as managing director for investment banking at Bank of America, he could have valuable insight as Britain bids to close the US-UK trade deal.
But it is his previous career, spanning more than a decade, in the UK civil service, which will attract attention.
Rosenfield spent three years as principal private secretary to Labour chancellor Alistair Darling, between 2007 and 2010, as the UK grappled with the fallout of the 2008 global financial crisis.
He also served Darling's successor George Osborne, until 2011.
The appointment comes after Johnson's most senior aide Dominic Cummings and director of communications Lee Cain dramatically resigned earlier this month.
It followed a power struggle after Cain's promotion to chief of staff was rejected by those around Johnson, including his partner Carrie Symonds.
The exit of the two Vote Leave veterans, who many credit with Johnson's victory in the so-called red wall former Labour seats, was welcomed by most MPs.
Johnson is attempting to refresh his premiership and earlier this month underlined the government's objectives for this parliament and set out a ten-point plan on climate change.
The appointment is part of a wider shake-up at Downing Street, with Johnson's new press secretary, the former Guardian and ITV journalist Allegra Stratton, set to begin on-camera briefings with journalists on the government's work.
The 12 months since the election have been almost entirely dominated by internal political wrangling and the Covid-19 crisis.
Ed Lister, the current interim chief of staff, a long-term ally of Johnson's since his days as mayor of London, is expected to stay on in an advisory capacity.