Watch the heartwarming moment that two worlds collide: football legend David Beckham surprised Pride Of Britain winner Ella Chadwick in Great Ormond Street hospital last week.
The 11-year-old is a huge Manchester United fan, so when David walked into the hospital ward where she was sitting, she could hardly believe her eyes.
"Oh my god," she said with a huge smile on her face, waving. "Hi David Beckham!"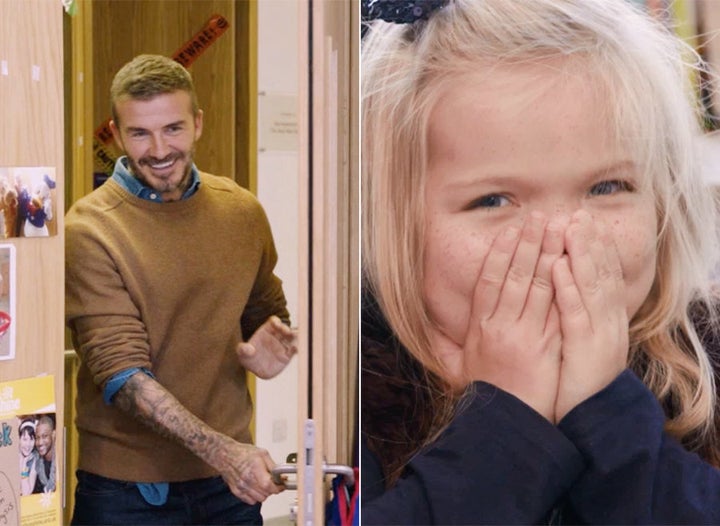 Ella was born with congenital nephrotic syndrome, a kidney condition which quickly led to kidney failure. She had a transplant from her dad when she was just three-years-old however it failed immediately due to a blood clot.
"She's had strokes, she's had sepsis, she's had pneumonia. She was in hospital more than she was at home really."
Thanks to a second life-saving kidney transplant four years ago from her grandma, Ella is not only doing better but has raised thousands of pounds for Royal Manchester Children's Hospital where she spent much of her childhood.
Ella was nominated for the Child of Courage Award, which she was presented with last week, after she spent her summer holidays in 2016 hand-making 250 'get well soon' cards for kids in hospital.
She also raised a whopping total of £5,000 for the same hospital, through various fundraising activities including taking part in the Great Manchester Mini Run.
At Great Ormond Street hospital, David helped Ella deliver some of her hand-made cards to children on the ward.
"I can't believe all these cards. You must be constantly covered in glitter," he said. "I must admit, I'm constantly covered in glitter with my daughter as well."
The Daily Mirror Pride of Britain Awards, in partnership with TSB, will broadcast on ITV on 6th November at 8pm.