The 23-year-old tells viewers he was speaking to his mother in Arabic when fellow passengers began complaining that it made them feel uncomfortable.
In the video he says: "We spoke a different language on the plane and now we're getting kicked out.
"This is 2016. I cannot believe my eyes.
"I spoke a word and you said you feel uncomfortable. Why are you guys doing that?
"Just because I spoke a different language."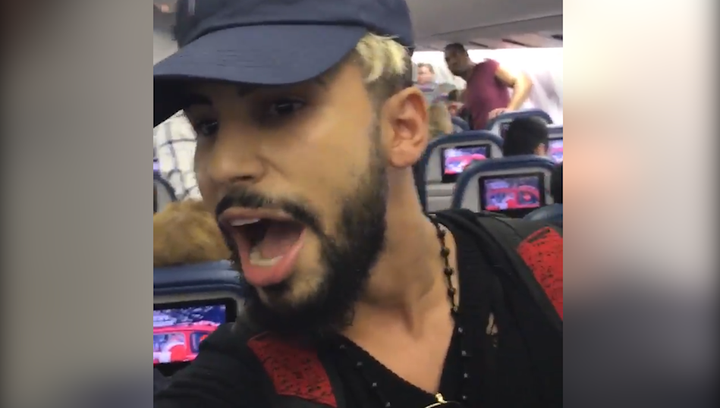 The hashtag #BoycottDelta began trending as outrage at Saleh's version of events circulated which Delta Airlines has now disputed.
The company said: "Upon landing the crew was debriefed and multiple passenger statements collected.
"Based on the information collected to date, it appears the customers who were removed sought to disrupt the cabin with provocative behaviour, including shouting.
"This type of conduct is not welcome on any Delta flight. While one, according to media reports, is a known prankster who was video recorded and encouraged by his traveling companion, what is paramount to Delta is the safety and comfort of our passengers and employees.
"It is clear these individuals sought to violate that priority."
Salah has maintained his version of events is accurate.
In an interview with the BBC Asian Network, he said: "We got on our flight, we sat down. Every time I take off on a flight, I always call my mum.
"And my mum, she only speaks Arabic - she's 66-years-old and she only speaks Arabic.
"So I spoke to her on the phone for a couple of minutes - I hang up then I start speaking to my friend.
"Me and my friend, we only speak two languages - English and Arabic.
"I start speaking to him in Arabic then one lady got up and she was like 'what are they saying? I feel so uncomfortable'."
"Then I was like 'I'm just speaking my language'.
"And then this woman next to me who was from Pakistan and spoke Urdu, she was like 'that's so stereotypical'.
"And then after that another guy came up - he was like 'you guys need to get off the plane'."
He goes on to claim around 10 people gathered around him and his friend telling them to get off the flight.
Eventually the captain of the flight intervened before they were escorted off.
A fellow passenger told the New York Times he believed the woman who approached Saleh originally had "overreacted".
He added: "She heard somebody speaking in Arabic and assumed the worst."
Saleh is well-known for his online pranks, recently claiming he smuggled himself aboard a plane in a suitcase.
The airline in question disputed the claim.
Saleh was born in New York to Yemeni parents.