Parents who lost their newborn baby son to the cold sore virus are campaigning for more awareness and research about the infection that can be passed on by a single kiss.
Sarah Higson and James de Malplaquet's son Kit died 13 days after he was born after contracting neonatal herpes, which is caused by the HSV1 virus or the cold sore virus. It kills over 65 babies a year but Kit's parents say there is a shocking lack of awareness about this.
Kit was born healthy at the Royal Sussex County Hospital in Brighton last year, but was taken into special care with low blood sugar when he was a few hours old. He was "incredibly sleepy" and didn't wake for feeding or respond to pain, such as when his heel was pricked for blood tests, his parents say.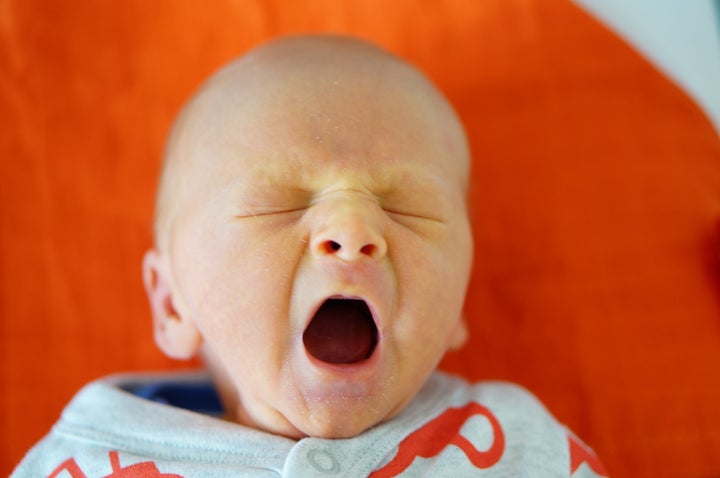 Kit was discharged from special care and went home after eight days. But when he was nine days old he was back in a different hospital, struggling to feed and not waking up at all.
"We were admitted to the children's hospital where staff recognised immediately that something wasn't right but didn't know what; with a blood test showing infection markers, the doctors suspected a bacterial infection. This was despite the fact he'd been on antibiotics for three days in special care," Kit's parents say.
"Over the next few days, Kit got a bit better and then much worse day by day until on his twelfth day he was rushed by ambulance to intensive care at the Evelina London Children's Hospital. There they did everything they could to save him but it was too late and he died early the next morning.
"Standing by helpless as a doctor performed CPR on our baby's tiny swollen and bleeding body is a memory which will haunt us forever."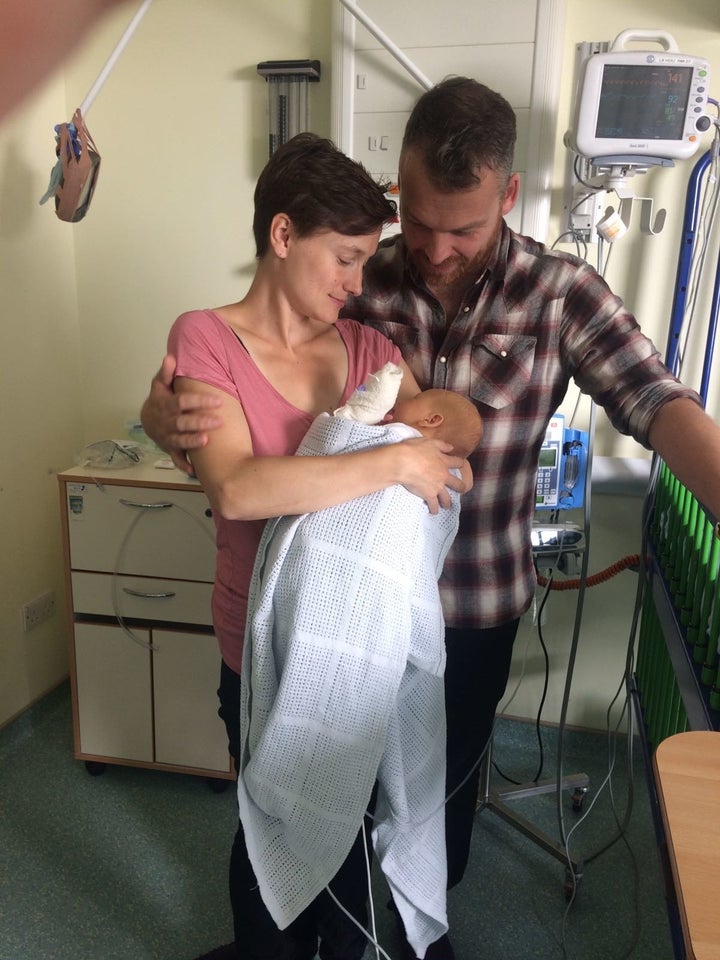 Tests the day after Kit's death confirmed he had HSV1, the herpes or cold sore virus. The doctors asked if the parents or anyone who visited Kit had recently had cold sores. The couple don't know how he contracted the virus - tests showed Sarah had no signs of it and James hadn't had a cold sore in years.
"They said to us early on that they didn't think we'd ever know [what caused the infection], and that would be one of the things we'd have to deal with," James tells HuffPost UK. "90% of infections like this come from the mother through the birth canal, if she's been infected in the last three months. But Sarah had a caesarean and didn't have it in her blood anyway.
"There's a possibility that I had it even though I'd not had a cold sore for five years, but I never kissed him on the lips, and it seems an unlikely source. I didn't get to spend that much time with him, sadly.
"It's possible that a nurse or doctor who had a coldsore touched him. Apparently his blood could have been tested to find out the DNA of the infection, but it was destroyed."
Sarah and James say the hospital didn't do tests for a viral infection while Kit was alive, going against some guidance for babies with his symptoms, and so he wasn't given antiviral medication and had "no chance" against the infection which took over his tiny body.
"It soon became clear that Kit's death had been preventable and that the lack of knowledge around the transmission, recognition and treatment of the virus had led to his tragic and untimely death," they write on their site.
Now, nearly a year on from his death on 29 September 2017, his parents have set up a charity, The Kit Tarka Foundation. Tarka - the name of a fictional otter - was Kit's middle name, given to him because of Sarah's love of swimming and James' love of otters.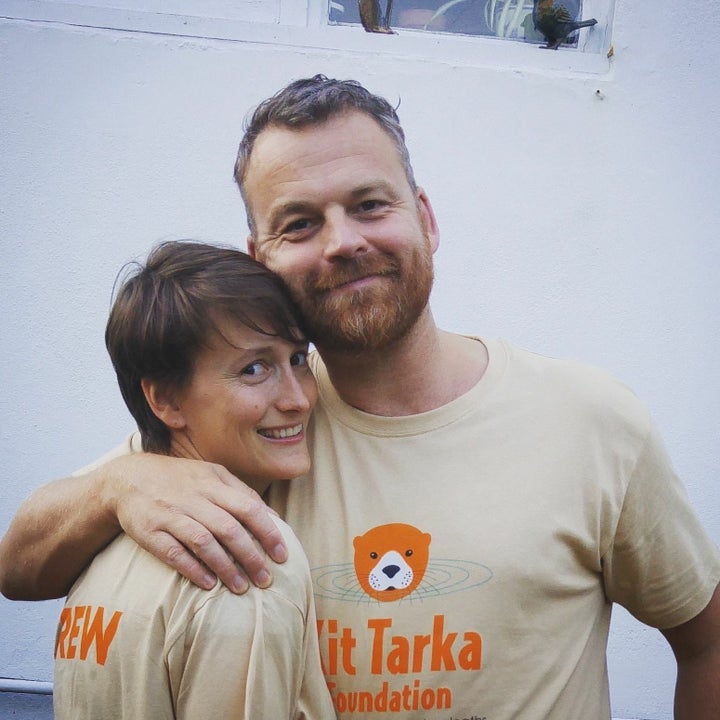 The charity's logo is an orange otter and friends and family wore orange flowers in remembrance of Kit at his funeral. "He was our little otter who never got to swim," his parents say.
The charity aims to fund education and awareness about neonatal herpes, and eventually to extend this to all preventable causes of newborn baby deaths. Sarah says she was "astonished" by the lack of awareness amongst the public and medical profession.
James says he was initially hesitant to start the charity as he felt his only focus should be supporting Sarah, Kit's mum: "It was a moral obligation. But she proved herself an expert in research, and had a charity background, and so she could make a difference. It's not often you can say you can help save lives. So I felt it would help her bring some light back into her life."
With support from the Rockinghorse Children's Charity and the Chalk Cliff Trust, they have already raised over £26,000 to fund a new full research project into the infection in babies - the first in 25 years.
The project will monitor infections and mortalities from neonatal herpes in the UK and Ireland over two years with doctors from the Royal Alexandra Children's Hospital and St George's University of London Hospital.
In future, Kit's parents hope to help make neonatal herpes a "notifiable" disease which would mean medical teams have a statutory duty to report it, to fund research into potential vaccines, and to work with the NHS to train medical professionals to spot and treat the infection.
James hopes future research will uncover more about the infection, as some studies suggest it is on the rise.
"A study from Nottingham suggests more than one baby a week is dying from it. Like all charities, we want to nullify that - to make ourselves redundant," he says.
Their work comes against a backdrop of rising neonatal deaths in the UK, where babies are now more likely to die in their first month than in Cuba and Latvia according to UNICEF. "Having been to Cuba recently that is absolutely shocking," James says. "There is a lot to be done."
The couple are holding a mini music festival in Brighton on 15 September, the day before what would have been Kit's first birthday, featuring Fujiya & Miyagi, Alice Russell and TM Juke. All proceeds will support the charity's work. Tickets are available via Ticket Source.
Commenting on the family's story, Nicola Ranger, chief nursing officer for the Brighton & Sussex University Hospitals NHS Trust, told HuffPost UK: "Our thoughts and deepest condolences are with Kit's family. Kit died having contracted HSV infection, which is known to be very rare and can often be very difficult to diagnose.
"We have been keen to learn as much as we can from Kit's death. We are supporting the Kit Tarka Foundation to raise the profile of neonatal HSV infection and absolutely support the Foundation's mission and vision.
"We have also worked closely with the local Rockinghorse Charity, Kit's parents and Dr Katy Fidler to engage the British Paediatric Surveillance Unit on a national audit of neonatal HSV infections. Our hope would be that this work will inform the more effective prevention, identification and treatment of neonatal HSV infection in the future."