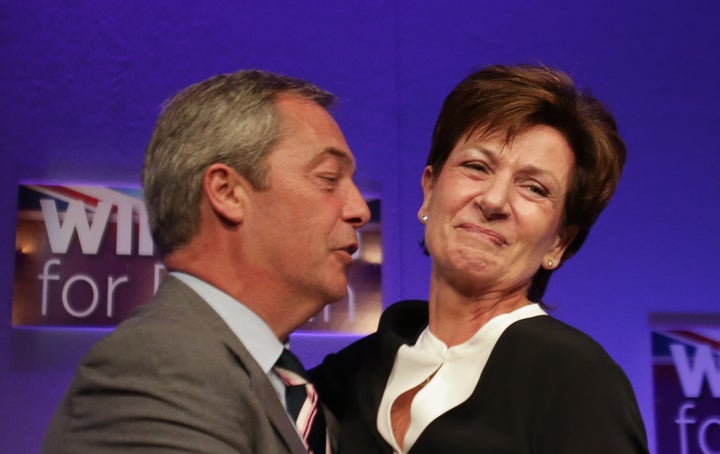 Former Ukip leader Diane James has quit the party, citing an "increasingly difficult" relationships.
James succeed Nigel Farage as Ukip leader in September. However she quit the post after serving just 18 days and Farage returned as interim-leader.
Farage immediately launched an attack on his former Ukip colleague. "This is yet another act of irrational selfishness from Diane James. This pattern of behaviour says that is she unfit to continue as an MEP. She should do the honourable thing and resign," she said.
Current Ukip leadership candidate Suzanne Evans said James should step down as an MEP.
In a statement today, James said: "The President of the Parliament, Martin Schulz, has accepted my request and will announce this in his opening speech to the Parliamentary Session in Strasbourg on Monday 21 November.
"At a high profile public event in Cambridge last week, I was asked why I had not completed the process to become Leader of Ukip? I had little option, but to give the truthful response that, although nominated Leader by popular vote in the membership, I found that I had no support within the executive and thus no ability to carry forward the policies on which I had campaigned.
"My decision to retire from the election process and not complete it was very difficult personally and professionally, given that UKIP has dominated my life and all my efforts for over 5 years. In recent weeks, my relationship with the Party has been increasingly difficult and I feel it is now time to move on. I wish the Party well for the future under new leadership."
James was overwhelming elected to succeed Farage by Ukip members on September 16, but her campaign was dogged by rumours that she was reluctant to stand.
She refused to take part in any of the leadership hustings, and instead held her own campaigning events.
After becoming leader, rumours persisted that she was not approaching the job with enthusiasm, and had made little effort to reach out to the party's MEPs.
Ukip is currently in the middle of another leadership campaign to replace Farage with Paul Nuttall and Evans seen as the favourites.
In a statement, Evans said: "I am very sorry to hear Diane James has decided to leave UKIP. I am sure she has her own personal reasons and I do not question those. However she, like Steven Woolfe, were both elected as MEPs on a Ukip ticket, not as individuals.
"If they have any honour or integrity, both should now stand down as MEPs and vacate their seats. I reiterate my call for defectors Amjad Bashir and Janet Atkinson to do the same, for the same reasons."
Woolfe, another previous leadership candidate, also recently quit the party.
Related