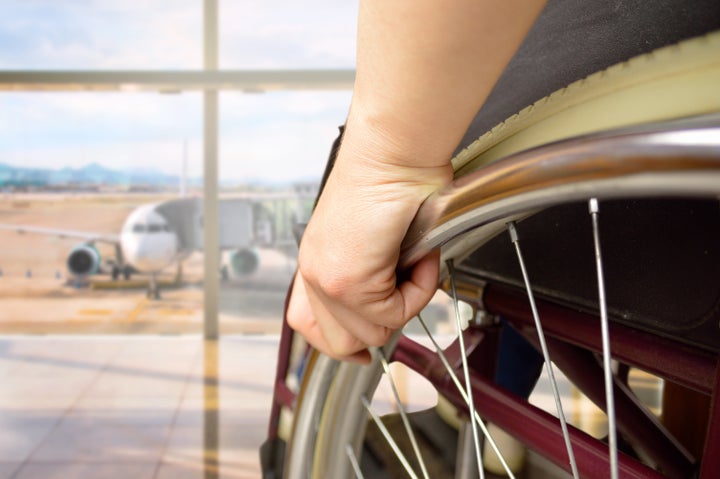 Over 15 years ago I went on holiday with my family to Florida for a Christmas I will never forget. When we came back to Northern Ireland through Heathrow Airport, my several thousand pound powered wheelchair was left behind in London.
The BBC Security Correspondent Frank Gardner was left on a plane for 100 minutes – long after the last passenger walked off - last week because his wheelchair had misplaced.
You could be forgiven for hoping that this was a one-off event in a series of good stories. Sadly, that is not the case. Air travel is full of difficulties for disabled people, and in the 15 years since my wheelchair went missing, it appears that little has changed.
Muscular Dystrophy UK's Trailblazers – a network of disabled young campaigners – carried out an investigation of the situation in air travel. The Up in the Air report revealed that 6 in 10 young disabled people had sustained damage to their wheelchair. Indeed, 6 out of 10 people feel unsafe when transferring to the airplane seat.
Last year, I flew for the first time in ten years. I'm incredibly thankful to Belfast International Airport for letting me try out a manual lifting sling – where two people lift a disabled person in a specialist sling, not unlike a hammock – before I booked my flight.
Lucky enough, I felt safe. The staff handling me have been excellent listeners. But it is not lost on me that this is often a rarity.
Trailblazers is calling on all airports to purchase and use Eagle Lifters for their flights. These are like traditional hoists – a machine which mechanically lifts a disabled person out of their seat and into the aircraft seat. However, due to the tight turnaround time on some flights by airlines, there is currently opposition to using these on short haul or domestic flights. I do not believe that disabled people should be hauled from seat to seat like a sack of potatoes just because of time.
But even on booking, the stress of ensuring everyone knows you are coming, need a manual handling sling and then notifying the airline of all of your mobility equipment and medical equipment is staggering enough to put anyone off. It truly feels like a military operation. Failure to do this can mean that you aren't able to fly on the day. The stress continues right up until you manage to check in successfully.
Once I made it to the plane, I had to be strapped into the seat on the aircraft using two luggage straps. My dad had to hold my head for most of the flight because the seat is not the specialist seat I need to support my body. The lack of dignity in being hauled on by four people talking and minding various limbs while passengers file on around you is like no other. This is not the fault of assistance staff, but rather an impatient airline just wanting to get off the ground.
I made it there and back in one piece. And so did my wheelchair. But this is a bit of a miracle when 6 out of 10 people have damage to their wheelchair occur when travelling.
There is a lot to be done. Disabled people go on holiday, travel for work and visit family who live a bit further away, just like non-disabled people. They also hold a wealth of knowledge and a strong desire to get the job done when it comes to making their lives – and the jobs of others who help them – easier and more effective.
Our next natural step is to make airplanes accessible for wheelchair users – staying in their wheelchairs on board. We have accomplished this in all other areas of public transport. Why not air travel?
Trailblazers has been attending events and working with groups, such as Flying Disabled, to make safe and dignified air travel a reality for wheelchair users.
We were delighted to be able to visit Virgin Airlines to see their new model of aircraft which has been designed with wheelchair users in mind from the outset. Last year, we also attended the Flying Disabled Symposium held by the campaigner Chris Wood. This brought together many of the key players in the air travel industry including manufacturers, airlines and passenger associations.
Events like these make me excited for the future. People throughout the industry are finally putting their heads together to work out this problem. Trailblazers will continue to press forward with these individuals to make air travel possible for disabled people.
In the meantime, we need staff training and improved processes to make sure that no disabled person is left stranded on an aircraft, loses or damages their wheelchair and feels safe when travelling on an airplane in future.
For more information about Muscular Dystrophy's Trailblazers, please click here.