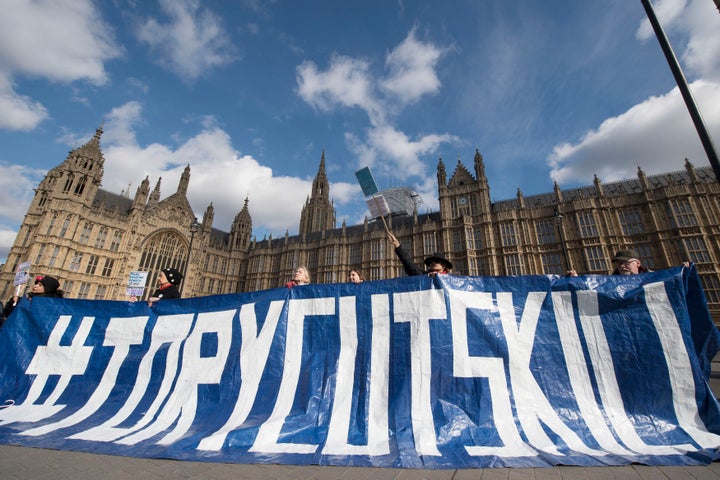 Disabled protesters blocked the MPs' entrance to the Commons chamber to campaign against cuts to care services.
The group, all members of the Disabled People Against Cuts (DPAC) pressure group, travelled to Parliament from across the country to raise concerns about slashed care hours and the impact of welfare reform.
They gathered in Central Lobby, outside the door MPs use to gain access to the House of Commons, immediately after Prime Ministers Questions on Wednesday, but were blocked from going any further by police.
Jeremy Corbyn, who passed through the protest to attend an emergency debate on tuition fees secured by shadow education secretary Angela Rayner, was cheered and greeted with shouts of "JC for PM".
The Labour leader, who was alone, said hello to the protesters but did not stop to talk.
Nathan Davies, who suffers from nervous system disorder Friedreich's ataxia, told HuffPost UK he had travelled from Wrexham in north Wales to attend the demonstration.
"There are people here from all parts of the country," he added.
"We are all part of Disabled People Against Cuts and we are worried about the impact on local services."
The 40-year-old, who is wheelchair bound, said he "lives in fear" of getting a letter through the post from the government.
"I am dreading being told that I am going to have a reassessment, because I know it will mean a cut in the number of hours of care I am given and I just can't cope without the level of care I get now.
"We wanted to come to Parliament to raise awareness of what is happening and the impact on our lives."
DPAC said the protest was part of a nationwide week of action, which it has labelled "The Summer of Discontent".
DPAC is also planning protests at the Conservative party conference in Manchester later this year and shadow chancellor John McDonnell will speak at an event organised by the group in September.
A DPAC spokesman said: "The funding crisis in social is having a very real and detrimental impact on disabled people's ability to live and take part in the community and the gap between the life chances of disabled and non-disabled people is widening.
"The most basic choices such as when to get up go to bed or use the toilet, when and what to eat, and the choice to leave the house are no longer in the hands of disabled people but subject to local authority budget allocations, which are becoming ever more restricted."