Jeremy Corbyn supporters have condemned the company behind a documentary that makes serious allegations against left-wing campaign group Momentum.
Supporters of the Labour leader claimed one of the makers behind Channel 4's Dispatches 'The Battle for the Labour Party' had an "axe to grind" and the broadcaster would inevitably air a "shoddy and slanted film".
A blog post shared on social media took aim at 'Films of Record', which produced tonight's programme, noting it also made a film last year for BBC's Panorama on Corbyn's election, which was described by the leader's office as a "hatchet job".
A Momentum spokesperson told The Huffington Post UK: "Last year's Panorama was a shoddy, slanted film. We have no confidence that tonight's Dispatches will be any different."
Supporters on social media claimed they were "shocked" by the revelation that was "unknown to viewers" and suggested it was a "hidden connection".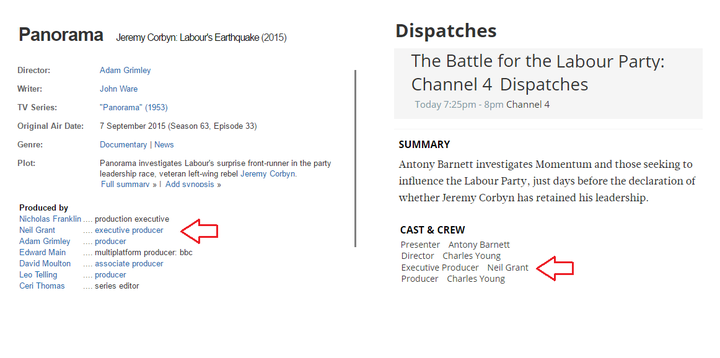 The blog post by 'Tom Pride' went further, calling the production company's managing director personally into question. It suggested Neil Grant had an "axe to grind" having fallen out with Corbyn ally Ken Livingstone.
Grant was a voluntary researcher for Livingstone during the Thatcher years, and is credited by the former London Mayor with helping him hold the government to account for alleged misconduct by MI5 officers.
But after Livingstone's suspension following his comments on Hitler, Grant revealed that the pair had not spoken in 20 years.
Several Corbyn supporters pointed to the allegations concerning Grant to allege a "smear job" and "anti-Corbyn bias".
Grant said in a statement: "In the interests of accuracy I have not fallen out with Ken Livingstone or had any direct argument with him whatsoever. In reporting erroneously that I have "an axe to grind" that motivated Monday nights Dispatches, "The Battle For the Labour Party" beyond the rigorous journalism we applied is simply not true."
A senior member of the Alliance for Workers' Liberty, formerly Socialist Organiser - a group banned by Labour in 1990 at the height of its entryist crisis - even implied MPs were involved in the documentary.
Editor of the groups' newspaper Cathy Nugent wrote on Sunday: "We haven't seen the film but we believe it is a grubby hack-job at the service of Tom Watson, the Labour Party bureaucracy and those Labour MPs who started plotting to get rid of Jeremy Corbyn almost as soon as he got the keys to the Leader's office."
Responding to the allegations, a Channel 4 spokesperson responding on behalf of Films of Record told HuffPost UK: "Channel 4 has a remit to deliver high quality news and current affairs, and a track record for investigative journalism and holding those in power to account.
"Films of Record is an award winning and experienced producer of high quality current affairs programming. The content is a product of unbiased journalism.
"The Battle For Labour is a vital piece of investigative journalism, on an issue of critical national importance to everyone in the UK particularly in a period of political flux."
Editor's note: This article has been amended to include a statement from Neil Grant.
READ MORE:
Related