Medical experts have branded a company developing colourful inhaler cases as "dangerous".
The French company, called Inhal Colors, is developing a range of coloured inhaler cases which will enable users to match their inhaler with "their look and lifestyle".
Doctors have slammed the concept because, typically, inhalers come in different colours to show that they contain different drugs.
For example, a blue inhaler is used for asthma attacks while a brown inhaler is for prevention - and reaching for the wrong one could be a matter of life and death.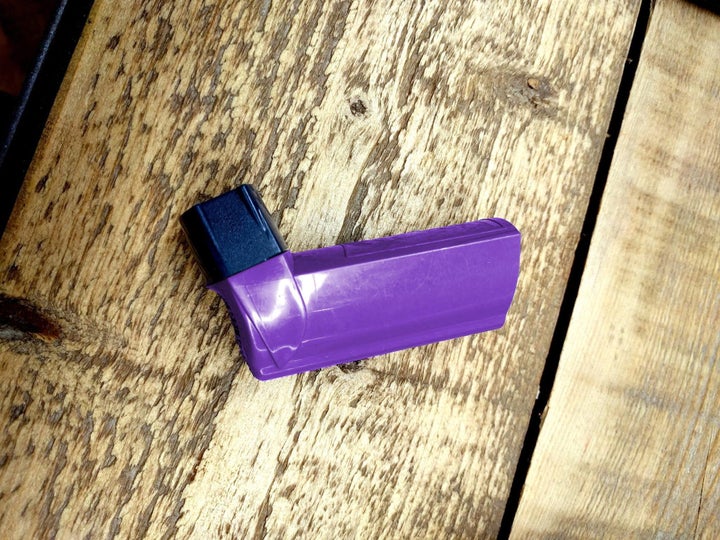 "Specific drugs are specific colours," he explained. "And we talk to patients in the language of blue, purple and brown."
According to the Inhal Colors website, the inhaler cases will only be compatible with Ventolin capsules, which are traditionally found in blue inhalers.
The cases aren't for sale just yet, however the website does have a form enabling people to sign up to be alerted when they become available.
In response to Dr Shiels' tweet, Philippa Perry said: "Looking cool is never my priority when reaching for my inhaler."
Steven Thomas added: "I agree: it's brown and blue for me. Too many other things to think about than brown meaning purple and blue meaning yellow."
Another person added: "Yup, terrible idea, I only knew to bring mum the blue or brown one on request."
Dr Shiels isn't the only ones to raise concerns over what could happen if people strayed away from the traditional colours used for different inhalers.
A survey by the UK Inhaler Group (UKIG) in November found that patients' lives could be put at risk if pharmaceutical companies strayed away from the widely recognised colour coding of inhalers used to treat asthma.
The group called for an official colour-code system for inhalers to prevent possible confusion over which inhaler to use in emergencies.
The survey revealed 89% of patients and 95% of healthcare professionals frequently refer to the colour when discussing reliever medication. But with multi-coloured options becoming readily available to the public, this can become confusing.
Dr Duncan Keeley, GP and policy lead for the Primary Care Respiratory Society UK, said: "With so many different compounds in inhalers, and patients often having more than one inhaler, referring to inhalers by their colour is obviously very helpful. And it also helps the people around the patient to know that the blue inhaler is the one that needs to be used in an emergency.
"So this is about safety – in a real emergency, when someone is struggling for breath, it is important that there is no room for confusion about which inhaler will have a rapid effect to relieve symptoms."
Sonia Munde, clinical nurse manager and head of the Asthma UK helpline, said: "The term 'blue inhaler' has been synonymous with the reliever inhaler for years and is commonly referred to this way by clinicians and patients. It is so important to have consistent simple health messaging between people with asthma, their carers and healthcare professionals.
"This is particularly the case during a life-threatening asthma attack when clear coherent instructions can save lives.
"For example, a 999 call operator may tell someone to take a number of puffs from their blue inhaler, while that person is waiting for an ambulance during an asthma attack. And our nurses will often refer to the 'blue inhaler' when they are giving advice on Asthma UK's helpline."
In response to criticism surrounding its products, a spokesperson for Inhal Colors told The Huffington Post UK: "We are aware of this issue, the treatment identification is indeed very important to avoid a dangerous confusion.
"We are very familiar with asthma because we are asthmatics and we believe that function and design can coexist.
"Our product (for relievers only) - which is not on [the] market - will not cure asthma. But whether or not we improve the motion of the inhaling gesture, or add a simple touch of colour to patients' daily lives, each small improvement we make will act as a stepping-stone to improving our relationship with this disease."
The company, which is currently developing the product, said it would work "directly with patients to answer their questions and queries".