When Doreen Barratt wakes up in her flat each day, she is overwhelmed by a feeling of loneliness. "I wake up in the morning and I think, 'Oh no another day," she tells HuffPost UK. "I truly do. It's horrible."
Doreen has become increasingly lonely in the 12 years she has lived alone. She says previous residents who were her age have since moved out and younger people have now moved in. Yet despite everybody being "nice", Doreen doesn't have much contact with them as they work during the day.
"I hate coming home to an empty house and living alone," says Doreen, who is in her eighties. "I have such an active mind and body that, for me, I can't stand not doing anything and that's when the loneliness is worse."
Thankfully a new scheme is helping people like Doreen feel less isolated by pairing them with local dogs and their owners.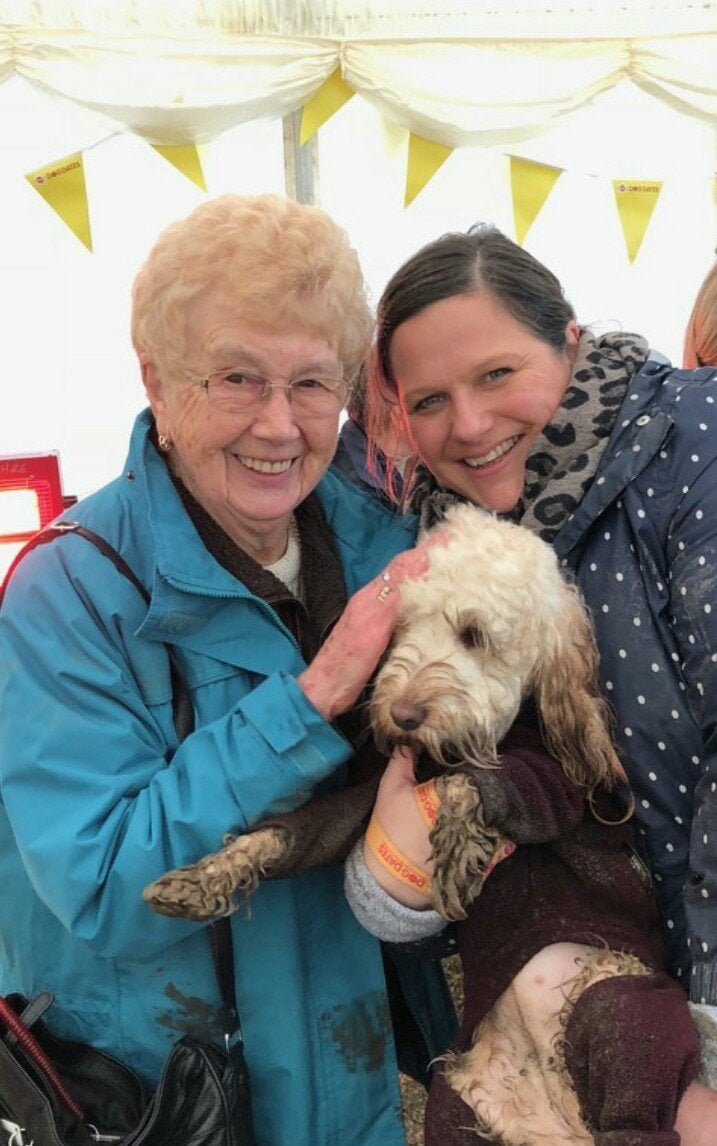 Following the success of a pilot initiative earlier this year in Melton Mowbray, Pedigree is rolling out its 'Dog Dates' scheme nationally, so more elderly people can benefit from being paired with local dogs. Think BorrowMyDoggy, but for pensioners.
The idea is they walk the dogs, sometimes with the owners, and then get to meet new people while out and about.
Loneliness is something that affects all areas of society, however it's particularly prevalent among older adults. According to the Campaign to End Loneliness, 1.2 million older people are chronically lonely in the UK.
Doreen has been walking Sarah York's dog, an adorable cockapoo called Lottie, as part of the scheme. "I heard about Dog Dates from a friend and it sounded perfect - I wanted to get involved because I wanted to meet new people and I absolutely love dogs," she says. "I didn't have a second thought about taking part."
Walking someone else's dog has provided Doreen with a great way to meet new people and to beat those feelings of intense loneliness. But equally she doesn't have to endure the responsibility and financial costs that dog ownership can bring - a bill that can be difficult to foot when you're retired and living alone.
"I only have to walk through the park to get to the local shop and I see lots of people out and walking their dogs," she says. "Over the years, even when I haven't been walking a dog, I've always stopped to say hello to other people and pat their dogs, so I think that it's natural that you'd meet people this way. It's lovely to be on the other end where people approach me to pat Lottie – she is a very sweet dog so she gets lots of attention."
Sarah York, Lottie's owner, says Doreen and her pooch "had an instant connection" the first time they met "which was heartwarming".
"I was truly amazed by the happiness it brought Doreen [through] meeting Lottie and going for a walk," she adds.
"Although Doreen is an extremely busy and active 80-something lady she also experiences extreme loneliness which really saddened me. Once the door is closed to her flat she is totally alone, day after day after day."
But getting out to walk Lottie makes the world of difference - and the spritely cockapoo loves the attention too.
As for Doreen, she says the experience "means everything".
"I really do think the scheme could help lots of people and I encourage anyone who is feeling lonely to take part," she says. "There is a lot of pleasure to be had of it."
HumanKind is HuffPost's celebration of kindness, featuring people who do incredible things for others or the planet – transforming lives through small but significant acts. Get involved by joining us on Facebook or telling us about the people who you think deserve recognition for their kind works. You can nominate them here or share your personal story by emailing natasha.hinde@huffpost.com.