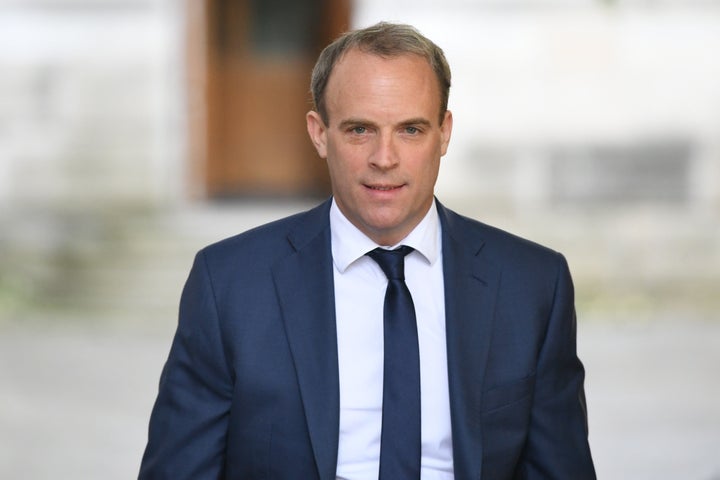 When Dominic Raab said kneeling in solidarity with Black Lives Matter was "demeaning" or something "out of Game of Thrones" it felt like a slap in the face for many Black people. While farcical for some, it was also jarring for many - because it is a manifestation of the ambivalence to the anti-racism movements among the highest echelons of government. Anti-racism protests have spread across the world for weeks, with kneeling a key motif; indeed, it's hard to find footage of a protest where it is not featured. Yet, when Raab appeared on the radio, he claimed it was demeaning, and from a fantasy TV show. It was unsurprising to see Labour MP David Lammy take to Twitter and say Raab's behaviour was "not just insulting to the #BlackLivesMatter movement, it is also deeply embarrassing for Dominic Raab".
Indeed, it's not an exaggeration to suggest you must have had your head in the sand to not even be able to recognise what the symbol means. And, to add insult to injury to Raab's comments, smirking, he says he only affords kneeling to the Queen and his wife - almost implying that it is unpatriotic to partake in kneeling at anti-racism rallies, and that it was something to find amusing. Indeed, not only did Raab's behaviour demonstrate an extreme lack of interest and ambivalence in anti-racism protests, it reflects the attitude we've already seen of late from other Cabinet members such as Matt Hancock.
When Hancock appeared on the Sophy Ridge programme on Sky News recently, he could not answer when questioned about how many Black people were in the Cabinet. Indeed, he dug himself even deeper into the hole when he started listing Asian MPs instead. And he also erred again this week when he called Black footballer Marcus Rashford "Daniel" - despite the fact that Rashford is a world famous, world-class footballer who had had wall-to-wall coverage on his school meal campaigning. It is these levels of wilful ignorance and disinterest that are emblematic of how these issues are trivialised and dismissed. And this comes from a government with an egregious record on anti-Black racism, and one that should desperately be trying to make amends.
"When Raab knows more about kneeling in Game of Thrones, than the kneeling outside his offices in Westminster by Black right protestors, it shows a grotesque lack of interest in issues facing minority communities."
From the Windrush scandal, and to the prime minister praising colonialism in Africa and hiring eugenicists that think Black people have lower IQs, this is a government that has been hostile to the Black community time and again. So, while this "faux pas" may seem trivial to some, it just smacks of the continuing disrespecting of the Black community by the Conservative party. And this comes not just at a time when Black people are calling out to be heard and be given equality, but at a time when Black people - and indeed other minority communities - are dying at a higher rate than white people of Covid-19. Reports commissioned by the government suggest that racism plays a role in this and, while the government say they are taking this issue seriously, it is deeply concerning that senior ministers cannot tell the difference between a Black rights protest and a fantasy TV programme. When Raab knows more about kneeling in Game of Thrones, than the kneeling outside his offices in Westminster by Black right protestors, it shows a grotesque lack of interest in issues facing minority communities.
It should not need to be said, but if the government want to demonstrate they're serious about tackling racism towards Black people in the UK, they must take the time to see us. They must be able to recognise us. They must educate themselves. Because it is gravely concerning that the man, who was at one point the UK's de facto prime minister, can't distinguish between a television show featuring dragons and a Black Lives Matter protest. And if senior minsters can't even take the time to pay attention, how can the Black community have faith that they'll honour their promises to create change? How can the Black community trust them to take this seriously if they can't distinguish Jon Snow kneeling to Daenerys Targaryen from a Black person kneeling at an anti-racism protest?
Not only this, but we need this coupled with action on these issues. We need action on the fact that Black people are eight times more likely to be arrested by the police, are more likely to have police force used against them, and are even more likely to be fined under Covid-19 legislation. We need action on the institutional and structural racism in British society. And we need action that must be spearheaded by a government that listens to achieve lasting change. Because our lives, our campaigning, and our concerns are not fantasy.
Nadine Batchelor-Hunt is a journalist and former president of the Cambridge University Black and Minority Ethnic Campaign.