During a joint press conference from the White House on Friday afternoon, the President was answering a question on the debacle surrounding claims Britain's GCHQ had Trump Tower wiretapped on behalf of the former administration.
Trump said: "As far as wiretapping I guess, by this previous administration - at least we have something in common perhaps."
The extraordinary comment was followed by nervous laughter from the room and this expression from the German Chancellor.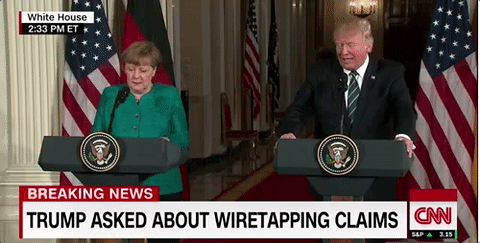 Trump continued: "And to finish your question, we said nothing. All we did was quote a certain, very talented legal mind who was the one who was responsible for saying that on television.
"I didn't make an opinion on it, that was a statement made by a very talented lawyer on Fox [News] so you shouldn't be talking to me you, should be talking to Fox, OK?"
You can watch the full press conference here...
The fallout of the claim repeated earlier in the week by Spicer was such that GCHQ took the almost unprecedented step of issuing a public statement.
"Recent allegations made by media commentator Judge Andrew Napolitano about GCHQ being asked to conduct 'wiretapping' against the then president elect are nonsense. They are utterly ridiculous and should be ignored."
Prime Minister Theresa May's official spokesman said the UK government had been assured by the White House the allegations will not be repeated.
Despite this, speaking later in the day Spicer was unrepentant.
The embarrassing backtrack-turned-double down came on the same day a former GCHQ employee accused the White House of weaponising fake news for political purposes.
Brian Lord, former Deputy Director for Intelligence and Cyber Operations, said: "The firmness of this response is indicative of the outlandishness of this claim rather than anything else.
"And bearing in mind the closeness of the relationship between the UK and the US is such that these kind of things do need to be addressed quite quickly."
Lord then outlined outline the lengths GCHQ would actually have to go to in order to wiretap the President of the United States.
He said: "GCHQ can intercept telephone calls under incredibly strict sets of governance that includes authorisations all the way up to Secretary of State level.
"The activity of which the White House and Fox News have reported does not fall anywhere close to anything that falls within their constitutional remit or duties.
He then went on to accuse the Trump administration of using the accusation to distract from their own current crises.
He said: "I think the key thing here is what is the story? Is the story GCHQ spied on President Trump or is the story about the use of fake news as a political and geo-political tool?
"What we are seeing in today's day and age is a trend, a trend towards using false news and manipulated news as a political tool and it's becoming part of the cut and thrust of political activity.
"Now organisations, governments, news outlets and the public are getting their head around how you determine what is true and what is not true and from a government point of view it's challenging enough from your natural adversaries never mind having to try and deal with something like this from your closest ally."