Protesting doctors and nurses will lead calls for Donald Trump to keep his "hands off our NHS" as he arrives at Buckingham Palace for a banquet with the Queen.
Led by NHS doctors and nurses, demonstrators will march through central London before waiting for the US president outside the gates of the palace.
Along with a number of other world leaders, Trump is set to attend a reception held by the royal family ahead of a NATO meeting in Watford on Wednesday.
The protest is backed by a number of campaigning groups, including the Stop Trump Coalition, Keep Our NHS Public, the Campaign for Nuclear Disarmament and the Stop the War Coalition.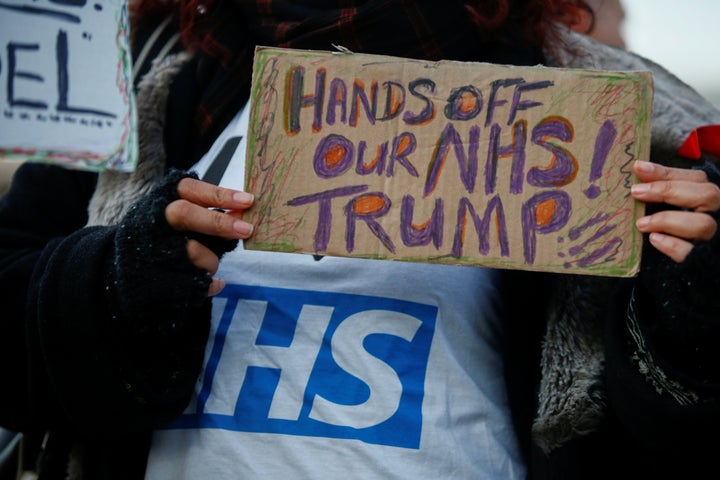 Nick Dearden from Global Justice Now – another group involved in the demonstrations – said it had become clear "just how great a threat Donald Trump is to our NHS".
"That's why Tuesday's demonstration will be led by nurses and doctors – to symbolise the millions of people who will stand up for our health service against a US president who simply represents the biggest, greediest corporate interests in the world," he said.
"We will make clear that Britain is not for sale. Boris Johnson might be happy to be bullied by Trump, but on Tuesday we will make clear to the world that we are not."
The PM has repeatedly denied that the NHS would be up for grabs in trade negotiations, saying on Tuesday that he could "categorically rule out" that any part of the health service would be on the table – including pharmaceuticals.
"This is pure Loch Ness monster, Bermuda Triangle stuff," he said.
Meanwhile, Trump has said America wants "nothing to do with" the NHS. Asked at a press conference in London whether he thought the health service should be on the table in trade talks, he said: "No, not at all, I have nothing to do with it. Never even thought about it, honestly."
He added: "I don't even know where that rumour started. We have absolutely nothing to do with it and we wouldn't want to if you handed it to us on a silver platter, we want nothing to do with it."
Plans for the protest included music and speeches in Trafalgar Square, with demonstrators set to march down the Mall to Buckingham Palace.