We all knew Donald Trump's trip to Saudi Arabia would produce some awkward moments - and the US president certainly hasn't disappointed.
This is Trump's first foreign trip as president and has seen him sign agreements including an $110 billion arms deal.
The trip, lasting eight days, will also include visits to Israel, the Palestinian territories, Brussels, the Vatican, and Sicily, according to the BBC.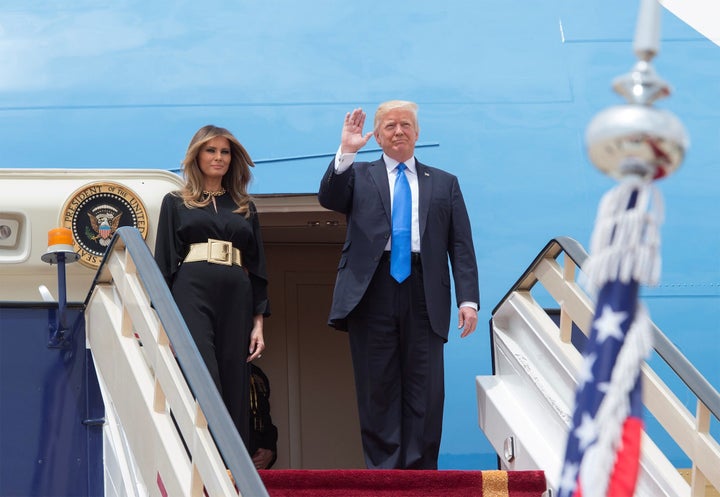 We've rounded up some of the weirdest moments of his trip so far:
That Orb
We have to start with this.
This bizarre snap was taken when Trump attended the opening of the Global Centre for Combating Extremist Ideology along with Saudi Arabia's King Salman bin Abdulaziz al-Saud and Egyptian President Abdel Fattah al-Sisi.
The state-of-the art centre aims to monitor and combat global extremism in real time.
During the opening, the leaders in attendance placed their hands on an illuminated globe as a gesture of their combined commitment to ending terrorism, and to officially activate the centre by launching a welcome video on the screens above.
Oddly, however, all it seemed to do online was prompt mockery online - read the full story here.We, for one, welcome our new Orb overlords.
Another awkward tweet comes back to haunt Trump
Melania Trump did not cover her hair with a scarf while on the visit.
This isn't particularly unusual - Theresa May, Angela Merkel, Michelle Obama, Hillary Clinton, Margaret Thatcher and the Queen have all forgone a head covering on visits to Saudi Arabia.
Except it gets a little awkward when you take a look at Trump's reaction to Michelle Obama's decision not to wear a headscarf while on a trip to the country in 2015...
We'll just leave that there.
Perhaps Trump needs a nap
Many were surprised when the US president appeared to water down his language while talking about extremism in a speech.
Trump avoided the phrase "radical Islamic terrorism", instead referring to "Islamic extremism, and the Islamists and Islamic terror of all kinds."
This left many surprised because during his presidential campaign, Trump repeatedly criticised Barack Obama and Hillary Clinton for not using the phrase.
According to The Hill, an official told reporters that his wording changed because he was "just an exhausted guy".
Speaking of being tired...
It all seemed to get a bit much for poor Wilbur L Ross.
The US commerce secretary appeared to nod off during a speech by his boss.
This dainty little curtsy
So seems Donald Trump decided to try something new when he was presented with the kingdom's highest civilian honour, the Collar of Abdulaziz Al Saud, by King Salman.
He was promptly absolutely rinsed for the move - read the full story here.
Someone gave him a sword and let him dance around with it
Honestly, does this sound like a good idea to you?The billionaire businessman took part in a traditional Saudi sword dance, complete with dancing and drumming.
Steve Bannon looks a tad nervous
This does not look like a man who is comfortable.