Article originally published 09/08/2016: due to a technical issue this article may have resurfaced for some readers, and the original publish date may not have been visible.
Donald Trump has signalled "Second Amendment people" - advocates of the US constitutional right to bear arms - may take action against Hillary Clinton if she wins the Presidential election.
The Republican nominee's arguably most outrageous comment to date prompted outrage, leading him to blame the media for "distracting" from the real issues and even triggered the attention of the US secret service.
He had claimed at a rally in North Carolina that there was "nothing you can do, folks" to stop Clinton picking Supreme Court justices.
He then added: "Although the Second Amendment people, maybe there is, I don't know."
To be clear, Trump was flirting with the idea it's okay to shoot a political opponent.
The Clinton campaign wasted no time condemning the comments.
A statement from her campaign manager Robby Mook read:
"This simple - what Trump is saying is dangerous. A person seeking to be the President of the United States should not suggest violence in any way."
While Reza Marashi, research director at the National Iranian American Council and a former worker at the US state department, reminded voters stirred by Trump's words of the death of Jo Cox.
The Labour MP was killed in June and became the first sitting MP to be killed since 1990. A man, 52-year-old Thomas Mair, will stand trial for her murder in November.
The Secret Service even got involved, writing in a post on Twitter that they were "aware of comments made earlier this afternoon".
The force is part of Clinton's security detail as a partner of a former US president.
Yet the National Rifle Association, the leading pro-gun voice in the US, could see little wrong with the business tycoon's comments - well, the bit about there being nothing they could do if Clinton as President appointed liberal judges more favourable to gun control.
And Trump's campaign team claimed he was joking. Trump spokesperson Jason Miller said:
"It's called the power of unification - Second Amendment people have amazing spirit and are tremendously unified, which gives them great political power.

"And this year they will be voting in record numbers, and it won't be for Hillary Clinton, it will be for Donald Trump."
But this guy in the audience knew exactly what he meant.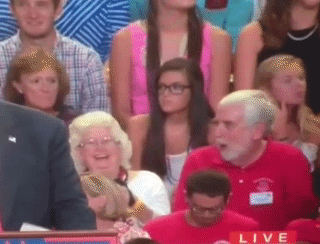 And as the criticism grew louder, there was only one thing for Trump to do: blame the media.
But Trump's excuse failed to wash with journalists, who retorted that they were simply doing their job reporting his words.
Meaning this journalist must be feeling particularly dismayed at his prediction coming true.
READ MORE:
Related