Donald Trump has demanded that Turkey stop its military incursion into Syria and imposed sanctions on the country, in a desperate bid to limit the damage from his own heavily-criticised foreign policy decision.
In a phone call on Monday, the president told his Turkish counterpart Recep Tayyip Erdogan to halt the invasion and implement an immediate ceasefire.
Speaking to reporters shortly after the call, Vice President Mike Pence said: "The United States of America simply is not going to tolerate Turkey's invasion in Syria any further.
"We are calling on Turkey to stand down, end the violence and come to the negotiating table."
Trump is sending Pence and US national security adviser Robert O'Brien to the region in an attempt to begin negotiations.
In a statement, Trump said he had authorised sanctions against current and former officials of the Turkish government for contributing to Turkey's military operation in northern Syria. He also said that he had increased tariffs on imports of Turkish steel back up to 50 percent, six months after they were reduced, and would immediately stop negotiations on what he called a $100-billion trade deal with Turkey.
"I am fully prepared to swiftly destroy Turkey's economy if Turkish leaders continue down this dangerous and destructive path," Trump said on Monday.
He added: "Unfortunately, Turkey does not appear to be mitigating the humanitarian effects of its invasion."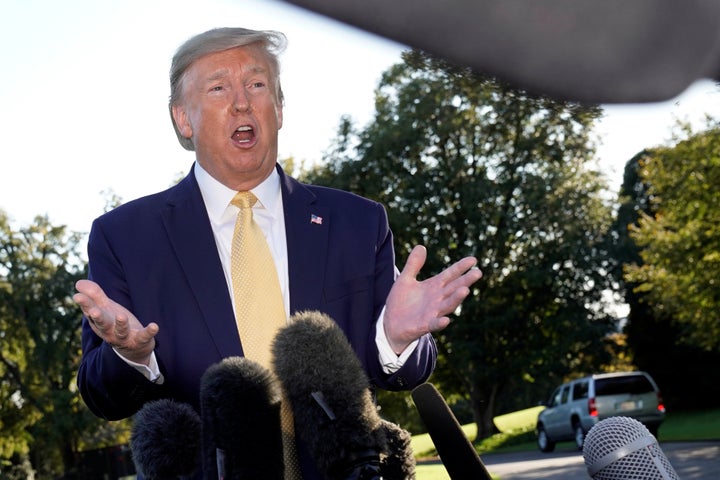 The White House is scrambling to avert a disaster largely of its own making – Turkey launched the cross-border operation into northern Syria last week just days after Erdogan told Trump in a phone call that he planned to move ahead with a long-planned move against America's Kurdish allies in the region.
In response, the US president announced the withdrawal of American troops in the area, widely interpreted as giving Erdogan a green light for his operation.
Since 2014, the Kurds have fought alongside the US in defeating the so-called Islamic State group in Syria, and Trump's move was condemned at home and abroad as a betrayal of an ally.
The Kurds have now been forced to ally themselves with the Syrian government, a major boost for President Bashar al-Assad and his Russian backers.
The military action sets up a potential clash between Turkey and Syria and raises the spectre of a resurgent Isis group as the US relinquishes any remaining influence in the region to its longtime geo-political rivals.
Trump's reaction to the Turkish military operation has been muddled, with the president simultaneously defending the withdrawal of US troops while threatening Turkey if it takes advantage of the situation.
On Monday evening, the president even appeared to suggest he should not be involved in the Middle East due to the distance between it and the US, saying he didn't mind if "Russia, China or Napoleon Bonaparte" got involved.
In the past five days, Turkish troops and their allies have pushed into towns and villages in northern Syria, clashing with the Kurdish fighters over a stretch of 125 miles.
The offensive has displaced at least 130,000 people, PA Media reports.
Abandoned in the middle of the battlefield, the Kurds turned to Assad and Russia for protection and announced on Sunday night that Syrian government troops would be deployed in Kurdish-controlled towns and villages along the border to help repel Turkish advances.
European Union nations condemned Turkey's military offensive and joined France and Germany in banning arms sales to Ankara, a rare move against a Nato ally for many of them.
Many EU foreign ministers were looking beyond a strong statement condemning the military operation that has destabilised the region and wanted to make sure their move would carry some sting.
They also prepared sanctions against Turkish companies and individuals involved in gas drilling in east Mediterranean waters where EU member Cyprus has exclusive economic rights and has licensed European energy companies to carry out a hydrocarbons search.
The sanctions, which Cypriot officials said may include an asset freeze, travel bans and a sales ban on material used in drilling, could be implemented at short notice.