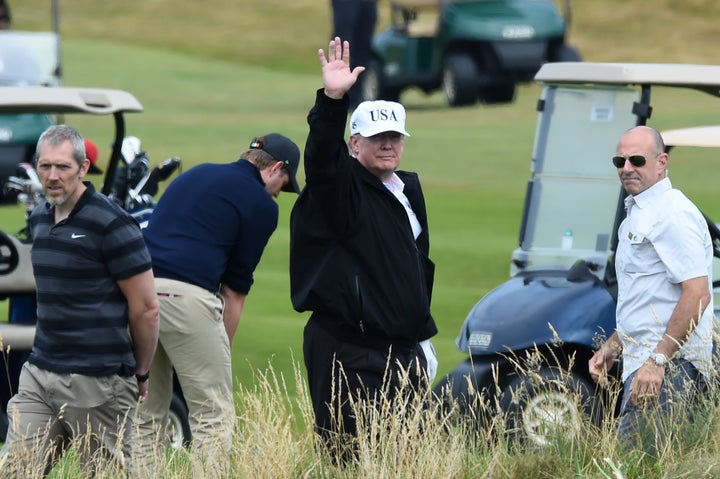 Donald Trump on Saturday waved to protesters as he enjoyed a game of golf with his son Eric at his Turnberry resort in Scotland.
The US president, who was surrounded by an entourage, was playing on the Alisa course - one of two at the resort - which was surrounded by police today in an attempt to keep demonstrators at bay.
Trump looked unfazed by crowds chanting "No Trump, no KKK" as he stopped his round briefly to acknowledge them.
Trump arrived in Scotland on Friday evening after completing his two-day "working trip" and will spend the weekend at his resort with wife Melania.
Trump's leisure time came after he and Melania dined with the Queen, something the First Lady tweeted about on Saturday, writing: "It was an honor to meet and have tea with Her Majesty Queen Elizabeth II. @POTUS and I enjoyed the visit and her company very much!"
Trump's arrival in Scotland was marked with an aerial protest by a Greenpace activist on Friday who used a powered parachute to stage a fly-by of Turnberry calling the American leader out for being "well below par".
Police were going to extraordinary lengths to keep demonstrators away from Trump with large cordons in place around the resort today.
Some protesters were said to be attempting to swim around the cordon early this afternoon.
No-parking traffic cones lined the road into Turnberry on Saturday from Maybole, a small Ayrshire village about seven miles away from the luxury resort.
A group of protesters, including members of Common Weal, were stationed on the road where it was diverted away from the resort.
Corrie Wilson, a life coach told HuffPost UK: "We wanted to be where everyone would see us, including Trump. He's sexist, he's a misogynist and he is locking up children."
The group's protest included a mock up cage with baby dolls tied to it.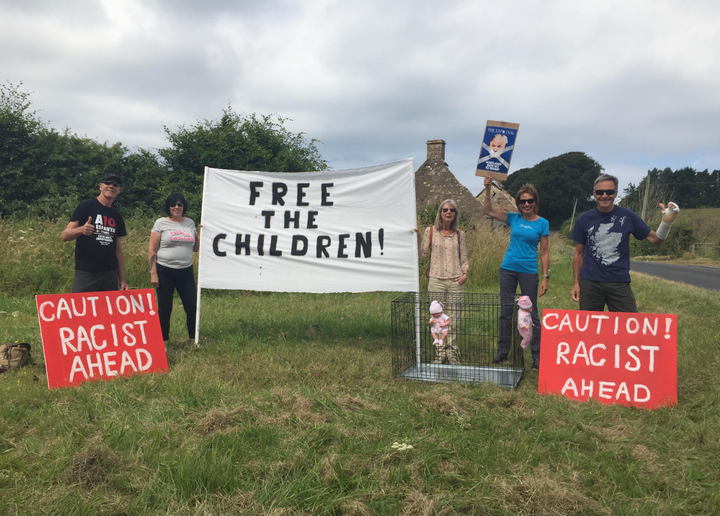 Tracy Harvie, a nurse from Ayr, said: "We are local and we want to be heard. We have cared about Turnberry all our lives. It doesn't belong to him.
Elizabeth Firth, retired healthworker, also from Ayr, added: "I would echo that. The heart of the protest is here because he is physically here. We hope so much that Trump sees us.
"I would say there are far more thumbs up and positive tooting of the horns as they go by."
Nicole Witnar-McKay, who moved to Scotland from Oregon, joined protesters on Saturday while dressed in Handmaid's Tale outfits, along with her 4-year-old daughter Abigail and husband Edward.
Explaining her choice of costume, Witnar-McKay said: "I'm dressed as a Handmaiden today specifically because I am concerned with the way it is going."
She said she was concerned with the rights of women and children being "stripped away".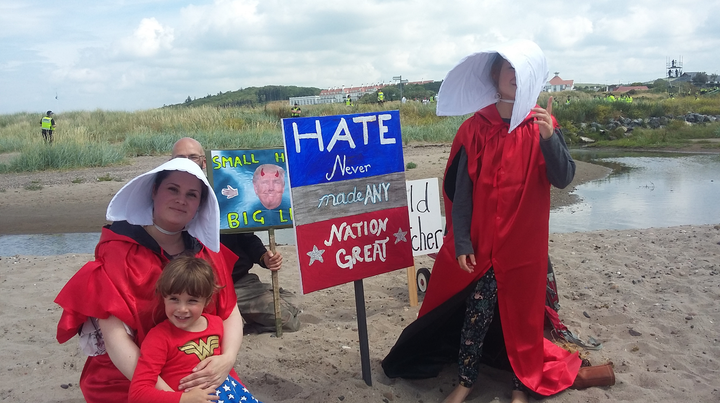 "Whether those rights belong to immigrants or US citizens it doesn't matter, it's that they are being stripped away. I am a former defence contractor and a Republican. I am still a Republican but right now my heart is broken and I cannot return to my country while Trump is president."
Not everyone in Turnberry, however, was against Trump.
Bill McGibbon, 74, who had union jacks and the American flag in his garden, was keen to defend the US President.
He told HuffPost: "Everybody has a different opinion. I like what Mr Trump is doing for the United States. He is trying to help people. I don't think he is what they make him out to be. They say he is a warmonger but what about the Tony Blairs and the rest of them.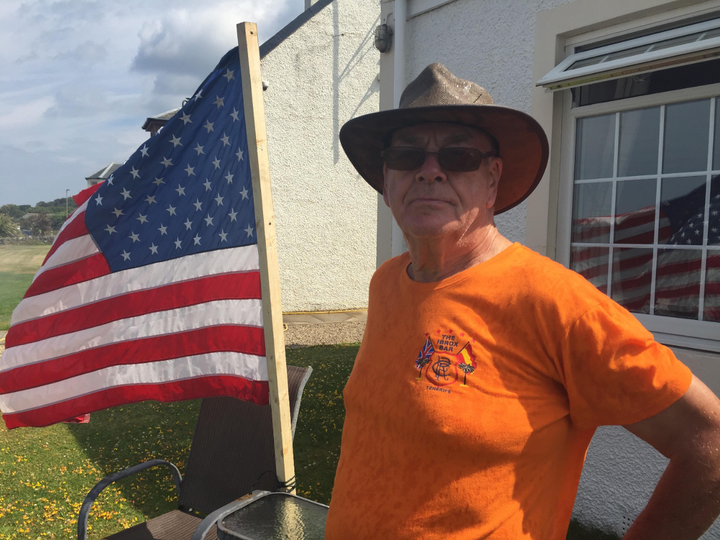 "I grew up in a socialist family in the east end of Glasgow when morals and ethics were important. I think Trump is trying to bring that back for the States. We have lost it in Britain.
"Scotland is for the Scots. China is the Chinese. I'm fed up with all this integration and if Donald wants to say that about America then it's up to POTUS. I'm fed up of the erosion of the UK, especially in Scotland."
Thousands of people are expected in Edinburgh for a "Carnival of Resistance" in the Meadows area of the capital.
The carnival will feature the giant Trump Baby balloon that was the centrepiece of the London protests on Friday.
The balloon was banned from both Turnberry and Holyrood.
Campaigners will also gather outside the Trump International Golf Links in Balmedie, Aberdeenshire, on Saturday, and it is predicted there could be further demonstrations at Turnberry.
Shortly before midday the Press Association reported that more than 100 protesters had gathered outside Trump International Golf Links.
Speakers rallied demonstrators who waved Mexican and CND flags and carried placards with slogans including "Britain Says No to Trump" and "Trump not Welcome Here".
Passing motorists sounded their horns while half a dozen police officers stood at the entrance to the Menie Estate, where Mr Trump opened his first Scottish golf course in 2012.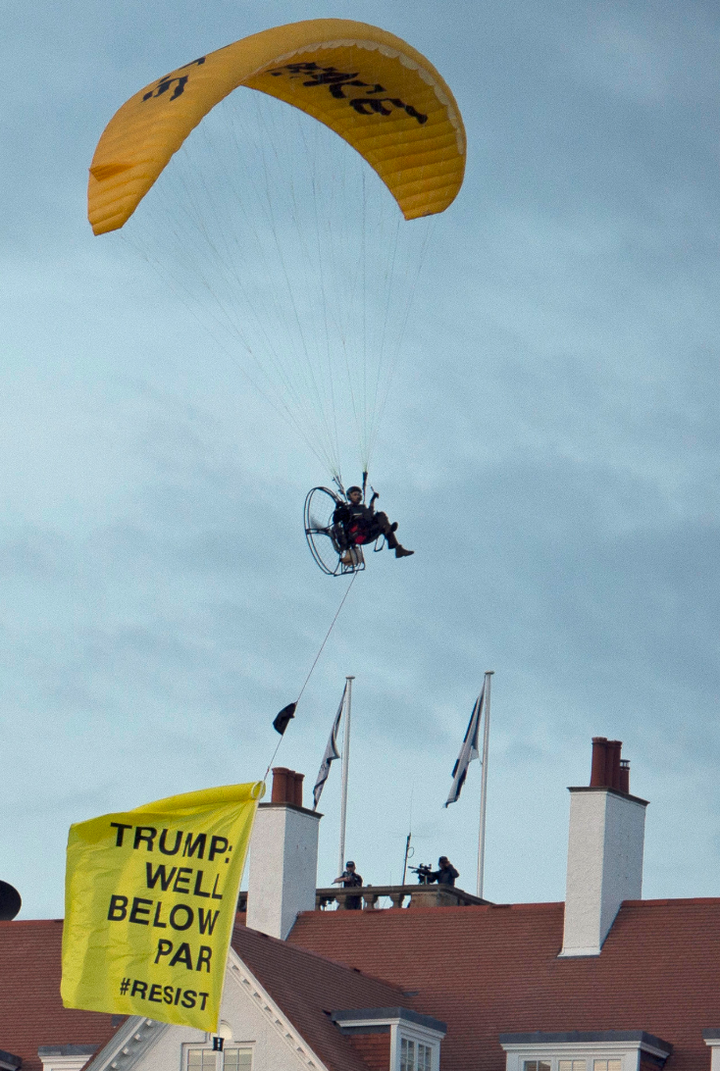 The president and his wife Melania waved as they left Air Force One shortly after arriving at Prestwick, before being taken away in a huge convoy of black vehicles for the 20-mile journey to Turnberry.
Scottish Secretary David Mundell greeted the president at Prestwick and said: "(Mr Trump) said he had been in Scotland many times and was very pleased to be here as president.
"He obviously feels very strongly about his mother's Scottish heritage and he's looking forward to playing golf at Turnberry and is hopeful that the weather will be conducive to that."
Ahead of his arrival at Turnberry police snipers were positioned on tiers of temporary scaffolding overlooking the golf course, with a large number of other officers patrolling the grounds and surrounding area, the BBC reported.
At the end of the protests, Police Scotland Assistant Chief Constable Mark Williams said: "The weekend's planned protests have now concluded.
"Around 2,000 people were in Glasgow and approximately 250 were in Dundee on Friday evening, a further 9,000 marched and took part in a rally in Edinburgh today.
"The detailed planning which took place in advance meant the events passed without incident and I would like to thank everyone who took part for their good behaviour."
The force confirmed there were no arrests during the rallies.
The main focus of Trump's UK visit was meeting with the Prime Minister on Friday, which took place in the wake of an explosive newspaper interview in which he said Theresa May's Brexit plans would kill off a trade deal with America and Boris Johnson would be a "great prime minister".
At a press conference later in the grounds of the PM's country residence, Trump insisted he "didn't criticise" May, hit out at "fake news" and hailed UK-US relations as the "highest level of special".
Trump is due to leave Scotland on Sunday, when he will travel to Finland ahead of talks with Russian president Vladimir Putin.