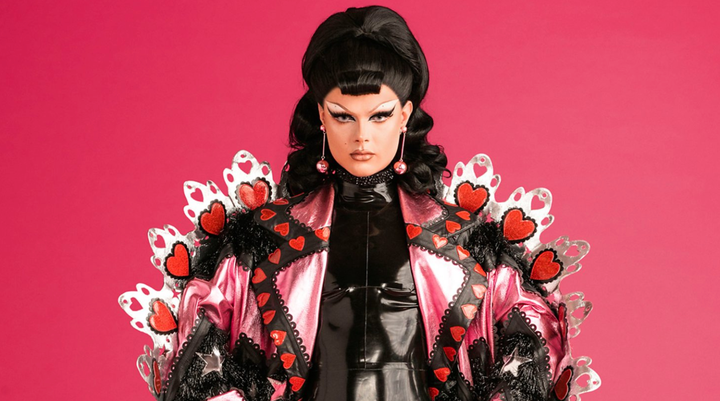 "I'm a drag queen – I like going from a boy to a scary looking evil woman," says RuPaul's Drag Race UK contestant and clock enthusiast, Gothy Kendoll. "So I feel like buying clocks that have been neglected for years and transforming them into something that's sort of a work of art is very like me."
Drag Race UK viewers will remember Leicester's queen Gothy (non-stage name Samuel Handley) sashaying away far too early in season one – leaving Ru's catwalk with her trademark "Rawwwr!" What they probably don't know about is Handley's hobby, which his grandma inspired in him from the age of three.
"When I was a kid I always used to go to my grandma's at weekends," says Handley. "My grandma had this mantle clock on the side that was really broken. She'd had it for years and used to get it on the table and let me have a play around with it, because I wasn't interested in my toys. I used to like keys and things that made noise."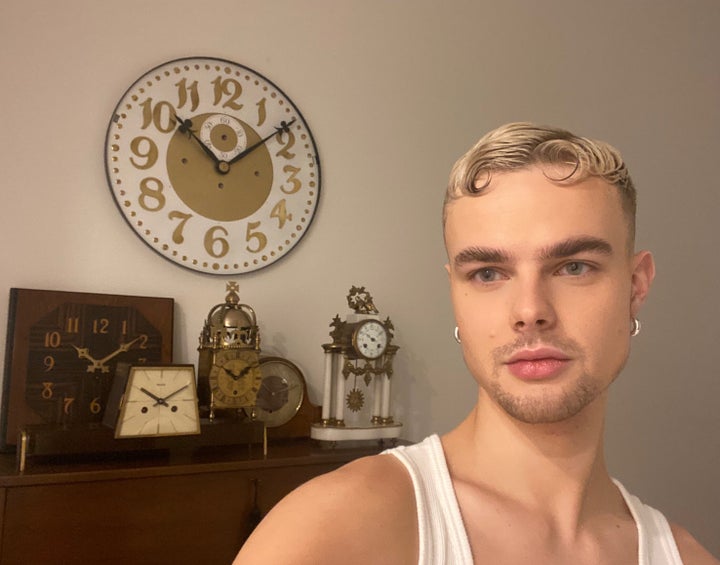 Handley's penchant for pendants and pendulums grew through his childhood. "By the time I was five I had something like 40 clocks on my wall," he says. When he was about nine or 10, he even managed to fix that clock of his grandma's that she hadn't had working for decades – and she was thrilled.
He fell out of love with timepieces in his teen years. Then, when he was 15, his grandma died and left him the very same clock he'd repaired in her will.
It brought him back to his first love. "Being gay and figuring out myself, I wasn't that into clocks anymore, I'd kind of put it in the back burner," says Handley. "It just wasn't a passion at the time, and then when I saw she'd left that in her will – it was something I really enjoyed doing with her, so I got straight back into it."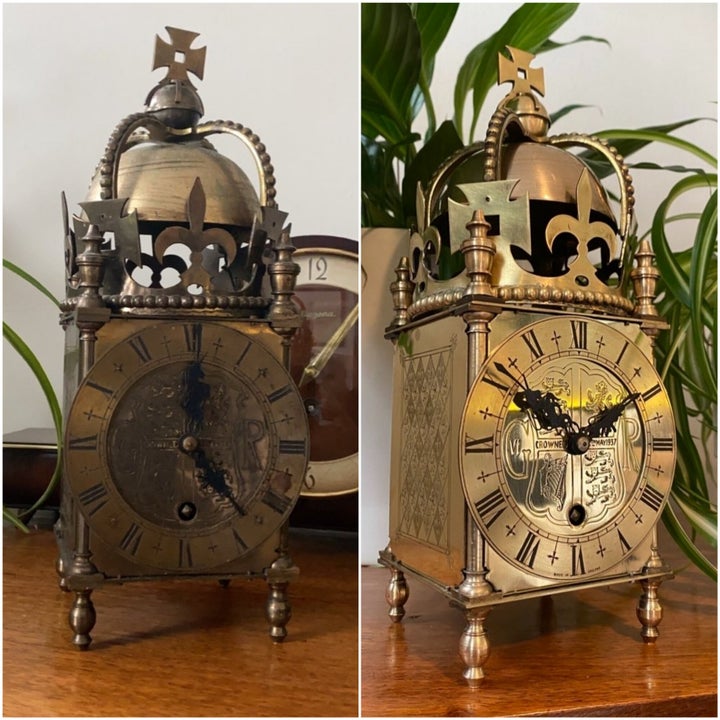 Handley's preferred timepiece is a mid-century clock: fuss-free, with gentle curves and a sophisticated polished wood finish. And while he hasn't matched his earlier high of 40 clocks in the Manchester flat where he currently lives alone, he still has around 18 of them – enough to cover much of his wall space.
It's the story behind a clock that usually hooks him in. "Normally what I'll do is I'll buy them broken and in need of repair or maybe something's gone wrong with them," says Handley.
"People don't know how to fix clocks anymore," he adds, sounding, at 23, every bit the wise old horologist. "So I will buy them, restore them, keep them for a bit until I'm a little bit bored of them or I've seen something that I want, and then I'll sell them on eBay and just get another load in."
Does all the ticking ever get irritating? "If you're in bed and you focus on that, it's so annoying," admits Handley. "I have one with a loud tick. The rest are silent ticks or off as they'd drive me mental, especially in such a small space!"
But a clock can be a comforting presence, too, he says, especially in a world of digital overload. There's "nothing worse than having the TV on all the time".
Once, he bought a clock for a tenner and sold it for £450. "That was a mega one," he laughs. "It was just before Drag Race had come out and I was so broke and needed some outfits because we were going to New York Drag Con. I needed to buy some stuff – so thank god I stumbled across that."
Handley says it's a misconception that clock repair is especially difficult. It's more that we're just not used to mechanical clocks, so we don't understand what's needed. "It's trial and error, isn't it?" he says. "You slowly figure out how things work. I'd just be in my room for hours trying to piece together all these cogs. I didn't really have anyone who taught me."
That's not to say he gets every ticker fit for the mantelpiece. Even with 20 years' experience, some clocks defy his TLC by refusing ever to tick again. "When you're at home and it's just sitting there, you can see it in the corner of your eye and it's not working, oh god it's annoying," he laughs, "but that's what makes it even more fun, when you do actually get it working again."
He remains doubtful about a clock renaissance. "Most people don't care about clocks anymore. They don't really see the need. They'd rather have a mirror on the wall. I think people find the ticking annoying as well."
Because of this, Handley keeps his two lives separate, selling his clocks to restorers or collectors rather than Drag Race fans. Even Ru didn't show much interest during his time on the show. "I did take a clock with me to be at my make up station, but they didn't show any of it," he reveals of filming.
Still, more of us could do with a tick-tock of a clock in our lives. "To have a noise coming from something I know is moving and ticking is really nice," he says. "I feel like a lot of people are definitely missing that from their homes."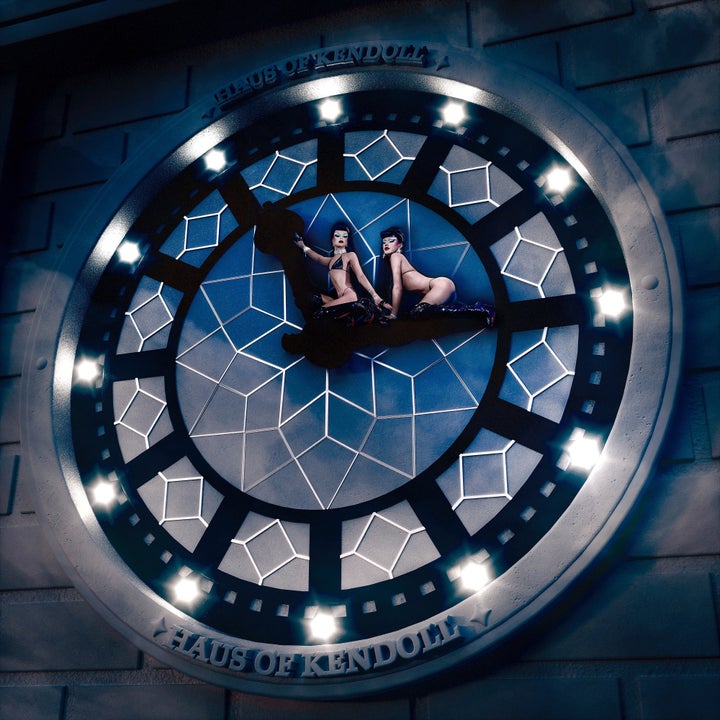 Soon we may not have a choice – Gothy is injecting some clock love into the heart of the Drag Race fandom with his new single Switch, featuring Drag Race UK finalist Divina De Campo. It's a song inspired by his love of clocks, with clock-themed artwork to boot.
Finally it's time to unite the two worlds! "The cover is inspired by that clock they found in the rubble after a town hall in France was knocked down," he says. "It was in the main hall, this big wrought iron clock, just the style that I like."
Handley says of the single: "I didn't want to do a typical 'camp' pop song that'd be played for a week before the next Drag Race song came out, so I decided to wait until I felt like I was ready to make some music. Switch is obviously camp, it has to be, I'm a drag queen after all. But I wanted to take a different 90s housey vibe – something I haven't really heard from the other girls."
As for the song's horological vibe, Handley reckons it'll go down a storm with the Drag Race UK fandom. "I think that clock collecting and restoring is such a niche, especially for a 23-year-old cross dressing twink. People seem intrigued!"
You're reading Covid-Free Zone, a section designed to offer a little respite during the pandemic. For more fun and escapism, browse more articles here.