When Duchess the cat was hit by a car, her chances of survival were slim.
The stray cat had been left with a broken jaw, which meant she was unable to eat properly. And with no one to care for her or pay her vet bills, her future was bleak.
But instead of putting her down, kindhearted vets decided to give Duchess a second chance. They performed surgery to wire her jaw back in place and removed most of her teeth.
Thankfully it paid off as Duchess is now healthier than ever and has a beautiful smile to boot.
She has also found a loving new home. N'aww.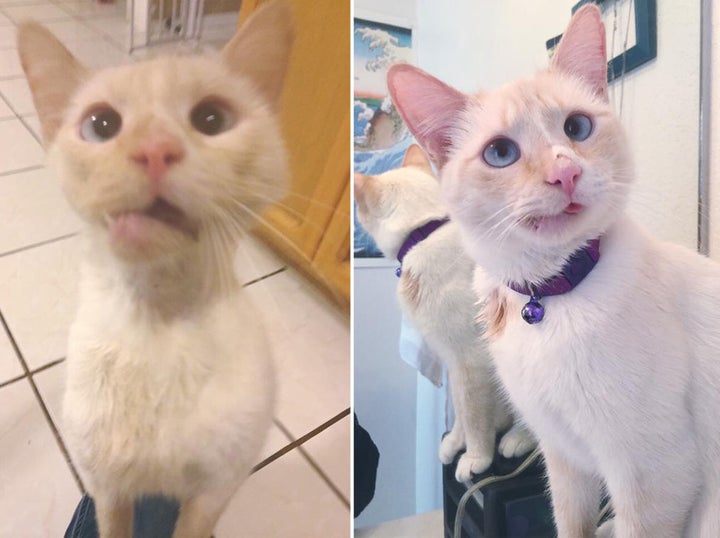 "Most places would've just euthanised her, but by some miracle Duchess got lucky and Dr. Meyer and Dr. Gearheart took a chance and repaired her jaw."
Most of Duchess' teeth were removed during surgery and her jaw was then wired back into place.
Her recovery from the ordeal took roughly a month, during which time she was fed through a tube and was on a lot of medication.
"Her chances of survival were slim, but she was a fighter and pulled through," wrote Tate.
Since her surgery, the kitty has been taken in by Tate, who is one of the veterinary staff at the clinic where Duchess was cared for.
"I met her the day I arrived at the clinic for my first day and ended up bringing her home with me less than a week later," Tate said.
"Her jaw is still crooked and it will be for the rest of her life, but it hasn't crushed her spirit.
"She has been a part of our family for three weeks now and she walks around like she owns the house.
"She loves cuddling and laying on her humans and trying to steal our food.
"We are still learning her quirks and helping her live her new life but we wouldn't have it any other way."