On Saturday evening, No.10 praised the apparent breakthrough in negotiations "which can provide the stability and certainty the whole country requires as we embark on Brexit and beyond".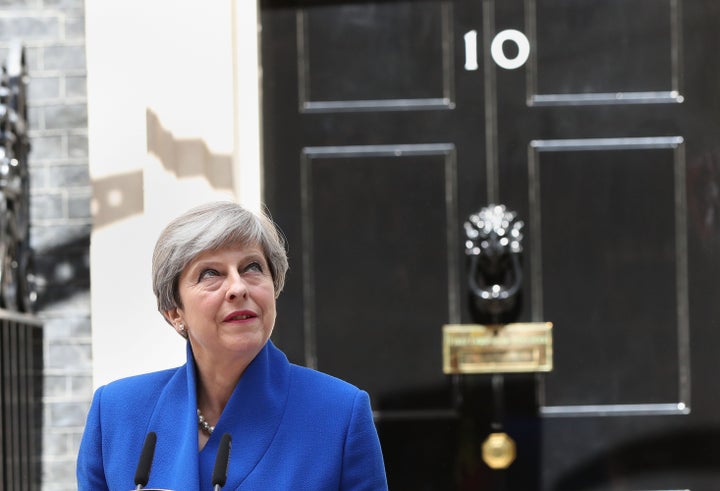 The error is hugely embarrassing for May who ran her election campaign on the basis that only she is capable of negotiating Brexit.
The term "omnishambles" was coined by the TV comedy show, The Thick Of It, in a now-legendary quote from Malcolm Tucker.
"Not only have you got a fucking bent husband and a fucking daughter that gets taken to school in a fucking sedan chair, you're also fucking mental. Jesus Christ, see you, you are a fucking omnishambles, that's what you are.

"You're like that coffee machine, you know: from bean to cup, you fuck up."
May is desperately trying to shore up her position after losing her Commons majority in the election.
The strength of any deal looks set to be tested when the Commons meets, with Jeremy Corbyn vowing to try to bring down the Government by defeating May in Parliament and insisting: "I can still be prime minister."
In another sign of the dangers facing May, Sunday papers reported that Boris Johnson was either being encouraged to make a leadership bid in an effort to oust her, or actually preparing one - a claim dismissed as "tripe" by the Foreign Secretary.
A confidence and supply deal would mean them backing the Government on its Budget and confidence motions, but could potentially lead to other issues being decided on a vote-by-vote basis.
The talks were in line with DUP leader Arlene Foster's "commitment to explore how we might bring stability to the nation at this time of great challenge", her party said in a statement.
It continued: "The talks so far have been positive. Discussions will continue next week to work on the details and to reach agreement on arrangements for the new Parliament."
Number 10 had earlier said: "We can confirm that the Democratic Unionist Party have agreed to the principles of an outline agreement to support the Conservative Government on a confidence and supply basis when Parliament returns next week."
Following talks between May and the DUP on Saturday night, a second statement confirmed that no final deal had been reached.
A Downing Street spokeswoman said: "The Prime Minister has tonight spoken with the DUP to discuss finalising a confidence and supply deal when Parliament returns next week.
"We will welcome any such deal being agreed, as it will provide the stability and certainty the whole country requires as we embark on Brexit and beyond.
"As and when details are finalised both parties will put them forward."
May needs support in Parliament because the Queen's Speech setting out the Government's programme is due on June 19, with a crucial vote on it expected after a few days' debate.
The Labour leader told the Sunday Mirror he would oppose the Queen's Speech all the way.
"I can still be prime minister. This is still on. Absolutely," Corbyn said.
Meanwhile sources close to the Foreign Secretary dismissed reports about his leadership ambitions as "complete bollocks" and suggested "someone is trying to make mischief".
The Mail On Sunday reported that Johnson was preparing a leadership bid, with a close ally saying it was "go, go, go", adding: "We need Bojo."
Johnson said: "Mail on Sunday tripe - I am backing Theresa May. Let's get on with the job."
But the Sunday Times said Johnson had been pressed by five Cabinet colleagues to oust May.
An ally of Johnson told the newspaper: "We are facing a populist and they have realised we need someone who can talk to the people.
"We need a Brexiteer. Boris is the only option with the liberal values, Brexit credentials and popular appeal."
A spokesman for Johnson said: "The Foreign Secretary is 100% supporting the PM and working with her to get the best deal for Britain."
The potential deal with the DUP came after May sent her Chief Whip Gavin Williamson to Belfast for talks after the election left the Tories eight seats short of the 326 required for an outright majority.
May's two closest aides Nick Timothy and Fiona Hill quit after coming under intense pressure from Tories following the election result.
Ex-minister Gavin Barwell, who lost his seat in Thursday's election, was named as the new chief of staff, replacing Timothy and Ms Hill.
Scottish Tory leader Ruth Davidson indicated she wanted to see a fresh approach to Brexit by seeking a consensus across parties.
May called the election claiming she wanted a stronger hand in the forthcoming Brexit negotiations, due to start on the same day as the Queen's Speech.
Without a majority, she could be forced to seek consensus on the approach she takes, potentially by performing a U-turn on single market membership and protecting the economy at the expense of new immigration controls.
Ms Davidson, who wields considerable influence after the Scottish Conservatives won 13 seats, said: "I want to ensure that we can look again at issues like Brexit which we know we are now going to have to get cross-party support for.
"And move to a consensus within the country about what it means and what we seek to achieve as we leave."
In a hint at the approach she wanted, she said: "It is about making sure that we put free trade at the heart of what it is we seek to achieve as we leave."
The Sunday Times reported that Chancellor Philip Hammond used a telephone call with May on Friday to tell her she should put jobs first in the Brexit negotiations - a coded attack on the immigration-focused strategy.