The Eat Out To Help Out scheme, which saw individuals and families encouraged to eat out at discounted rates following the national lockdown, caused a "significant" increase in Covid-19 cases, a study has claimed.
The Warwick University research suggests that the scheme may be responsible for between 8 and 17% of all new detected clusters of coronavirus emerging during August and into early September in the UK.
Chancellor Rishi Sunak unveiled the scheme of subsidised meals to help the pub and restaurant sector after it was badly impacted by the pandemic.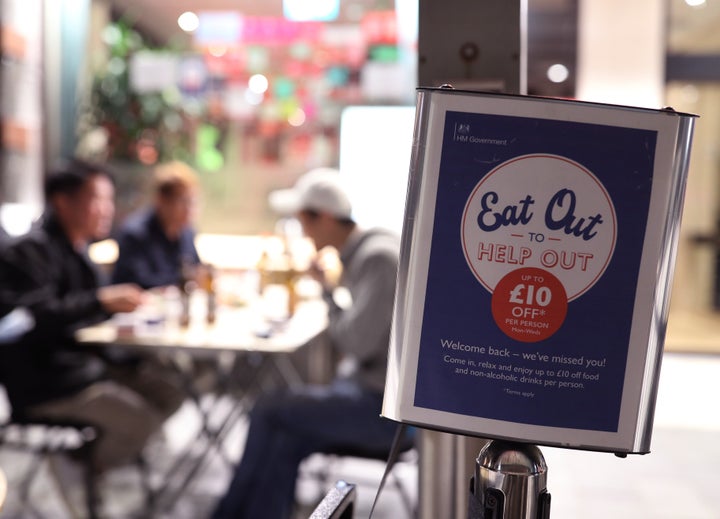 Treasury figures show more than 100m meals were eaten under the scheme, which gave diners a 50% state-backed discount up to a maximum of £10, on meals every Monday to Wednesday.
The paper, entitled "Subsidising the spread of Covid-19: Evidence from the UK's Eat Out to Help Out scheme", by Dr Thiemo Fetzer, states: "Given the dramatic rise of Covid-19 infections across the UK in recent weeks, the likely changes in consumer behaviour due to higher infection risks and the ensuing economic damage this generates suggests that the EOHO scheme may have indirect economic and public health costs that vastly outstrip its short-term economic benefits."
Dr Fetzer has tweeted the study, remarking on the "unintended consequences of a UK policy which makes me cringe at how my tax money is spent".
In a moment of prescience, earlier this month prime minister Boris Johnson told BBC One's Andrew Marr Show the Treasury incentive "may have helped to spread the virus" and that its impact needed to be counteracted, with the country facing a second surge in positive Covid-19 cases.
But Sunak, in comments made to The Sun, said the success of the initiative had helped prop up two million jobs and that he had no regrets about paying for it.
"No, definitely not," Sunak is reported to have said when asked if he held any regrets.
"We had an industry that I care deeply about because of employment.
"It's over two million people."
The Office for National Statistics has compiled separate figures showing how many people have died with coronavirus mentioned on their death certificates. This figure stands at about 60,000.
"It's that scheme that has helped to bring about an earlier second lockdown and restrictions on the restaurant sector that it was determined to help economically."
The study used data from HMRC's own restaurant finder app and found that participating restaurants saw an increase in visits of between 10% and 200% compared to 2019. As the scheme ended, visits to restaurants started to decline – indicating that its positive economic impact was short-lived.
It states that areas with high uptake saw a decline in new infections a week after the scheme ended.
A Treasury spokesperson said: "We do not recognise these figures – which as the study itself admits, are 'back-of-the-envelope' calculations.
"Many other European counterparts have experienced an uptick in cases - irrespective of whether similar measures for the hospitality industry have been introduced.
"We're continuing to work closely with businesses to help them be Covid-Secure."