• 66 people feared dead after plane crashes in Mediterranean sea
• 'No credible' claims of responsibility for downing EgyptAir flight MS804
• Debris, body parts and passenger belongings have been found
• Possible oil slick spotted in Med sea area where plane is thought to be
• Prayers held for the victims at Cairo's Sultan Hussein mosque
Greece's defence minister Panos Kammenos said the items were found slightly south of where the aircraft had vanished from radar signals on Thursday morning.
The Airbus 320, which was carrying 66 passengers and crew from Paris to Cairo, disappeared from the radar at 2.45 am local time on Thursday morning.
No distress call was made by the pilots.
The 56 passengers on board included one Briton, 30 Egyptians, 15 French, one Belgian, one Iraqi, one Kuwaiti, one Saudi Arabian, one Chadian, one Portuguese, one Algerian and one Canadian. There were 10 crew members including three security guards.
The office of Egypt's president, Abdel-Fattah el-Sissi, issued a statement expressing its condolences to the relatives of the 66 killed. It said the presidency "expressed its deep regret and sadness for the victims" of EgyptAir flight 804. "God give great mercy and host them in his heaven," it added.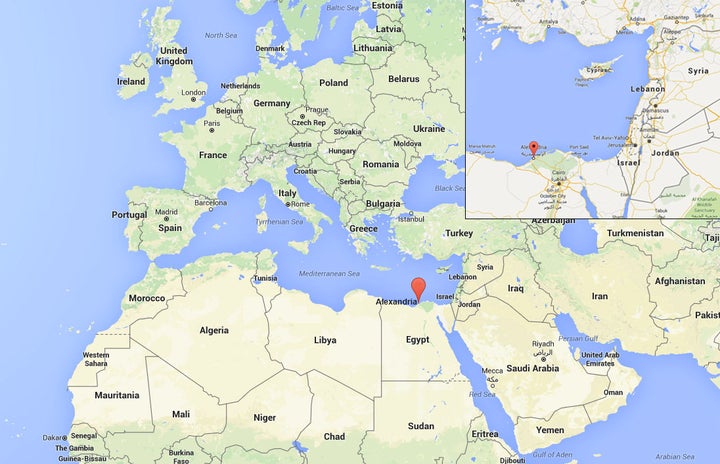 Family members of four of the 66 victims who are believed to have died in the EgyptAir plane crash have held prayers for the dead in Cairo's Sultan Hussein mosque.
Some of the relatives broke into tears as they prayed on Friday. Among the victims of the crash of the EgyptAir flight 804 on Thursday were Salah Abu Laban, his wife Sahar Qouidar, their son Ghassan Abu Laban and daughter-in-law Reem al-Sebaei.
Their relative, Abdel-Rahman al-Nasry, told The Associated Press that "this is very hard for the family."
A friend of the family, Magdi Badr, says: "We pray for the victims."
The European Space Agency says one of its satellites has spotted a possible oil slick in the same area of the Mediterranean Sea where EgyptAir Flight 804 disappeared.
The agency says its Sentinel-1A radar satellite detected the 2 kilometer- (1.2 mile-) long slick about 40 kilometers (25 miles) southeast of the plane's last known location. It gave the coordinates as 33 32' N / 29 13' E.
Kammenos said the aircraft was 10-15 miles inside Egyptian airspace and at an altitude of 37,000 feet.
He said: "It turned 90 degrees left and then a 360 degree turn toward the right, dropping from 38,00.0 to 15,000 feet and then it was lost at about 10,000 feet."
France, Greece, Italy, Cyprus and the UK have all joined the Egyptian search effort, Egypt's defense ministry said. Authorities had been scouring a wide area south of the Greek island of Crete.
A team of Egyptian investigators led by Ayman el-Mokadam - along with French and British investigators and an expert from Airbus - will inspect what the army has found, Egyptian officials said.
Egypt's aviation minister Sherif Fathi said the likelihood the plane was brought down by a terror attack is "higher than the possibility of a technical failure."
Yet France's foreign minister Jean-Marc Ayrault asserted on Friday on France-2 television that there is "absolutely no indication" of what caused the crash.
The junior minister for transport, Alain Vidalies, said on France-Info radio that "no theory is favored" at this stage and urged "the greatest caution."
Amid fears the plane was downed by an extremist attack, Vidalies defended security at Paris's Charles de Gaulle Airport, saying staff badges are revoked if there is the slightest security doubt.
A terror analyst who is in contact with members of the Islamic State (IS) group and other jihadist groups says there have been "no credible or even semi-credible" claims of responsibility for the crash of EgyptAir Flight 804.
Shiraz Maher at the International Center for the Study of Radicalisation in London says IS on Thursday released a 20-minute video about how they planned to conquer India. He says "if they had been involved in the crash, it would be very odd for them to have sent that video rather than boasting of the crash."
Maher said both the IS and al-Qaeda affiliates have been quick to claim responsibility in the past for other plane crashes, though he said the wreckage is a better indicator of whether the crash was terror-related.
Maher also said it would be highly unusual to target a plane with mostly Muslim passengers, as EgyptAir's leaked passenger manifest has suggested.
Missing Egyptair Plane A320