Tom Watson has said it would be "unfair" for Labour MPs to blame Jeremy Corbyn for the party's performance in Thursday's local elections, after it was pushed into third place in Scotland and lost council seats in England.
Despite the losses Corbyn appears appears to have seen off any immediate leadership coup as the results were not as bad as some had predicted.
However critical Labour MPs will warn the party should be picking up hundreds of council seats if it is on course to win the next general election, not losing them.
Watson said told BBC Radio 4's Today programme MPs needed to have patience.
"After eight months it would be very unfair and improper actually to hang this set of election results on Jeremy Corbyn's peg alone," Labour's deputy leader said.
"After only after eight months people would say he needs more time to show that direction that Labour needs to take to win that 2020 general."
And he added it was Labour members, who backed Corbyn for leader in September, who "lead the party now" not MPs.
One Labour MP told The Huffington Post of Corbyn: "He has until this time next year to prove he won't hand 2020 to the Tories on a plate, which currently seems the case from these results".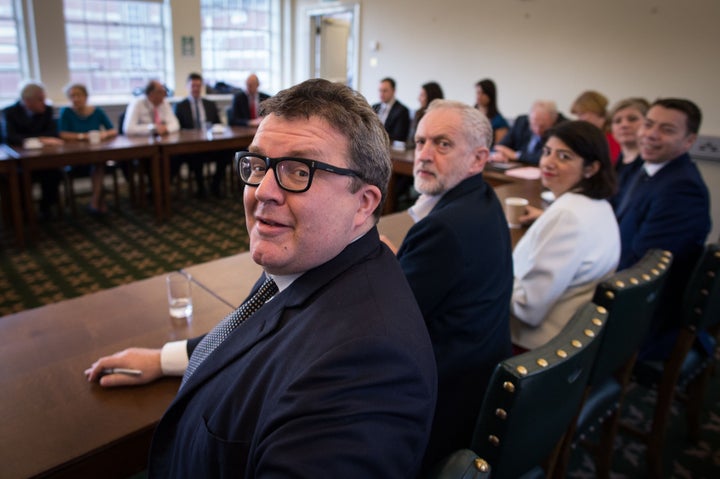 With 45 million people eligible to vote, Thursday was the first nationwide verdict on Corbyn since he stormed to victory with massive grassroots support as Labour leader last September.
In a grim night for Labour in Scotland, the party suffered its worst result since devolution, winning just 24 MSPs. The Conservatives had their best ever result, securing 31 MSPs.
Scottish Tory leader Ruth Davidson is now the main Opposition leader in Holyrood.
Nicola Sturgeon claimed victory for the SNP, but the party failed to secure an overall majority.
Scottish Labour leader Kezia Dugdale acknowledged Labour had not had a good night.
"There's no doubt that our defeat for the Labour party is painful, but it is not the end of our campaign. We will continue to argue for Labour values, Labour ideas and Labour principles. Our work to renew the Scottish Labour party so that it is fit to serve the people of Scotland, continues," she said.
Watson said Labour "certainly have to make progress" in Scotland before the general election.
In England, Labour has lost council seats. And in Nuneaton, a general election bellweather seat, the party performed even worse than it did last May.
However it clung on to councils in the south including Southampton, Crawley and Hastings.
Labour MP Jo Cox said the results were "not a route back to power". She told the BBC: "Jeremy and the leadership need to take responsibility for what's been a poor night for us. I think we need some decisive leadership from Jeremy," she said.
"The clock is ticking, Jeremy needs to convince members up and down the country we have a strategy."
John Mann, one of Corbyn's fiercest backbench Labour critics, said the party was "doing OK" in the elections, but should be winning more seats.
Labour MP Neil Coyle told BBC Newsnight on Thursday evening the party should be performing better if it hoped to win the general election in 2020.
"We are moving further away from government, I think, because we seem to be fixated on some issues that are peripheral and we seem to have a team which isn't projecting either unity within the party or a vision and policies that the voters want," he said.
And former shadow cabinet minister Emma Reynolds said the results across the country were "not good enough".
"We have made done well in some areas, but l don't think we should be content with either standing still or going backwards in other areas," she told BBC Radio 4's Today programme.
In Wales, Labour looks set to lose its majority in the Assembly.
Related