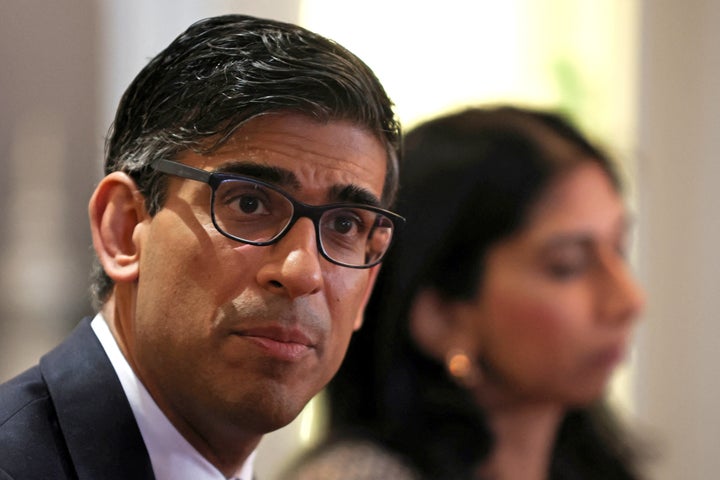 Net migration into the UK has hit a record high, official figures have revealed.
In a major embarrassment for Rishi Sunak, the Office for National Statistics show 606,000 more people entered the country than left it in 2022.
That is up from the estimated 504,000 it was at in the year to June 2022.
The ONS said a total of 1.2 million came to the UK in 2022, with 557,000 leaving.
At the last election, the Tories promised to bring immigration down from the 226,000 it was then.
Responding to the figures, Rishi Sunak told ITV's This Morning: "The numbers are too high, it's as simple as that. And I want to bring them down."
Ministers have insisted that the war in Ukraine, as well as the political upheaval in Hong Kong, has played a major part in the surge in numbers coming to Britain.
But the government's failure to meet its 2019 manifesto promise is likely to lead to a wave of criticism from backbench Tory MPs.
Jay Lindop, director of the ONS's Centre for International Migration, said: "A series of unprecedented world events throughout 2022 and the lifting of restrictions following the coronavirus (COVID-19) pandemic led to record levels of international immigration to the UK.
"The main drivers of the increase were people coming to the UK from non-EU countries for work, study and for humanitarian purposes, including those arriving from Ukraine and Hong Kong."
In an attempt to tackle the issue, the government has announced a major crackdown on foreign students bringing family members to the UK.
At prime minister's questions yesterday, Labour leader Keir Starmer said: "The prime minister stood on three Tory manifestos, each one promised to reduce immigration. Each promise broken.
"This mess on immigration reveals a Tory Party with no ambition for working people and no ambition for Britain, just the same old failed ideas – low wages and high tax."