Make sense of politics. Sign up to the Waugh Zone and get the political day in a nutshell.
Senior Labour figure Emily Thornberry accused a colleague's Leave-voting constituents of being "stupid", an ex-MP has claimed.
Caroline Flint said the shadow foreign secretary could not be Labour leader as she had a hand in the party's Brexit policy that was "instrumental" to her own defeat in Leave-backing Don Valley in Thursday's catastrophic election loss.
Thornberry denied Flint's claims, describing them as a "total and utter lie" and is understood to be consulting lawyers to see what action can be taken.
But a clearly emotional Flint said she was trying to "stem my anger" as she criticised "ardent Remainers" in the party - naming Thornberry, shadow Brexit secretary Sir Keir Starmer, Hilary Benn and Yvette Cooper - for having "contributed to sacrificing 59 seats" by pushing Labour towards backing a second referendum.
Ahead of an expected leadership contest, the former Europe minister said the next leader could not be "Corbyn with a beard" or any MP who had a hand in Labour's Brexit policy.
The only candidates "worth looking at" are Lisa Nandy and Rebecca Long-Bailey, she said.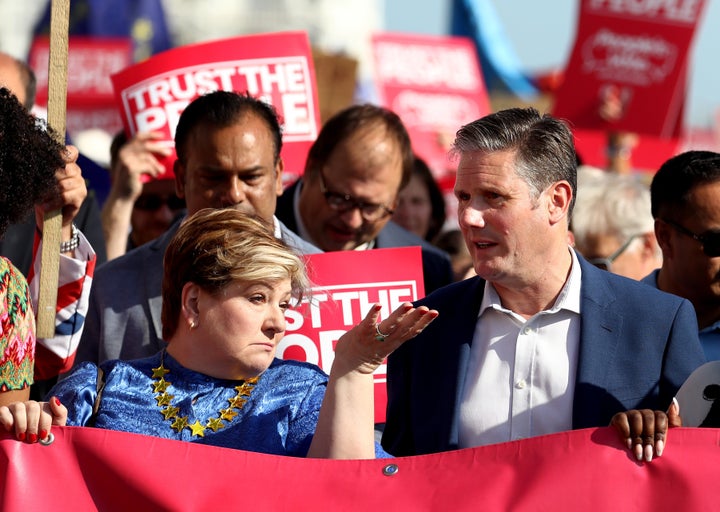 And in comments which could damage any leadership bid from Thornberry, Flint told Sky News's Sophy Ridge on Sunday: "I don't believe anybody who have been the architects of our European policy in the last few years, I think is credible to be leader, I don't think they can win back these seats.
"And we may not, I'm afraid to say.
"We shouldn't take it for granted that a change of leader is going to win us (the seats back) in five years time if that's when the election is called.
"But I don't believe there's any credibility for these people.
"And, you know, Keir Starmer lead us to a policy that did not listen to Labour Leave voices who urged caution.
"He led us down the path of a second referendum.
"And I'm afraid Emily Thornberry did as well - she said to one of my colleagues 'I'm glad my constituents aren't stupid is yours'.
"Sorry, it's not acceptable."
Responding, Thornberry, who has been accused of snobbery before, said: "This is a total and utter lie.
"I have never said this to anyone, nor anything like it, and I hope needless to say, it is not something I would ever think."
Ex-Labour MP Lord John Mann, a fierce critic of the Corbyn project and now a government adviser on anti-Semitism, said he believed Flint in the war of words.
Meanwhile, shadow justice secretary Richard Burgon, a key Corbyn ally, admitted Labour's backing for a second referendum "did fail".
"I think it was right to attempt to bring the country together on that basis. Did it fail? We've got to be open, it did fail," he told Ridge.
"It was a disastrous election result and for that we are truly sorry."
Corbyn has apologised to Labour supporters for the party's catastrophic election defeat.
In an open letter, the Labour leader acknowledged the party "came up short" in the poll on Thursday, adding: "I take my responsibility for it."
But despite Labour suffering its worst result since 1935 - with dozens of seats falling to the Tories - he said he was "proud" the party had offered a message of "hope" in the election.
In his letter to the Sunday Mirror, he said: "I will make no bones about it. The result was a body blow for everyone who so desperately needs real change in our country.
"I'm sorry that we came up short and I take my responsibility for it."
The Labour leader - who has said he will stand down in the early part of next year after taking the party through a "process of reflection" - said it was determined to regain the trust of traditional Labour voters who turned against it.
"We will learn the lessons of this defeat, above all by listening to lifelong Labour voters who we've lost in working-class communities," he said.
"This party exists to represent them. We will earn their trust back."