Friends and family are not being informed when a loved one is about to die in hospitals across England, a new audit has found.
The review of care of 9,000 patients by the Royal College of Physicians (RCP) also found that relatives were not being included in important decisions around end of life care, including medication and resuscitation.
Member of the audit team Tony Bonser, whose son Neil died of cancer seven years ago, told the Press Association: "The two questions everybody wants to know about their relative is 'are they dying?' and 'how long have they got?'
"In the five years from my son's diagnosis to his death, everybody was dealing in euphemisms because we were in denial and nobody said 'your son is dying'. Those discussions are really important."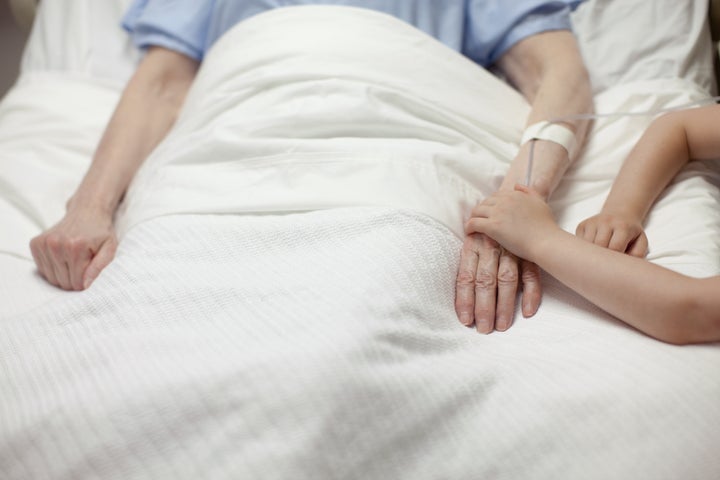 In the majority of deaths reviewed, medics had included a "do not resuscitate" order in the patient's notes. But in 18% of cases these orders were not discussed with family members.
Bonser added: "A consultant said to us: 'In the case of heart attack, we will not attempt to resuscitate your son'. That wasn't a discussion. All we heard was 'there is something we can do and we are not doing it'. That is a very difficult message to get across."
Amanda Cheesley, lead of end of life care at the Royal College of Nursing, said all hospital staff who have contact with a dying patient should be trained how to communicate with them.
She said: "People are terrified, people cross the road to avoid talking to someone who is dying or bereaved.
"We mustn't do that in hospitals we need to be there. If someone is distressed, then find out why and if I can't deal with it, find someone else who can.
"Training needs to be available for portering staff, cleaning staff - not just for nurses and doctors and other allied health professionals."
Cheesley emphasised that communication is "fundamental", adding: "We can't avoid the conversation, we can't say to people 'actually I really haven't got time to talk about the fact that you are terrified in your bed this morning' or 'I'm sorry, Mrs Bloggs, but you'll have to wait until I'm not busy'."
The RCP report also highlights the "unacceptable" variation in some aspects of care.
In some trusts as few as one in five dying patients have their medication reviewed in their last 24 hours.
In others, as few as 10% of patients were assessed to see whether they needed help with drinking. Across the country there was no documented assessment of the patient's ability to drink in the last 24 hours of their lives in a third of cases.
The authors also called for better access to specialist palliative care teams after the report found just 31% of patients were reviewed by a member of a specialist palliative care team after being admitted to hospital. Only 11% of trusts had specialist palliative care on offer 24/7.
But Professor Sam Ahmedzai, chair of the RCP End of Life Care Audit steering group, said the audit has shown improvements in the quality of care patients receive at the end of their lives.
Dr Kevin Stewart, medical director of the RCP's clinical effectiveness and evaluation unit, added: "We are disappointed that there are still major deficiencies in the provision of specialist palliative care at nights and weekends by many trusts; patients and their families deserve the same level of service whatever the day of the week."
Dr Adrian Tookman, clinical director at Marie Curie, who co-funded the research with NHS England, said: "We can't ignore the fact that the vast majority of dying people and those close to them still have limited or no access to specialist palliative care support when they need it in hospital. This is not right, not good enough.
"Care of the dying has no respect for time. Round-the-clock availability of specialist palliative care in hospitals should be the norm. When this care is missing, people suffer, and this suffering can live long in the memory of those they leave behind."
An NHS England spokesman said: "We welcome the results of this audit, which we commissioned, and which show there has been some improvement in the care provided.
"But there is clearly more that can be done.
"Although this audit presents a snapshot of end of life care within NHS hospitals, there are clear variations in the support and services received across hospitals and areas where improvements must continue to be made."
Dr Ros Taylor MBE, clinical director at Hospice UK, said: "It is promising to see there have been some significant improvements in the care of dying people in hospitals in recent years.
"However, it is clear that pockets of very poor palliative care still persist and that some hospitals are offering worryingly little face-to-face palliative care."
He added: "Dying doesn't happen 9-5, and people should not be deprived of the vital care they need because of the lack of specialist support available out of hours and at weekends.
"Hospices provide consistently high quality end of life care and have a key role to play in supporting more hospitals to get care for dying people right.
"The NHS needs to engage more with hospices to build on recent improvements to hospital-based palliative care, especially on delivering training for staff and supporting hospital out-of-hours provision."
Related