At least 11 people were shot dead and hundreds injured during widespread protests against police brutality in Nigeria on Tuesday night.
Thousands of predominantly young demonstrators marched through the streets for the eighty day running, bringing major cities to a standstill.
The perpetrators of violence were overwhelmingly the police themselves, and the matter has garnered international attention with public figures such as Beyonce, John Boyega, Rihanna and Hilary Clinton all calling for Nigeria's government to immediately tackle this issue.
Meanwhile, the UK government is being lobbied for intervention by London-based Nigerians and allies.
So what's it all about, and why is it happening now?
What is the SARS?
The Sars – Special Anti-Robbery Squad – was a branch of the Nigerian Police Force created in 1992 to deal with crimes associated with robbery and firearm incidents.
However, the faction became known for its links to murders, torture and other illegal activities.
Amnesty International has reported cases of unlawful killings and police brutality allegedly perpetrated by the group over a number of years.
In June 2020, it released a report suggesting SARS officers continued to commit human rights violations, including at least 82 cases of torture, ill-treatment and extrajudicial execution between January 2017 and May 2020.
The report "reveals a pattern of abuse of power by SARS officers and the consistent failure by the Nigerian authorities to bring perpetrators to justice. It highlights the deficiencies in Nigerian police accountability that contribute to, and exacerbate, these violations," Amnesty said.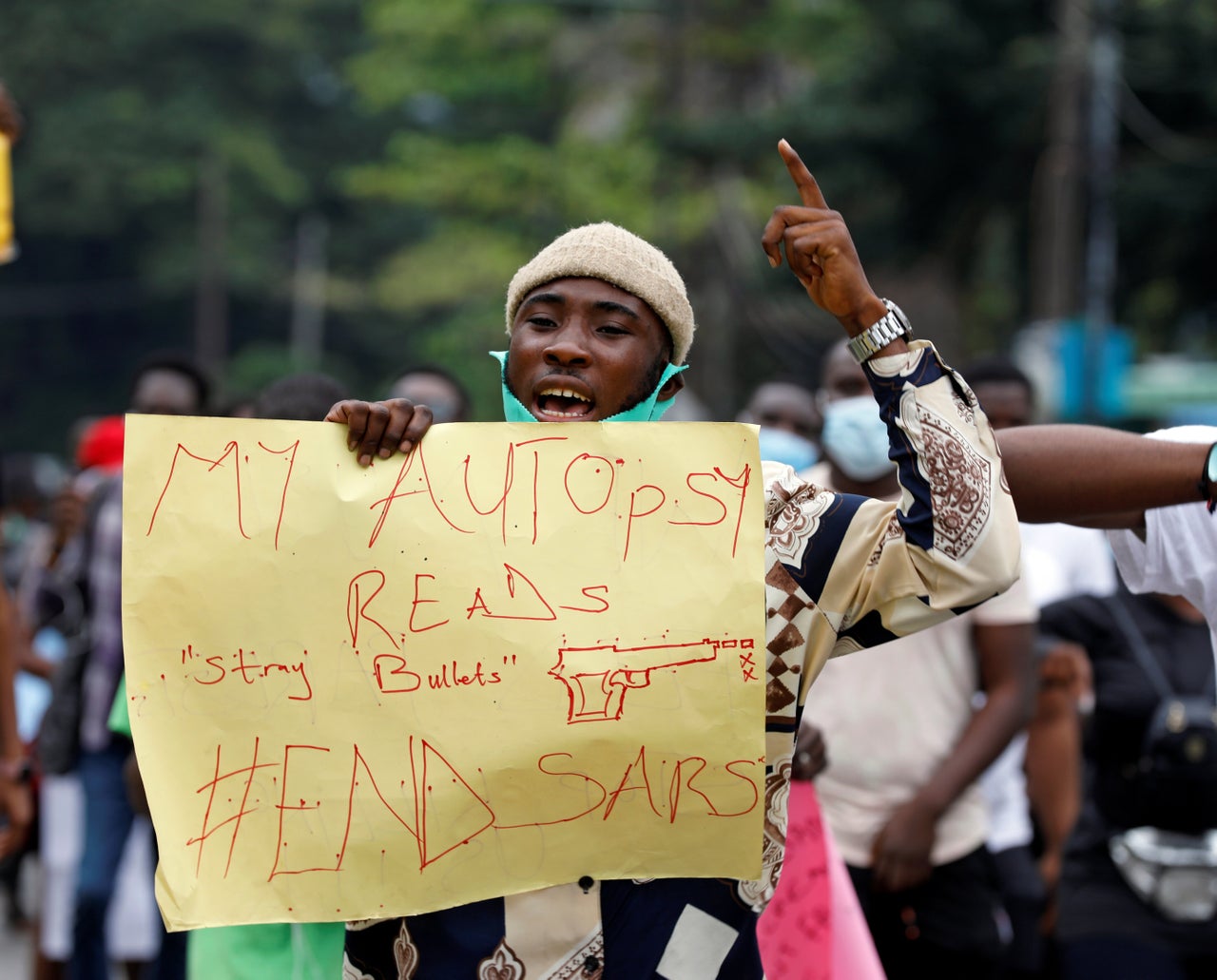 What is the #endSARS movement?
Young demonstrators are leading the nationwide protests demanding an end to police brutality, including extrajudicial killings, and extortion.
Two weeks ago, protests erupted across Nigeria – Africa's most populous nation, home to more than 196m people.
As well as Lagos and Abuja, the demonstrations have hit other cities including Port Harcourt, Calabar, Asaba, and Uyo.
It was sparked in part by a shocking video, widely shared online, showing a man being beaten by SARS.
In response, the Nigerian government announced it would disband the police unit. The man who filmed the incident was arrested, fuelling further social unrest.
But the promise to close SARS has not been fulfilled, and the protesters continue to call for an end to all police brutality, an end to corruption, and respect for human rights.
Their demands include the release of all arrested protesters, justice and compensation for victims of police brutality and their families, and the prosecution of those suspected to be responsible.
There have been publicised cases of Nigerian Police Force officers – including SARS operatives – being charged over incidents ranging from assault to murder, but this has done little to stop the problem. Human Rights Watch in 2010 said convictions of police officers for serious crimes were "very rare".
The issue of brutality perpetrated by the SARS squad has been longstanding but the video, originally shared in 2019, gained traction after Black Lives Matter protests were staged across various countries, including Nigeria, throughout the summer.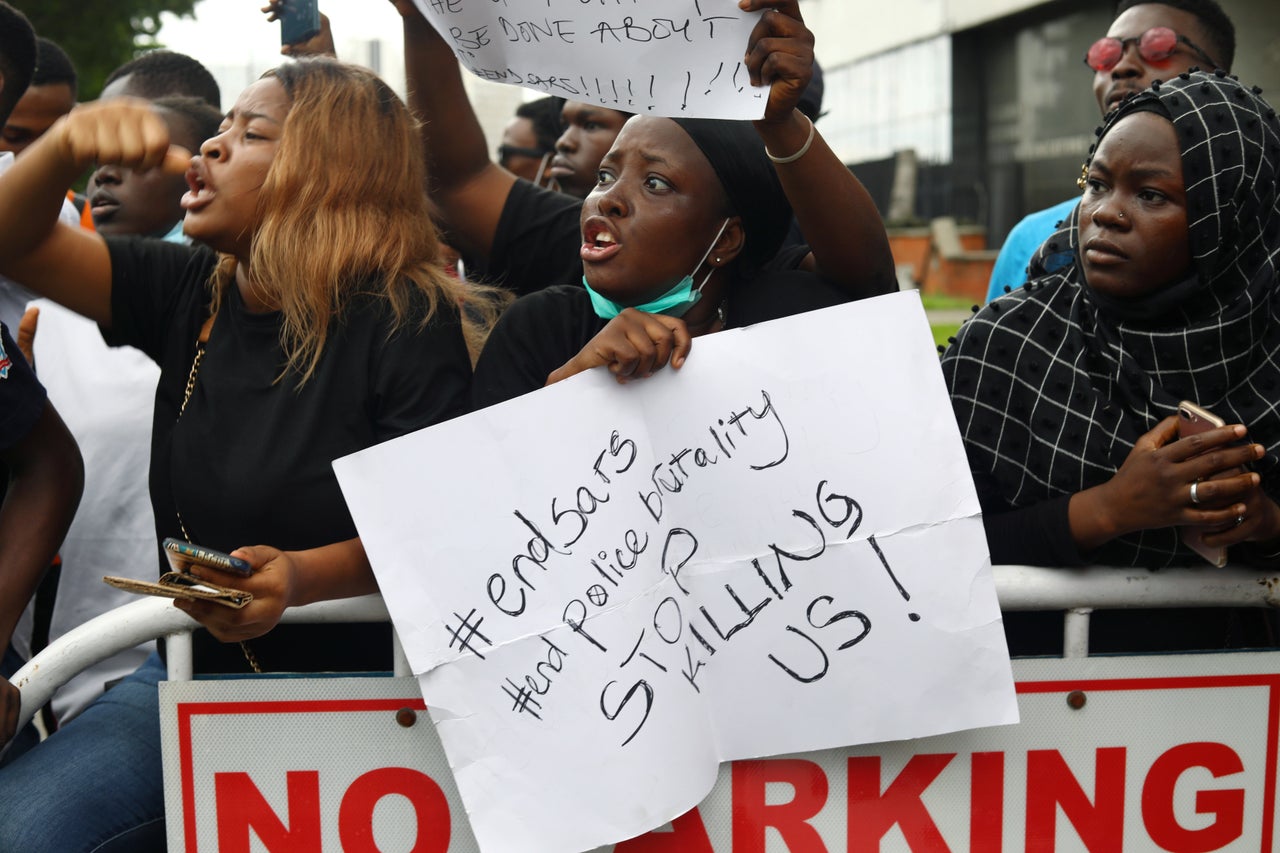 What is the mood?
Nigerians, both within the west African country and across the diaspora, are saying "enough is enough" – and that is what the #endSARS movement is all about.
"These protesters have been met with violence and excessive use of force. Nigerians are sceptical of authorities' pledge to end police atrocities because the past claims of reforming SARS have turned out to be empty words," Osai Ojigho, director of Amnesty International Nigeria, said in a statement.
"That police are still using excessive force on peaceful protesters, leading to injuries and deaths in Lagos, Ughelli, Abuja and Ogbomosho, throws through the window claims of any commitment to ending violations of human rights by Nigeria police."
Festus Keyamo, Nigeria's labour minister, claimed the man shown being beaten in the video that has sparked the demonstrations did not die, as was initially reported, and has been discharged from hospital.
He said the continuing protests have disrupted daily life.
"People cannot go to work, people cannot earn their daily bread," he said.
There has also been mobilisation in London.
Grassroots organisation @EndSarsUK_ staged a protest outside Downing Street last weekend, lobbying the UK government to intervene by cancelling the visas of Nigerian politicians and holding the country's government accountable for concerns around police brutality.
"I believe that 2020 is the year of clarity – when you say someone has 2020 vision that means that they can see clearly. There have been things that have been preluding to lead up to this event. It has been bubbling underneath this surface," Modupe Reis, PR manager of @EndSarsUK_, told HuffPost UK.
"We are in the diamond jubilee since Nigeria gained independence – 60 years on. That is of importance and significance. Now is the time for real change."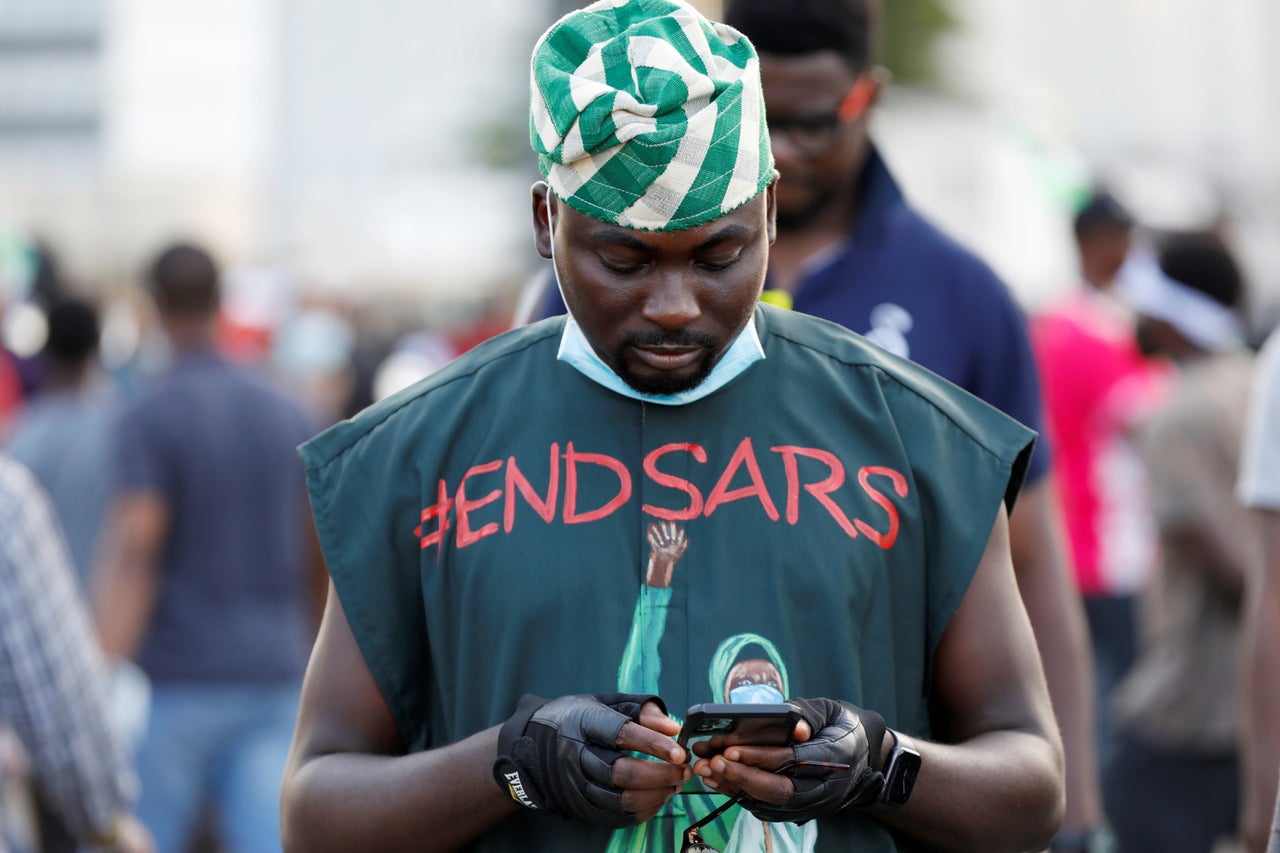 How has the Nigerian government responded?
Aside from the aforementioned pledge to disband SARS, the government's response has been lacklustre.
President Muhammadu Buhari has been notably silent on the protests and violence sweeping the country.
The Lagos state governor confirmed numerous casualties for the Lekki shooting on Tuesday but did not say who was responsible.
"This is the toughest night of our lives as forces beyond our direct control have moved to make dark notes in our history, but we will face it and come out stronger," Babajide Sanwo-Olu tweeted.
"I've just concluded visits to hospitals with victims of this unfortunate shooting incident at Lekki."
He had earlier warned on Twitter that the protests against police brutality had "degenerated into a monster that is threatening the well-being of our society".
What's the global reaction been?
A number of politicians and public figures have rallied behind the cause.
A statement from Beyonce on the Twitter feed of her charitable foundation BeyGood said: "I am heartbroken to see the senseless brutality taking place in Nigeria. There has be to be an end to SARS.
This comes after Nigerian singer Tiwa Savage, who worked with Beyonce on her visual album Black Is King, had called on the star and her team to use their voices and platforms to raise awareness about the situation in the country.
Writing in a post on social media, Rihanna said her "heart is broken for Nigeria".
"I can't bear to see this torture and brutalisation that is continuing to affect nations across our planet," she said.