Sheeran was quizzed about his jewellery on the red carpet at the Brits, as many assumed it must be a wedding ring, which would mean he and Seaborn had tied the knot in private. However, he swiftly put those rumours to bed by confirming he was wearing an engagement ring.
"I never saw why men didn't wear commitment rings, because it's the same commitment either way," he told ITV's 'Lorraine' show.
The surprised reaction to Sheeran's decision to wear an engagement ring may lead you to believe that he is the first man to do so, but that is far from the case.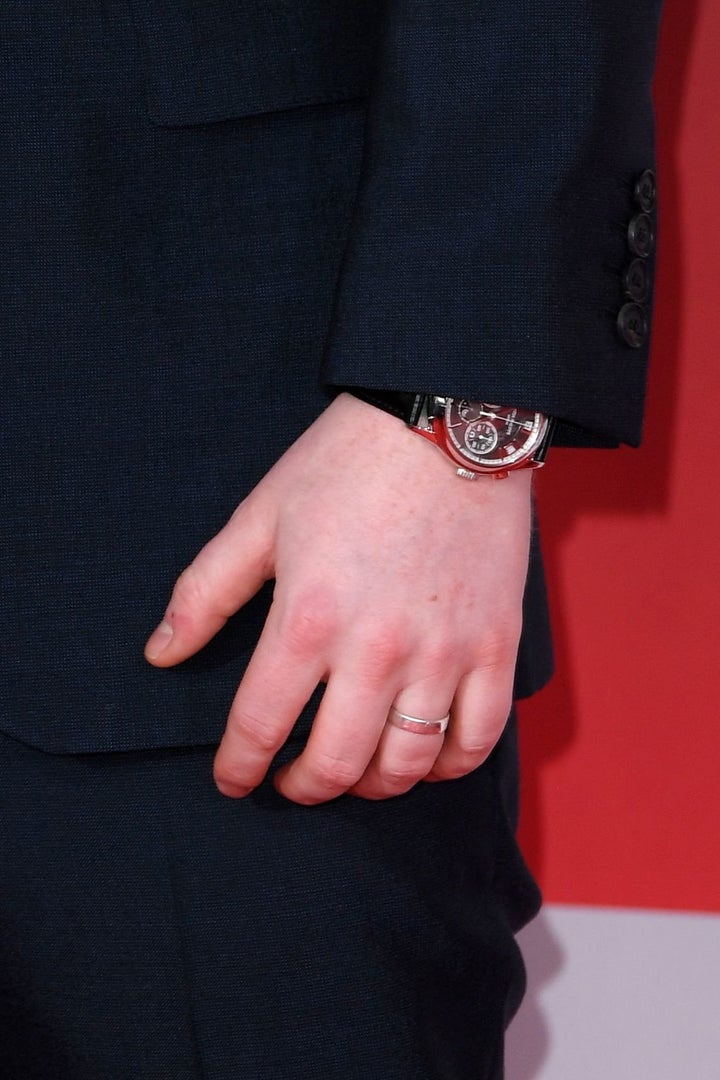 To name but a few other high-profile male engagement ring wearers: Michael Bublé proudly sported one ahead of his marriage to Luisana Lopilato in 2011, and Tom Daley and his husband Dustin Lance Black wore matching engagement rings in 2015.
Also, although a man wearing an engagement ring may still be a rare sight in the UK, in many other countries it's commonplace. In Sweden and Chile, both men and women receive engagement rings and many Argentinian couples only exchange rings at the engagement (not during the wedding ceremony), according to Who What Wear.
There are signs that the trend is growing in popularity in the UK too, Pinterest has seen a 280% increase in 'saves' year-on-year for images of 'Male Engagement Rings', and a survey by XO Group in 2015 found that 17% of men said women shouldn't be the only ones to wear a ring before marriage and they'd rock an (awfully-named) "man-gagement" ring.
It is not unusual for a woman to propose to her boyfriend, and many will want to get down on one knee with a ring box. The legalisation of same-sex marriage has also had an effect on the rise of engagement rings for men, as online retailer 77diamonds.com reported a boom in sales of diamond rings for men following the law change in 2013.
"We weren't actually prepared for the large numbers of men asking for matching engagement rings," Vadim Weinig, the site's co-owner told The Mirror at the time. "We wondered what was going on a few weeks ago when we had dozens of calls and emails from men asking if we do engagement rings for men, then we realised that it was a reaction to the new marriage bill."
But the trend can be traced even further back than that. H Samuel first launched a men's engagement ring nine years ago, and currently has two mens' styles in titanium available to buy - one with three diamonds, and one with a single rock, both currently £125.10.
However, while most jewellers have a section dedicated to engagement rings for women, it is still rare to find rings marketed as engagement rings in men's sizes. Those looking for one will have to work a little harder to find their dream ring as the majority of stockists have plenty of beautiful diamond styles in their men's wedding bands section. For example, Tiffany & Co. told us while there isn't a section for men's engagement rings on their website they do have a wide selection of rings that fall under "couples rings" and "celebration rings" which are designed for both men and women.
So while some critics may claim that engagement rings for men are simply a marketing ploy intended to bag jewellery companies more money, it seems that is not currently the case.