Explaining his comments, Bristow told Morgan: "It was my opinion. I am straight forward mate just like your mate Trump, we say what we feel."
The fiery exchange came amid reports Bristow demanded £5,000 from broadcasters to appear on programmes in the wake of the controversy.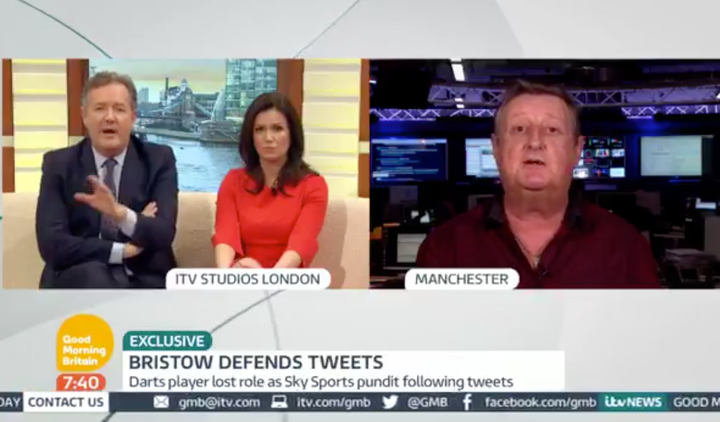 "If it's upset a few people, it's upset a few people but if one child tells someone they are getting abused that's the whole idea of it all," he added.
In a tense exchange, Morgan struggled to keep Bristow in line.
Stumbling to regain control of the interview Morgan said: "Let me put it to you Eric that the reason your comments caused such offence is that we are talking about young boys who were repeatedly raped.. let me finish Eric, let me finish, Eric, let me finish, stop talking, Eric!"
"Stop talking long enough to hear what I'm saying," Morgan added.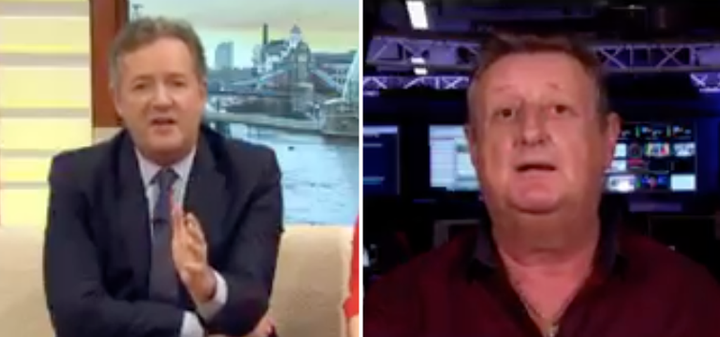 When later pushed by Morgan and fellow 'GMB' presenter Reid on his use of the word 'wimps' Bristow said: "I apologise it was miss worded... They are not wimps, they have been abused since young kids."
In response to a question from Reid, Bristow told her: "The abuse is rife, darlin'."
But before she responded, Morgan stepped in and said: "Don't call Susanna darlin', she's not your darlin'."
Morgan continued the feud off air, and suggested on Twitter that Bristow's apology was insincere.
Bristow had re-tweeted supportive comments from followers backing his controversial comments.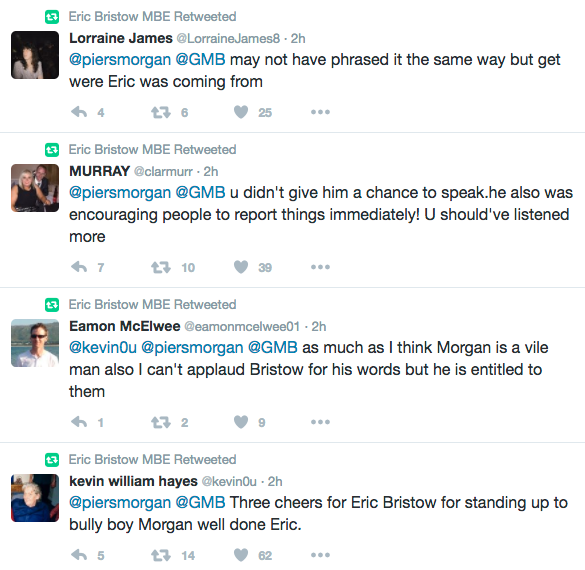 The feud between Morgan and Bristow came amid reports the darts player demanded £5,000 for interviews on the subject.
BBC sports correspondent Richard Conway told the Victoria Derbyshire programme: "What I understand is that the BBC last night asked Eric Bristow if he would come on, if he would talk about this, and Eric Bristow's management asked for a fee of £5,000 in order for him to appear and talk about this issue."
Bristow issued a statement on Wednesday that said: "Any monies offered or received for any interviews with me will be donated in full to a relevant charity."
ITV told The Huffington Post UK it does not disclose guest contracts.
Earlier commenting on Sky Sports' decision to end his employment, Bristow said: "That's entirely up to them [Sky]. The whole idea of this Twitter conversation was to get young kids aware and complain about being abused when they are younger.
"It's no good doing it 30 years later, you've missed the boat. So if I stop one lad getting abused at a young age I have done what I wanted to achieve."
The furore began on Monday when Bristow tweeted: "Dart players tough guys footballers wimps," and "bet the rugby boys are ok ha ha".
His comments were sparked by recent claims of historical sex abuse by youth coaches at football clubs that now involves 20 players.
Several clubs have commenced investigations into their handling of complaints, and several police forces have said they are investigating allegations.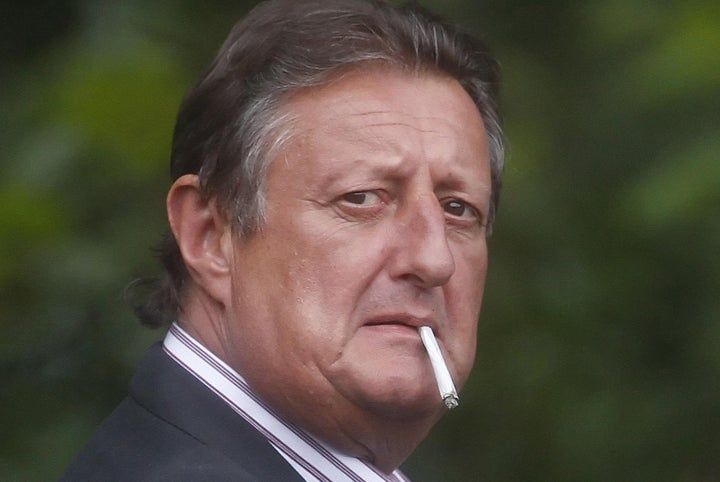 In the full written statement issued on his Twitter feed, Bristow repeated the stance he took on Good Morning Britain: "On GMB I described myself as a bull in a china shop and that has always been the case.
"It makes me furious to think that an abuser can get away with it for so long, and to so many when they should always be looking over their shoulder in fear waiting to be confronted.
"I don't use PR people to run my social account as some do, and now appreciate my wording was wrong and offended many people when all I was doing was venting my anger at the abusers and encouraging kids to act ASAP.
"I know why I've been vilified but if one child comes forward quicker or one abuser thinks twice about the likelihood of being confronted then it will have been worth it."