When Welsh shoppers reported clothing and homeware being hidden behind tape and cellophane during Wales' "firebreak" lockdown, the rest of the UK sympathised – and were told the same thing wouldn't happen elsewhere.
But now, less than a week into England's national lockdown, confused shoppers have been sharing photos of non-essential items blocked off from sale.
Joanne White, from London, was surprised to see barriers introduced at her local store in Streatham. "It is beyond ridiculous," she tells HuffPost UK. "You can buy as much alcohol as you like, but not homeware, clothes or toys."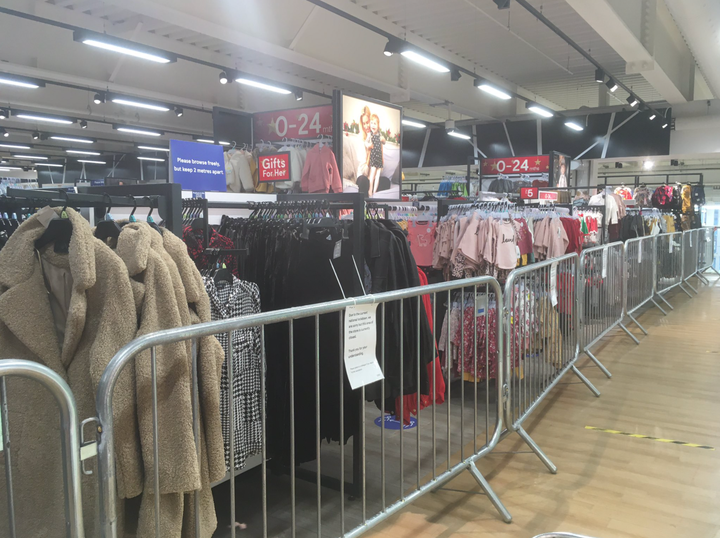 Shoppers have also been met by barriers at other supermarket branches, with many questioning why certain sections have been cut off – or why some items are deemed more essential than others.
So, can supermarkets still sell non-essential items, or not? It all depends on where they're placed in the store.
Unlike in Wales, the official guidelines in England state that a business selling "a significant amount of essential retail may also continue to sell goods typically sold at non-essential retail".
For example, a supermarket that sells food is not required to close off or cordon off aisles selling homeware when the two sit side-by-side.
The rules get a little more convoluted when a store operates on two floors. In extended guidelines published to help "mixed retailers" navigate the new system, shops are asked to close "sufficiently distinct" sections selling non-essential items.
"Sufficiently distinct sections might involve operating in separate buildings, across separate floors, a door between sections, using separate cashiers, or another clear demarcation between sections," the guidelines state.
"For example a food shop may stay open, but a homeware section on a separate floor or separate building should close."
The rules also stipulate that where a business selling essential retail has another, separate business embedded within it, that separate business is required to close: "For example, an electronics business operating a concession within a supermarket must close, as would a bookshop business inside a garden centre."
It's because of this that some Tesco and Sainsbury's stores have closed certain departments. Asda also confirmed to HuffPost UK that it has closed 36 of its standalone Asda Living and George stores.
Supermarkets aside, the categories of other shops that are permitted to stay open include hardware stores (for your DIY emergencies), post offices, garden centres and pharmacies.