EU citizens living in the UK in the wake of the Brexit vote are dealing with the same mental health symptoms as those suffered by refugees, a psychotherapist has claimed.
Speaking at an event organised by the European parliament, Emmy van Deurzen – who helps to run an emotional support service about Brexit for EU nationals – said the mental health of those not given a vote in the referendum had "plummeted" since June 2016.
In the past three years, the clinic has seen "people who cannot sleep anymore, who have lost their appetite, whose families are being broken up because one of them cannot get settled status", van Deurzen told crowds at Europe House in London on Friday.
People are "literally living in fear", she added.
"I have worked with Holocaust survivors over the years, with survivors of many wars, with people who were involved in the sinking of HMS Sheffield in the Falklands War and what I have seen in the EU 27 citizens who are in a bad situation is exactly the same symptoms as I have seen in refugees," van Deurzen said.
"Even some of the people I have seen who have been tortured by political regimes have sometimes very similar symptoms to some of the EU 27 citizens who have been in particularly bad positions."
There are some EU 27 citizens who are leavers, who are "only here on a short contract and don't care," she said.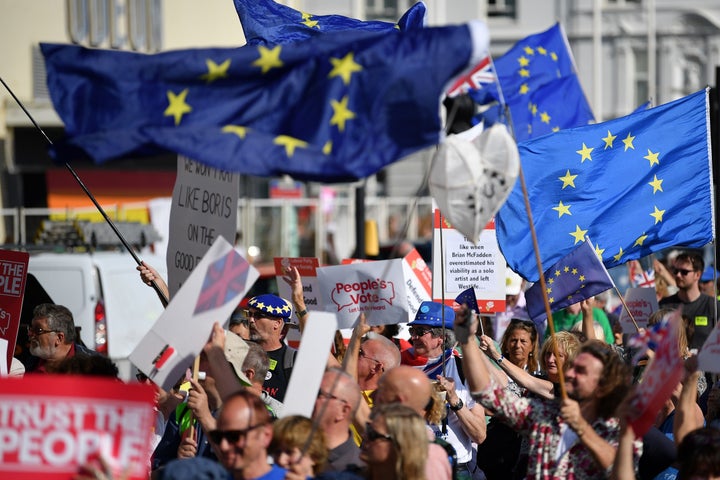 "But there are very few of them. Most EU 27 citizens have experienced a great deal of pain over the last three years and for many of them, that has become unsustainable."
Dr Mohammad Zia Ul Haq Katshu described how his patient was taken to hospital in an acute psychotic state three weeks after the Brexit result.
The man, in his 40s, was said to be confused and agitated, with disordered thoughts and speech, the doctor wrote in the British Medical Journal. He believed people were spying on him and planning to kill him. He also thought radio and TV discussions were targeted at him.