The UK's poorest regions could lose hundreds of millions of pounds of funding to London and the South East after Brexit, an analysis has found.
Communities in Charge, a coalition of community leaders and charities, fears the government will not target replacement EU funding at reducing inequality, according to an analysis comparing UK government spending on economic development with the distribution of so-called EU structural funds.
Its investigation of Treasury funding reveals significant regional differences between the way in which the EU and the UK allocates funding for economic development.
Communities fear that if the new Shared Prosperity Fund is distributed in the same way the government allocates current spending on economic affairs, it will unfairly benefit more prosperous areas.
"It will be like handing every Londoner a cheque for over £200 and taking £700 from every Welsh person," says Tony Armstrong, chief executive of Locality, one of the organisations running the campaign, which is supported by Power to Change, a Lottery-funded organisation for community businesses.
Very little is known about how the government plans to replace EU structural funding worth £2.1 billion (€2.4 billion) a year after Brexit.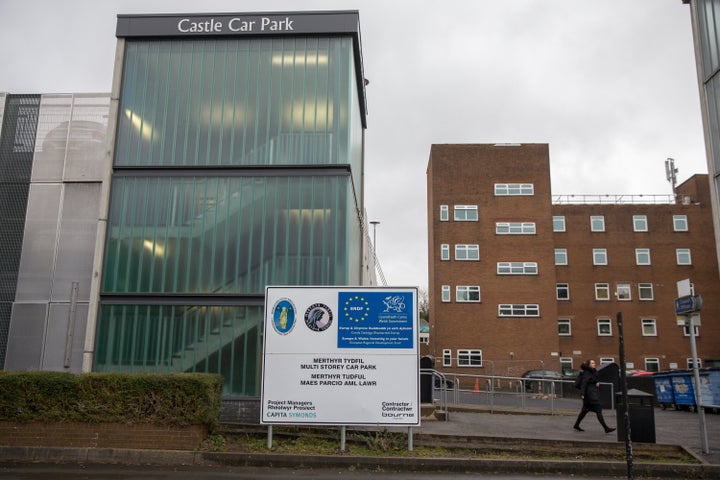 The government has pledged to set up a UK Shared Prosperity Fund, but it has yet to publish details of how much money will be allocated and how it will be distributed. A final decision on the design is expected after the Spending Review, which has been delayed beyond autumn because of the Conservative leadership election.
Seven UK regions are at risk of losing out on public funding from 2021 to 2027 if the government distributes repatriated EU funding in the same pattern as current economic spending, according to Communities in Charge.
Wales could lose over £2.3 billion over six years, while the South West could lose £1 billion under the analysis, which compares regional allocation of EU structural funding between 2014 and 2020 with regional allocation of UK economic affairs funding, a similar basket of priorities including enterprise and economic development; science and technology; employment policies; agriculture, fisheries and forestry; and transport between 2012 and 2017.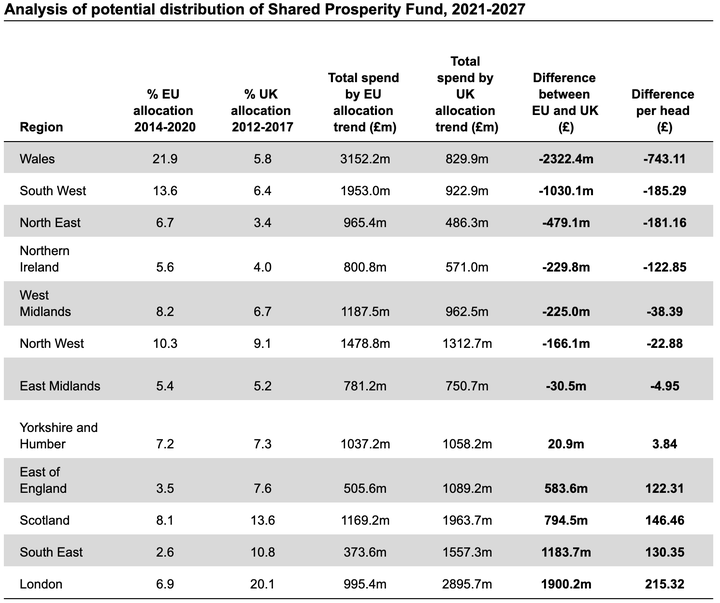 Welsh Assembly ministers have also called for the government to respect the devolution settlements in Wales, Scotland and Northern Ireland that allow these countries sovereignty over how their EU funding is spent.
A Welsh government spokesperson said: "Any proposals which seek to bypass the devolution settlement or take back decisions and funding which has been under Wales' control for nearly 20 years are completely unacceptable.
"The UK government first floated this idea two years ago but has failed to provide any details about how the £370 million of EU structural and investment Wales currently receives every year will be replaced."
Paul Davies works for a Clowne Enterprise, a small charity helping people back to work in North Derbyshire. He says the Shared Prosperity Fund offers a huge opportunity to address what he describes as crippling levels of bureaucracy attached to European structural funds.
As chair of a local economic growth programme, Davies has previously helped to distribute £8 million of EU funding in Derbyshire over three years.
"For many of us who have worked at the receiving end of the European projects, when we look at the levels of inefficiency and the slowness, the opportunity lies in bringing that back under UK management."
But Davies describes the lack of detail available as worrying: "You can never tell what's going to happen. If we do crash out in disastrous fashion, allocating money to projects like ours would be fairly low down on the survival budget of the government of the day."
The government says replacement funding will be used to deliver growth "based on our modern industrial strategy", which is focused on investment in research and development and infrastructure.
Annoushka Deighton is a steering group member for the Communities in Charge campaign and successfully organised the community buyout of Stretford Public Hall in Chester, Greater Manchester in 2015.
She says community organisations are concerned that the government will "take the easy option" and put the money into large infrastructure projects, not necessarily targeting deprived areas or small projects. "Large infrastructure is important but it needs to be matched support for the grassroots," she says.
The EU uses GDP per person to allocate structural funding to relatively less developed regions. By this measure, the UK is the most unequal country in the bloc. The most developed region in the UK – West Inner London – is over nine times better off than the least developed region, West Wales and the Valleys.
Sacha Bedding, manager of the Wharton Trust, a charity in Hartlepool, says there is a political imperative for the government to co-design the fund with community groups who work with people in these least developed regions.
"The shift to the right in the Tees Valley is already happening," he says. "Labour should be safe as houses here. But people don't feel their voice has been listened to. The government now has an opportunity to design something which can demonstrate that they recognise the scale of the challenge in some of these communities."
A spokesperson for the Ministry of Housing, Communities and Local Government said: "We know the importance of local growth funding to local places and of providing certainty on its future. That's why we are engaging with stakeholders on the design of the UK Shared Prosperity Fund and will consult widely."