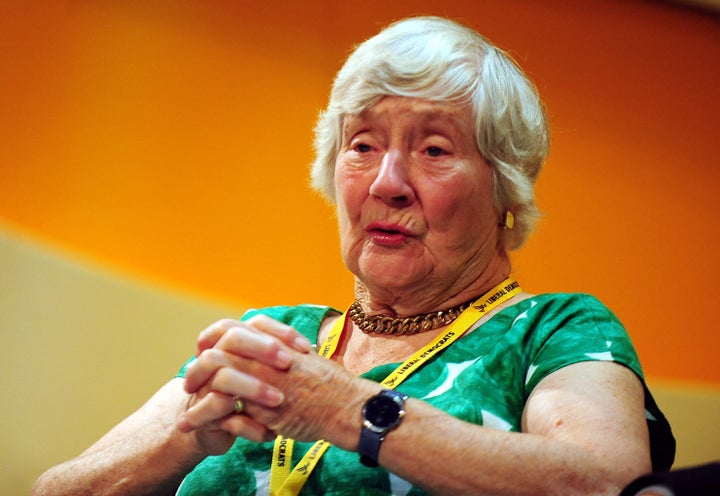 Baroness Williams has criticised the 'Remain' campaign for not promoting enough women to the top of the organisation.
The veteran Lib Dem, who resigned from the House of Lords earlier this year, said the referendum debate "has turned into a conversation between two white middle aged gentlemen on one side and two white middle aged gentlemen on the other".
"The debate can sometimes seem more like a contest between Boris Johnson and George Osborne to see who will be next leader of the Conservative Party."
In a speech in Westminster, Williams, who is campaigning for the UK to remain inside the EU, said it was "very depressing" that there were so few women, or people from minorities engaged in the debate.
She said more high profile women politicians should have been put forward by the Remain camp - such as former Lib Dem minister Jo Swinson.
"I think some of the key questions have not been raised. It's becoming increasingly a referendum about who should be the next leader of the Conservative Party. That is not what the referendum subject is about, it's about the next 40 years in Britain," she said.
She also encouraged the public to call the BBC and complain next time they see a male v male, blue v blue debate on EU membership.
"The BBC is sensitive to this charge, and if enough people complain they will change in the last weeks of the campaign because at the moment the broadcasters do not have a leg to stand on," she said.
Williams also warned Brexit would lead to the end of the United Kingdom and put the Northern Ireland peace process at risk.
"If Britain decides to leave the EU. That whole peace process collapses. You'll have a border back between north and south," she said. "I can think of nothing more foolish than to bring to an end the peace that exits in Northern Ireland."
Williams added: "You're looking at really serious possibility of the end of this country."
She said it was "extraordinary" that pro-Brexit Tory politicians, who claim to be motivated by patriotism, were pushing an agenda "which would mean there isn't at UK left".
Williams was made a member of the House of Lords in 1993. She was one of four leading Labour figures who quit to form the Social Democratic Party in 1981