French hooligans have been filmed ambushing a group of English fans quietly enjoying a drink in a square in Marseille.
Video shows a group of men, which it is claimed are 'Marseille Ultras', walking past the pub, before hurling a beer bottle at diners, followed by chairs and tables.
England fan Billy Grant, who is video blogging the tournament, captured the violence on camera which was described as "absolute madness".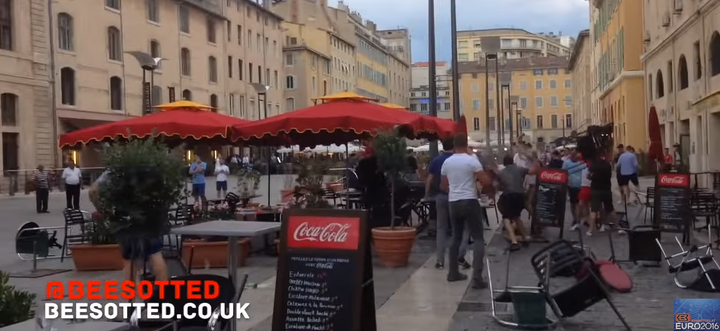 Grant wrote on Twitter that not all England fans in Marseille were acting out: "There are 30,000 England fans in Marseille, 200 of them are at the Queen Victoria Pub singing, and that's where the media focus is. The other 29,800 find nice quiet pubs off the beaten track."
He said his group was having a "civilised drink" when they came under attack from about 20 French hooligans.
Grant added to the Mirror: "All of a sudden people came running into the square, followed by police with dogs a few minutes later.
"It was over quickly and we carried on having a nice time.
"But then about 20 minutes later a group of guys walked past and threw a bottle at the England fans and mayhem broke out."
Grant said the attackers looked like Marseille Ultra who "don't like English fans on their turf".
The clash came after England fans chanted "fuck off Europe, we're all voting out" during violent clashes with police as the European Championship got underway.
Bare-chested fans also sang songs about the IRA and German bombers being shot down as violence first broke out at around 6.20pm French time outside the Queen Victoria pub in the Old Port district of Marseille.