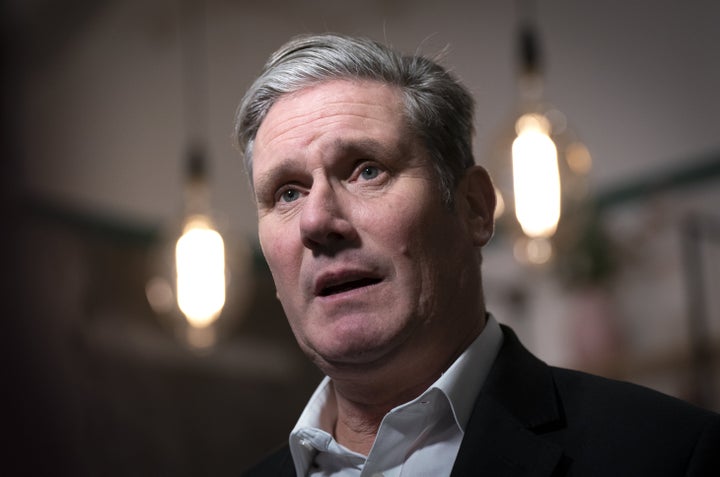 Liz Truss famously - and prophetically - pledged to "hit the ground from day one" when she made it onto the final ballot in last year's first Tory leadership election.
Keir Starmer hopes to be more successful than the former PM when he kicks off the political year with a major speech on Thursday.
"It'll be about hitting the ground running ahead of the local elections in May," a senior aide to the Labour leader told HuffPost UK.
With the general election expected in 2024, party sources say Starmer wants to use his speech - and the next 12 months - to convince voters that Labour offers "hope and change" after 12 years of Tory failure and decline.
"Keir was doing change and Rishi was doing things are awful and it'll get worse, which was very helpful framing for us," says one.
Another Labour insider adds: "We have two tasks in 2023 - to show the public that the Tories' managed decline of Britain isn't inevitable, it's ideological, and that the paucity and thinness of what Rishi Sunak is doing will do nothing to arrest the fact they have no answers to the big questions of our time.
"Basically, they are the problem and we are the solution."
To that end, May's elections - when 230 English councils will be up for grabs - will be a useful staging post for the Starmer project.
Sweeping Labour gains will provide further evidence that the opinion polls suggesting Starmer is on course for Number 10 are accurate.
However, a Tory revival would be a major blow to the Labour leader, and give weight to the theory that Sunak's steady-as-she-goes approach is winning over undecided voters who were turned off by the chaos of Truss and Boris Johnson.
The stakes could hardly be higher - and explains why the Labour machine are determined to leave nothing to chance.
"We are going to be refining target seat lists ahead of the general election, which will mean lots of big polling," said one party source.
"We also need to build on Keir's party conference speech by showing that we are going to deliver the change people have been crying out for."
The gloomy economic backdrop means that anyone hoping that an incoming Labour government will inevitably mean greater investment in things like schools and the NHS are likely to be disappointed, however.
HuffPost UK has learned that shadow cabinet members are being urged to come up with ideas on how to improve the country without spending any money.
One source said: "We have to be honest and say we can't undo all the damage done by the Tories overnight. Instead it's going to be a good, old, Labour project of fixing and rebuilding the country.
"There are loads of ways you could significantly deliver huge reform just through legislation, without spending a penny. That is stuff that could be delivered very early in a Labour government.
"We can fix the public finances and deliver huge change, no problem. It's an opportunity for us."