Leading European socialists have urged Jeremy Corbyn to push for a second Brexit referendum and campaign for "remain and reform" of the bloc.
The letter from 60 left-wing MEPs to the Labour leader was dispatched as Theresa May's Brexit deal suffered a second major defeat in the House of Commons on Tuesday night.
Its aim is to appeal to Labour's left-wing by branding Brexit a "right-wing project" to "place even more power in the hands of right-wing elites" - something hotly disputed by Brexiteers, who say working people will benefit.
Penned by Josef Weidenholzer, vice president of the Socialists and Democrats (S&D) group in the European Parliament, the letter also suggests Corbyn should press for the UK to take part in May's European elections to fight climate change and tax evasion.
Weidenholzer told HuffPost UK he believed Brexit was a product of "irresponsible party politics and fear mongering", adding: "The tactical games of the Tories have taken their country hostage - with extensive consequences for the next generation.
"Therefore, Great Britain remains a deeply divided country without a positive outlook on the future. Brexit is a historic error. Together with 60 colleagues, I sent this letter to the leader of the Labour Party, Jeremy Corbyn, appealing to him to finally find a concise position and to stop Brexit."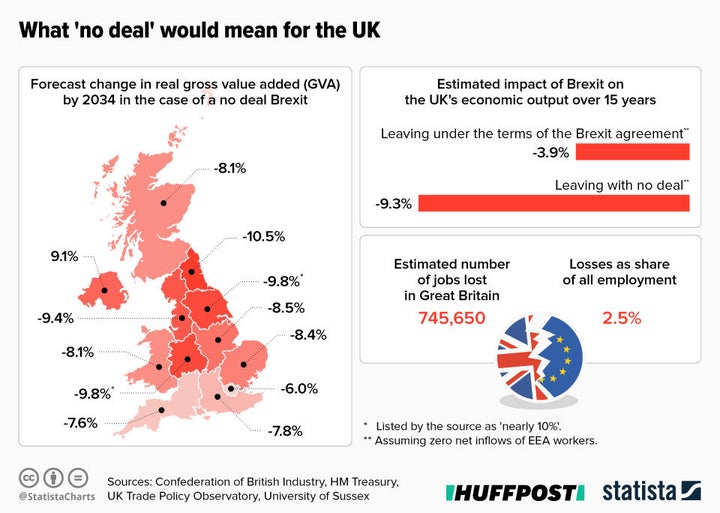 The Commons will vote later this week on whether to extend the Article 50 deadline and hopes among remain-backers are high that opposition MPs will launch a bid to force a second referendum.
Labour has said it wants to secure a softer Brexit, however, and sees a re-run of the vote an option only if Britain faces a damaging withdrawal.
It is also unclear what options the party would back on the ballot paper should Corbyn swing behind a fresh
Labour MEP Jude Kirton-Darling said pro-EU campaigners needed "allies" on the continent, adding: "Corbyn and the British Left should embrace this initiative from leading socialists.
"A public vote can't be won by offering the status quo, we must offer a programme of hope and prosperity in contrast to May's botched Brexit. To achieve that we need allies.
"It is striking that our European cousins have responded spontaneously to Corbyn's shift towards a public vote, we should embrace their gesture."
The Labour Party did not wish to comment.
The letter in full
The Right Honourable Jeremy Corbyn,

Leader of the Opposition

House of Commons,

We write as fellow socialists, internationalists, and campaigners for fairer and more equal societies in Europe and across the world.

In challenging times for the Left we have watched the growth of the Labour Party under your leadership, your success in the 2017 UK general election and your opposition to right-wing attempts to use Brexit to harm manufacturing, workers' lives and public services with great respect.

We are united in our belief that you have done the right thing by committing now to a public vote on Brexit. Clearly the election of a Labour government would be the best thing for the UK. However, given the lack of an election, your proposal to hold a referendum – giving the UK public the chance to give their verdict on May's failed negotiations – represents the most democratic way forward.

It is no secret that we hope that the UK is able to find a way to retain its membership of the European Union. Viewed from here, Brexit has always appeared to be a right-wing project with a single aim – to harm working people and communities and place even more power in the hands of right wing elites.

Should Brexit go ahead, workers' rights, environmental protections and public services would be at the mercy of a Conservative government. Given her track record, it would seem foolish to us for any Labour MP to trust the words of a Tory Prime Minister.

Staying in Europe however is not about defending the status quo. Here in Europe, those of us on the Left are working on many fronts to create a fairer, more equal union with workers' rights and the fight against climate chaos at its heart.

Should the UK stay, we hope that in the next European Parliament to work with you and a strong delegation of Labour MEPs to create much-needed reform across the EU – in our democracy, in taxation law and our treatment of global businesses, in migration, employment, good quality public services and environmental policy.

We stand ready to work with you to gain and win a new referendum, giving the UK the public chance to put right what the right wing in the UK has got so wrong.

Yours sincerely:

Josef Weidenholzer, Austria vice president of Socialist group

Tanja Fajon, Slovenia vice president of Socialist group

Dan Nica, Romania vice president of Socialist group

Kathleen Van Brempt, Belgium vice president of Socialist group

Maria Joao Rodrigues, Portugal vice president of Socialist group

Evelyn Gebhardt, Germany vice president of Socialist group

Victor Bostinaru, Romania vice president of Socialist group

Elena Valenciano, Spain vice president of Socialist group

Miapetra Kumpula-Natri, Finland head of delegation

Miriam Dalli, Malta head of delegation

Jens Geier, Germany head of delegation

Marc Tarabella, Belgium head of delegation

Paul Tang, Netherlands head of delegation

Sylvie Guillaume, France head of delegation

Eric Andrieu, France head of delegation

Eva Kaili, Greece head of delegation

Carlos Zorrinho, Portugal head of delegation

Evelyn Regner, Austria head of delegation

Mercedes Bresso, Italy

Karin Kadenbach, Austria

Boris Zala, Slovakia

István Ujhelyi, Hungary

Elly Schlein, Italy

Arndt Kohn, Germany

Peter Simon, Germany

Giorgos Grammatikakis, Greece

Vilija Blinkeviciute, Lithuania

Doru Frunzulica, Romania

Momchil Nekov, Bulgaria

Eugen Freund, Austria

Miltiadis Kyrkos, Greece

Tibor Szanyi, Hungary

Kati Piri, Netherlands

Maria Grapini, Romania

Agnes Jongerius, Netherlands

Sylvia-Yvonne Kaufmann, Germany

Brando Benifei, Italy

Claudiu Tanasecu,, Romania

Liliana Rodrigues, Portugal

Karine Gloanec Maurin, France

Emilian Pavel, Romania

Ana-Claudia Tapardel, Romania

Tonino Picula, Cyprus

Christine Revault d'Allones-Bonnefoy, France

Adam Gierek, Poland

Enrico Gasbarra, Italy

Jo Leinen, Germany

Karoline Graswander-Hainz, Austria

Andi Cristea, Romania

Ricardo Serrao Santos, Spain

Enrice Guerrero Salom, Spain

Maria Gabriela Zoana, România

Ana Maria Gomes, Portugal

Csaba Molnár, Hungary

Peter Niedermüller, Hungary

Peter Kouroumbashev, Bulgaria