Osborne said he wanted to increase the school week by at least five hours in 25% of secondary schools to ensure children got "the best start in life".
"It is simply unacceptable that Britain continues to sit too low down the global league tables for education. So I'm going to get on with finishing the job we started five years ago, to drive up standards and set schools free from the shackles of local bureaucracy," he said.
However not all parents agree with Osborne that this change will be good for their children.
Mum Clara Lou said that she disagreed "totally":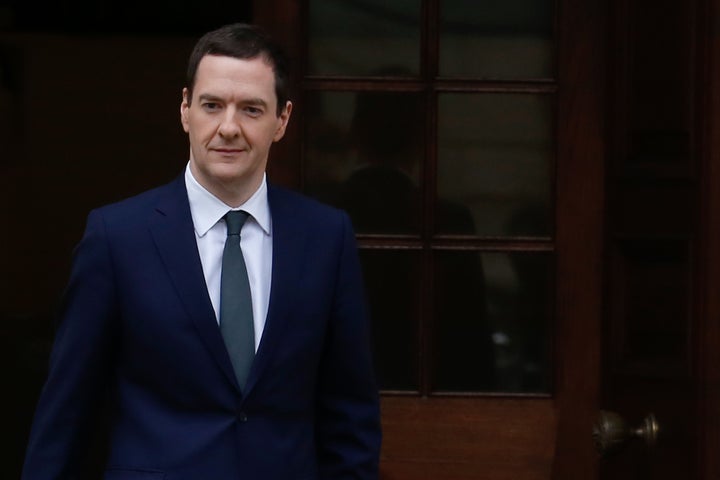 "Children need down time," Lou added.
"They need to relax, have fun, have a long bubbly bath, cuddles on the sofa, take care of their pets, watch a movie, play board games and toys, enjoy the evening sun when it's not too hot in the summer and look at the stars before they go to bed in the winter.
"Not be stuck in a classroom till stupid o'clock. Education is as much about quality time at home as it is about time in school."
Hannah Holland added: "So now my boys won't get home from school until 5.15pm. They are then expected to fit in an hour of homework, dinner, bath and reading before 8pm when they have to go to bed, in order to be able to wake up at 6.15am and do it all again. Wonderful."
Many parents disagreed with Osborne's view that the changes would help improve Britain's standing in global league tables for education.
Claire Bufton said: "So Finland send their children to school later, have shorter days and have the best record of education in Europe, our idiot decides to put more pressure on teachers and kids by making days longer... well that makes sense!"
Jenny Lewis commented: "If he really looked at the global tables he'd see countries starting formal education later that have shorter days and that respect childhood and the need for play are at the top."
But not all parents are opposed to Osborne's plans, some could see a positive side to the reforms.
"I actually think that keeping older teens in the last years of school in school longer is a great idea," wrote Adele Elliott.
"I feel it will prepare them more for life outside of education where working life does not finish at 3pm.
"However I also feel that if they do do this, homework for these children should be a thing of the past allowing them a better balance in life."
Susan Esposito commented: "It's a good idea for sport a lot of after school activities cost money which parents can't afford but it should be the pupils' choice."
Michelle A Bennett added: "My kids are nine and 13 so to be honest I like the idea of longer hours. Would cost me a fortune in child minding costs to have them both picked up (or in my eldest's case met) and watched till I got home from work.
"If there were more 10am -2pm jobs for single parents or even those needing to work with in school hours, it would solve so many problems."
Netmums editor in chief, Anne-Marie O'Leary voiced concerns about the plan to turn all schools into academies:
"The news that the Chancellor is expected to announce plans in today's Budget to convert all schools into academies has been met with some surprise by Netmums who would've expected a firm evidence base for such a decision," O'Leary told The Huffington Post UK.
"Instead, the evidence as to the performance of schools converting to academy status hasn't been overwhelmingly positive – the Chief Inspector of Schools, Sir Michael Wilshaw, has himself highlighted that many academy trusts report the same weaknesses as the worst-performing local authorities.
"While the increased autonomy of an academy status can of course deliver improvements, it isn't a guarantee and parents are nervous of a push for all schools to move to academy status when it isn't clearly going to mean improvements in outcomes for every school.
"Parents are far more concerned about funding in general than a push for all schools to become academies.
"Netmums welcome the news that their children will be offered extra activities as part of a longer school day. Of course, they're concerned where the funding for this will come from – hoping, of course, that it won't be diverted from any other part of the education budget – and that it won't apply to primary school pupils, only secondary."
Anastasia de Waal, chair of Family Lives agrees that funding is an issue:
"Properly funded after-school activities – and they don't come cheap – would certainly be welcome," she said. "Not only do many parents struggle with the gap between their own workplace hours and school hours, there's good evidence to show that universally accessible extracurricular activities help to level the playing field between children from different socioeconomic backgrounds.
"However, inadequate funding accompanying this push could have the opposite effect, forcing schools to put on sub-standard provision that doesn't benefit children and simply puts schools and teachers under additional pressures.
However, Siobhan Freegard, founder of video parenting site ChannelMum is not convinced the plans to increase the length of the school day will benefit pupils.
"There may be some benefit in longer hours for older teens to get them ready for the world of work, but in general, extending the school day won't necessarily help," she said.
"Modern research shows it's about working smarter, not longer, and no amount of sitting at a desk for hours on end will improve learning if the children aren't already engaged or motivated.
"There needs to be clarity about what these extra hours will entail - is it more lessons, a homework club or extra curricular activities? Is it simply to keep kids off the street? And to make it work, it has to be properly funded and teachers properly supported.
"So much more could be done within existing hours if teachers were better cared for, less stressed, better respected and more appreciated. Teachers, heads and parents all need to be shown how this latest announcement will actually work before they buy into the idea.
"Academy status can work well for schools where the head and staff have a clear vision plus motivated and supportive parents - but it is much tougher to apply the ideals to schools which are seriously struggling. Education must nurture all children, not just the most academic that can push up academy grades.
"And there are real concerns that it may be a route to allow big business and sponsorship to creep in the back door. The needs of pupils must come before the wants of brands, so education must remain independent."
Russell Hobby, general secretary of school leaders' union NAHT, also voiced reservations about the move to make all schools academies:
"If every school in the country became an academy tomorrow, the performance of the education system would be unchanged; the gap between advantaged and disadvantaged students would remain the same. Simply removing schools from local authority control, without considering the new frameworks of support that must surround them will solve nothing by itself.
"We have no problem with academies; we just don't believe they are a panacea. We think the emphasis should be on school to school collaboration, without such concern about the exact legal vehicle. The challenges of the years ahead are challenges of capacity that will need national and regional co-ordination.
"We want to know what will happen for small schools that rely on external support and which appear neglected in most strategies. Who will step in to support them?
"We hope that local authorities will reinvent themselves to offer services that schools can buy into. It would make sense to us to allow some local authorities to establish academy chains."
Justine Roberts, Mumsnet CEO, has called for parents to be given more information about what these changes will mean for their children.
"Many parents don't have a clear understanding of either academies or multi-academy chains," she said.
"And in conversations on Mumsnet there's a distinct sense that people feel a little blindsided by this, with many questions about chains of accountability, provision for SEN, the pay packets of academy chiefs and the long-term implications.
"There are mixed feelings about the policy, but what's clear is that the ground could have been better prepared and parents consulted more fully.
"The pre-Budget noise about school changes has been much discussed this morning. The cost and availability of childcare are huge issues for parents, and making use of school buildings for after-hours clubs and activities makes a lot of sense to Mumsnet users.
"However, many would prefer the additional activities to be non-curricular - and quite a few think that if raising academic standards is the object, addressing teacher recruitment in STEM subjects might do more good than one extra school hour per day."