Extinction Rebellion campaigners blocked major roads in South London on Friday morning to protest against dangerous levels of air pollution.
More than 50 activists from the group's Lewisham branch blocked traffic in order to put pressure on politicians over air quality.
Protestors included school children, parents, professionals and teachers. They held up signs which read "Drowning in CO2" and "This air is killing us".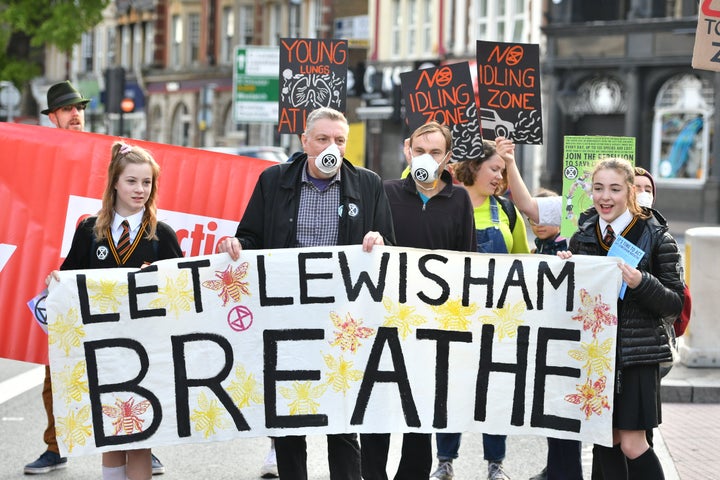 The action is the first in a series of planned protests as part of a campaign called 'Let Lewisham Breathe'.
Levels of pollution in New Cross and Deptford are up to six times higher than World Health Organisation guidelines, according to recent research by experts at Goldsmiths, University of London.
The death of a nine-year-old child who lived in the area is to be re-examined at an inquest, to determine whether it was linked to air pollution.
In November London mayor Sadiq Khan called Lewisham's air quality a "health crisis" and residents in a new housing development in Deptford will be told to keep their windows shut in order to avoid the worst of the pollution.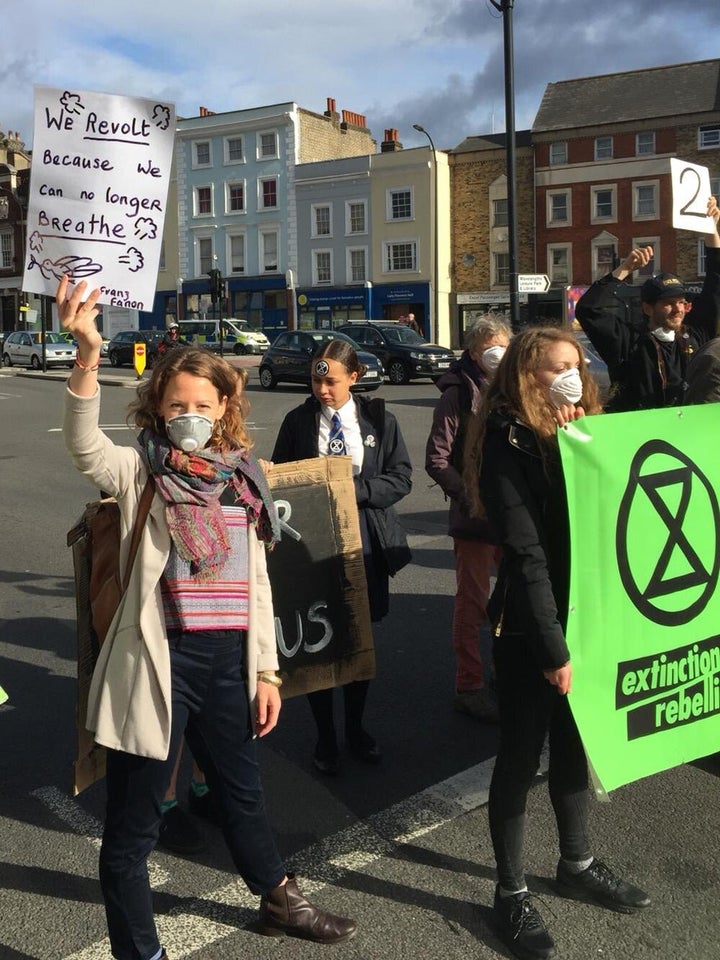 On Friday morning, commuters were offered leaflets and cake during the delays and were encouraged to switch off their engines while they wait.
One of those out campaigning on her way to school was 13-year-old Freya who said: "I'm here because lots of people don't care. Most adults don't listen to the children. They can't stop polluting. This is the only way to make change."
Another protestor Pete Pello 32, designer said: "I'm here because I can't ignore the facts anymore. I don't feel comfortable standing by and letting future generations deal with the world we are creating for them. It's something I feel I have to do.
Lewisham resident Graham praised the activists and called on Khan to "resign" over air quality in the area.
He said: "The man's a disgrace. I can't see that they're doing anything quickly about this problem."
He blamed queues and high numbers of traffic lights for pollution in the area.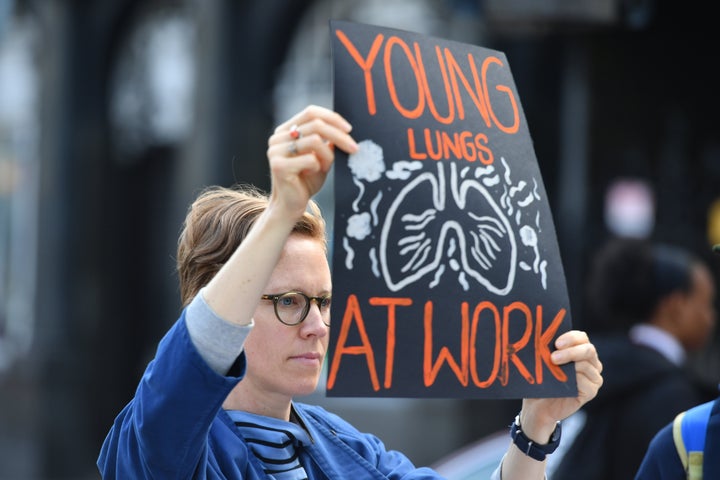 "The traffic just idles here, there's an air pollution cloud, you walk around and it's disgusting," he said. "They are slowly killing the people who live here by creating car parks in the city.
"If people could see the pollution they would do something about it. It's killing people but nobody seems to care."
Graham, who works for a public body, praised the Extinction Rebellion action.
He added: "I applaud them, they have my full support. I agree with what they're doing. The problem that we have here is just a scant disregard for the environment and people."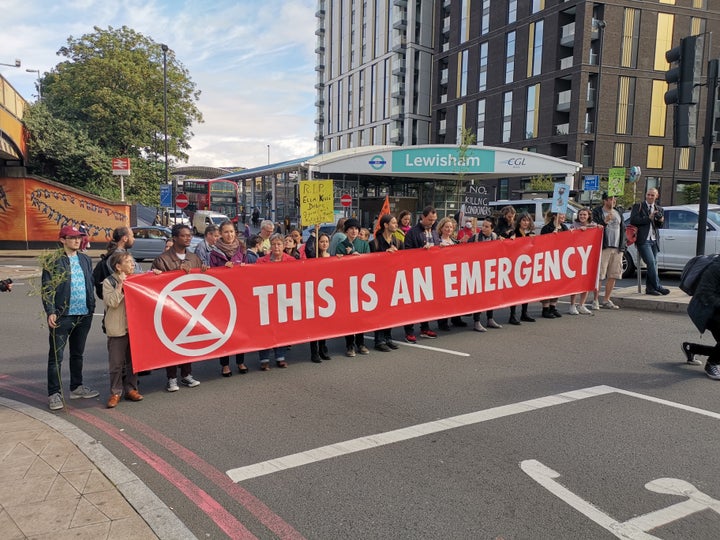 "It's been amazing so far. People are being patient and waiting. We've had a few angry shouts but most people are pretty relaxed and supportive.
"There's a really great mix of people here from school children to older people. For lots of them, it's the first time they've done anything like this."
Extinction Rebellion Lewisham is demanding that Khan and the government do more to tackle air pollution and the climate crisis.
They're also calling for Lewisham Council to follow Oxford City Council and set up a citizens assembly to address the air pollution and climate crisis.
A spokesperson for the mayor of London said: "The mayor recognises we face a climate emergency and shares the protestors' passion for tackling this issue. But he is clear that causing disruption for Londoners in this way is unacceptable.
"The protestors' actions caused problems for commuters trying to get to and from work.
"The mayor is doing all he can to reduce the impact of climate change on Londoners – but it is up to the government to take the bold action required at a national level."
Councillor Sophie McGeevor, cabinet member for environment and transport for Lewisham Council, said: "As one of the first councils in the country to declare a climate emergency, we share the same goal as Extinction Rebellion – to save the planet and clean up our air. We understand that without action the planet is heading towards a climate catastrophe.
"We are taking bold action to improve air quality whether that is: supporting the ULEZ and campaigning for it include the whole borough, investing in cycling and walking infrastructure, proposing to make the most polluting vehicles pay more for parking, installing green walls outside schools, increasing the number of electric vehicle charging stations, or investing in Lewisham's award winning green spaces.
She said the council wants to go "further and faster" to meet this challenge, but with local government having gone through nearly a decade of austerity we need central government support to do so.