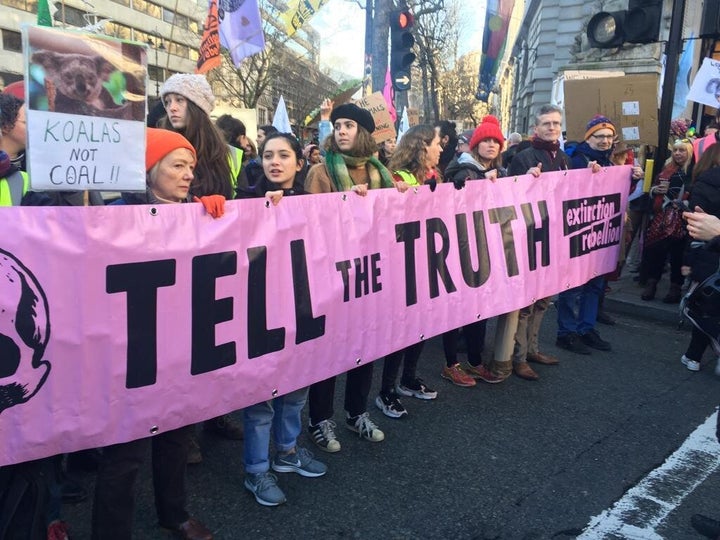 Hundreds of people are protesting outside the Australian High Commission in central London over Canberra's response to the bushfires and climate change.
Demonstrators gathered outside the building on the Strand at midday on Friday, blocking the road whilst holding placards such as "koalas not coal" and "denial is not a policy".
Organised by climate change activists from Extinction Rebellion, protestors are calling on Australian politicians to do more to protect citizens and wildlife from the ongoing crisis, as well as demanding action from leaders worldwide to prevent climate change.
Australia has suffered "unprecedented" bushfires for months, with at least 27 people and an estimated one billion animals killed.
Whilst flames have destroyed more than 2,000 homes and torn communities apart, thick smoke has covered vast swathes of the country – choking major cities such as Sydney and even drifting as far as New Zealand.
Anna Moore, an NHS respiratory doctor, and mother of four who spoke at the protest said: "I spoke to a doctor in Sydney yesterday – they're used to coping with bushfires but the scale of these fires is unprecedented. No one has seen this before.
"The fires are so widespread that for many people there is nowhere to go. People who need oxygen to breathe have no choice except to come into hospital because their oxygen supplies need power.
"Emergency departments are overwhelmed with people – especially babies and the elderly whose bodies just can't cope with the heat."
Extinction Rebellion is calling for a range of actions, including funding to pay all firefighters, relief and aid for affected communities, a rapid transition away from fossil fuels, and land and water sovereignty for indigenous communities.
Similar demonstrations are also expected to take place in Bristol, Lambeth and Sheffield, whilst dozens of other Extinction Rebellion groups are gathering in cities worldwide.
Thousands of people also demonstrated major cities across Australia, calling for their government to boost the response to the fires and call for action on climate change.
Amongst them were protestors demanding the resignation of Australia's prime minister, Scott Morrison, who has been fiercely criticised for his response to the ongoing disaster.
Australians living in the south-east of the country have been warned that the risk of fires spreading could increase over the coming days, as temperatures increase and winds pick up once again.
Whilst some rain is set to arrive in parts of the nation, some of the worst-affected areas have been issued with severe weather warnings and in some cases have been advised to evacuate as soon as possible.